2019 Best Online Colleges for Theology Degrees
Online theology degrees are offered at 44 schools and across many degree levels, from undergraduate to graduate. Students who major in theology hope to develop an analytical understanding of biblical texts and use their knowledge to help others understand the Bible. People who earn degrees in theology typically become clergy members, educators, community leaders, social workers, counselors, writers, or religious studies professors. All available online theology degrees can viewed in the comprehensive list below. Our rankings list highlights some of the best options for an online master's degree in theology, based on tuition costs and alumni salaries provided by PayScale.
2019 Best Online Colleges for a Master's in Theology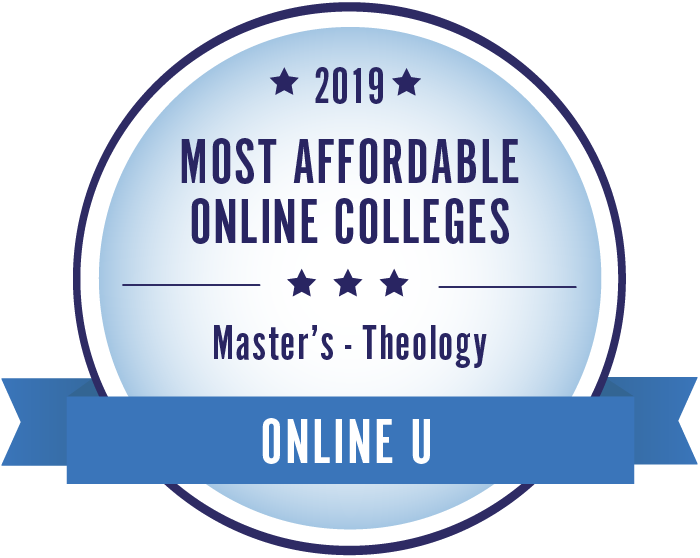 The eight seminaries and universities on this list provide high-quality, affordable online master's degrees in theology. Half of the schools on the list cost less than $10,000 annually. Students can earn an M.A. in Theological Studies for just $11,880 per year at the #1-ranked school, Covenant Theological Seminary. Graduates of this online program report a median salary of $76,900. Liberty University, ranked #6, costs just $5,500 annually, making it the most affordable online school on the list.
Alumni salaries were provided by PayScale. View our methodology for more details or learn more about SR Education Group.
Rank
School
Annual Tuition
Median Salary

#1

Annual Tuition

$11,880

Median Salary

$76,900

#2

Annual Tuition

$16,380

Median Salary

$68,200

#3

Annual Tuition

$9,936

Median Salary

$65,300

#4

Annual Tuition

$17,400

Median Salary

$64,200

#5

Annual Tuition

$8,855

Median Salary

$61,800

#6

Annual Tuition

$5,500

Median Salary

$58,300

#7

Annual Tuition

$16,832

Median Salary

$59,000

#8

Annual Tuition

$6,500

Median Salary

$51,300
Salary data provided by

. Updated 2018.
Comprehensive List of Accredited Online Schools - Theology Degrees (
44

)

0%

of users found this page helpful

Was this page helpful?
Still have questions or feedback?
This website offers school details to prospective students as an informational resource. The appearance of a school listing on this website should not be interpreted as an endorsement by the school of this site.