Complete Guide to Best Online Public Relations Degrees
100%

of users found this page helpful
Was this page helpful?
2018 Best Online Colleges Offering Bachelor's in Public Relations Degrees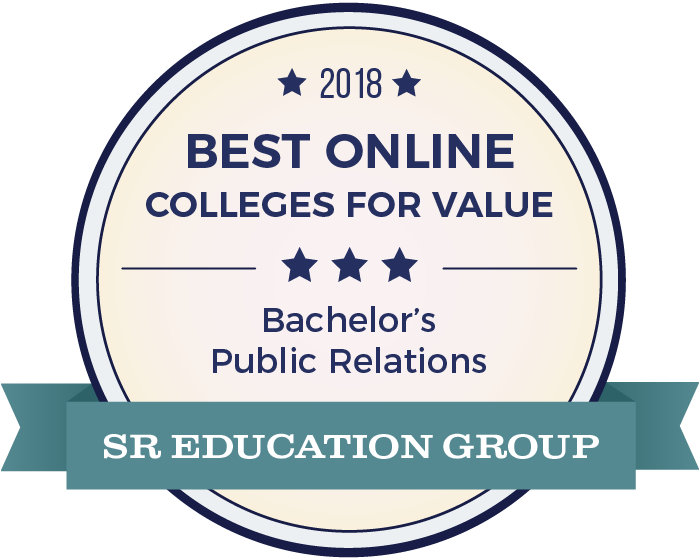 Affordable tuition and superior academics make these schools the best value options for students seeking online bachelor's degrees in public relations. Each school offers annual tuition rates under $23,000 and all schools have academic strength scores exceeding 58%. The least expensive online public health school, #1-ranked Regent University Online, offers an annual tuition rate of $11,850 and has an academic strength score of 65%. Drexel University, ranked #5, has an impressive academic strength rating of 75% and annual tuition of $22,005.
View our methodology for more details or learn more about SR Education Group.
Comprehensive List of Accredited Online Schools - Public Relations Degrees (
72

)
Online Public Relations Degree Overview & Career Information
There are three different online degree level options for public relations. Over the course of four years a bachelor's degree will prepare students for positions such as campaign manager, public relations coordinator, and public relations specialist. A master's program in public relations will enhance a student's knowledge in communication through technology and media. A master's program will typically take two years to complete and prepare graduates for above entry-level positions such as public relations manager, brand manager, and director of communications. Online undergraduate and graduate certificate programs are also available for people interested in receiving an education in the field of public relations.
View Public Relations Programs
View Public Relations Programs
View Associate Programs
View Associate Programs
Online Bachelor's Degrees in Public Relations
Students can obtain an online bachelor's degree in public relations in four years, generally upon completing 120-credit hours. Participants will sharpen their skills in critical thinking, writing, strategic planning, and execution. These skills will lend assistance to building relationships between organizations and their public audiences, which is a necessity for graduates to perform in their follow up careers. Public relations programs require general education coursework along with major specific courses such in public speaking, public relations, journalism, social media, writing for public relations, organizational communications, and ethics. A high school diploma or equivalent must be obtained prior to enrolling in a bachelor's program along with a qualifying SAT or ACT test score. Depending on the school, a letter of recommendation may also be required. Graduates can seek entry-level job opportunities in both business and government as PR specialists, representatives, campaign managers, and PR coordinates. Public relations bachelor's programs are offered at both colleges and universities.
View Bachelor's Programs
View Bachelor's Programs
Online Master's in Public Relations
Graduates can continue their public relations education through an online master's program at the university level. Through a master's program, students will learn to enhance their technology tactics that will be crucial in their public relations careers. Participants will take 36 to 48 credit hours of study to complete their degree within two years. Degree courses include Communication, Media & Society, Identity & Personal Brand, Communication by Design, Graduate Social Research Methods, and Dimensions of Reputation Management. Applicants who hold a bachelor's degree in public relations or a related field will be eligible for a master's program. Some universities will also require a letter of recommendation as well as an admissions letter written by the applicant describing their education and career aspirations. There are a variety of above entry-level career options for master's degree holders within the PR industry. Titles include publicist, brand manager, director of communications, writer, and consultant.
2018 Best Online Colleges for a Master's in Public Relations
Exceptional academic strength and low tuition rates highlight these 11 online universities as best-in-category for master's degrees in public relations. University of Missouri takes the top position with an annual tuition of $12,350 and academic strength rating of 74%, while The George Washington University, rated #9 overall, has the strongest academic rating at 81%.
View our methodology for more details or learn more about SR Education Group.
Rank
School
Annual Tuition
Academic Strength

#1

University of Missouri

Annual Tuition

$12,350

Academic Strength

74%

#2

Regent University Online

Annual Tuition

$11,050

Academic Strength

65%

#3

Webster University

Annual Tuition

$14,040

Academic Strength

70%

#4

Olivet Nazarene University

Annual Tuition

$12,150

Academic Strength

65%

#5

Liberty University

Annual Tuition

$12,995

Academic Strength

66%

#6

Edinboro University of Pennsylvania

Annual Tuition

$9,558

Academic Strength

58%

#7

West Virginia University

Annual Tuition

$13,736

Academic Strength

65%

#8

Western New England University

Annual Tuition

$18,456

Academic Strength

67%

#9

The George Washington University

Annual Tuition

$28,135

Academic Strength

81%

#10

Drexel University

Annual Tuition

$28,244

Academic Strength

75%

#11

California Baptist University

Annual Tuition

$19,140

Academic Strength

59%
View Master's Programs
View Master's Programs
Online Certificates in Public Relations
Public relations professionals who are interested in enhancing their skills in the areas of communication, marketing, computing affairs, and media relations may be interesting in pursuing a certificate degree in public relations. Students can complete a certificate program in as little as 12 months through 16 to 24 credit hours of course work. The type of coursework offered in a public relations certificate program includes Public Relations Principles and Process, Public Relations Writing and Tactics, Dimensions of Reputation Management, Integrating Social Media, Digital Marketing Communication, and Persuasion Methods. A minimum of a high school diploma or GED will be required for applicants to qualify for a certificate program although for a graduate certificate the applicant must hold a bachelor's degree in a related field. Holding a certificate degree can help professionals within the industry gain promotions and pay raises. Opportunities in communications, consulting, campaign managing, and coordinating will also be available to graduates. Certificate programs can be found at colleges and universities.
View Certificate Programs
View Certificate Programs
The Importance of an Accredited Online Public Relations Degree
Accreditation should always be considered when applying to institutions of higher education. Accreditation is the process in which colleges, universities, and educational programs are evaluated for quality and to ensure that acceptable-levels trainings are being conducted. Another important factor to consider is low-cost loans for students as only accredited institutions are able to participate in federal financial aid programs. Attending a regionally accredited school will also make the transfer process a lot easier for those who may be interested in changing their path in the future as regionally accredited colleges will most often accept credits from other regionally accredited institutions. Lastly, many employers are looking to hire graduates who have attended regionally accredited schools. It gives the employer more confidence that the applicant has been well trained in their field and will be a great asset to the organization.
Careers in Public Relations
According to the U.S. Bureau of Labor Statistics, the employment rate in public relations is expected to rise 12 to 13 percent through the year 2022. With the rise in popularity of technology and social media, public relation specialists have become vital role in the relationship between organizations and the general public. Key job titles within the industry include public relations specialist and public relations manager. Public relations specialists are hired to to maintain a positive company image through media and address any concerns that general public may have about the organization. Job functions of a specialist include creating press releases, gathering requested data, determining ways to access target audience, and assisting the client in successful communicating with the general public.
Public relations managers will oversee PR specialists to ensure that all tasks and projects are being completed within the company's or client's standards. They also focus on evolving their clients' images with social, political, and economical changes to keep in good standing with the public. In order to qualify for a manager position it will require a minimum of three years work experience along with an educational background. A typical work week for a public relations manager incudes creating logos and signs to keep up the clients' image, organizing events, crafting speeches, coordinating interviews, and creating press releases.
References
100%

of users found this page helpful
Was this page helpful?
Still have questions or feedback?
This website offers school details to prospective students as an informational resource. The appearance of a school listing on this website should not be interpreted as an endorsement by the school of this site.