2018 Best Accredited Online Psychology Degrees
93%

of users found this page helpful
Was this page helpful?
Students can pursue psychology degrees online at the associate, bachelor's, master's, doctoral, and certificate levels. There are 195 accredited online colleges and universities offering psychology degrees and many offer opportunities to specialize in forensics, counseling, child psychology, and school psychology, among others. We also highlight the best online bachelor's and best online master's degrees in psychology.
Prospective psychology students are encouraged to attend a degree program that is accredited to ensure that the program meets high academic standards. The American Psychological Association (APA) provides accreditation specifically for doctoral psychology programs, and other regional and national agencies provide accreditation for schools that offer both undergraduate and graduate psychology programs.
Comprehensive List of Accredited Online Schools - Psychology Degrees (
195

)
2018 Best Online Colleges Offering Bachelor's in Psychology Degrees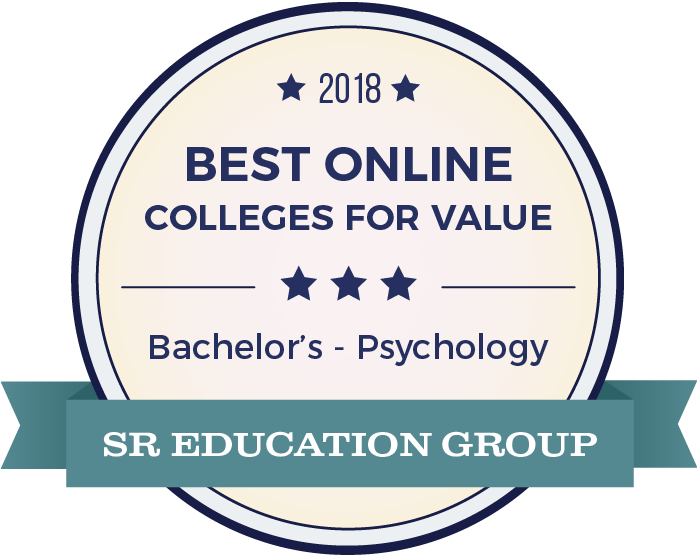 These 25 schools represent the best overall value for online bachelor's degrees in psychology based on annual tuition and academic strength. Kennesaw State University ranks #1, with annual tuition at $7,977 and an academic strength score of 67%. University of the Cumberlands follows at #2, with its annual tuition of $6,368 being the lowest on the list. University of Massachusetts-Lowell, ranked #5, has the best overall academic strength rating, an impressive 75%.
View our methodology for more details or learn more about SR Education Group.
Rank
School
Annual Tuition
Academic Strength

#1

Kennesaw State University

Annual Tuition

$7,977

Academic Strength

67%

#2

University of the Cumberlands

Annual Tuition

$6,368

Academic Strength

62%

#3

Missouri State University

Annual Tuition

$8,550

Academic Strength

68%

#4

The Baptist College of Florida

Annual Tuition

$7,200

Academic Strength

63%

#5

University of Massachusetts-Lowell

Annual Tuition

$11,400

Academic Strength

75%

#6

Valdosta State University

Annual Tuition

$7,500

Academic Strength

62%

#7

Utah State University

Annual Tuition

$9,750

Academic Strength

68%

#8

University of Arkansas at Little Rock

Annual Tuition

$8,400

Academic Strength

61%

#9

South Dakota State University

Annual Tuition

$10,050

Academic Strength

64%

#10

Clarion University

Annual Tuition

$8,092

Academic Strength

58%

#11

North Greenville University

Annual Tuition

$11,850

Academic Strength

69%

#12

Midwestern Baptist Theological Seminary

Annual Tuition

$10,950

Academic Strength

66%

#13

Northwestern State University of Louisiana

Annual Tuition

$9,600

Academic Strength

62%

#14

John Brown University

Annual Tuition

$13,020

Academic Strength

72%

#15

University of Northern Colorado

Annual Tuition

$10,800

Academic Strength

65%

#16

Indiana Wesleyan University Online - Adult Education

Annual Tuition

$11,250

Academic Strength

66%

#17

Fort Valley State University

Annual Tuition

$7,750

Academic Strength

54%

#18

Liberty University

Annual Tuition

$11,700

Academic Strength

66%

#19

Fayetteville State University

Annual Tuition

$7,556

Academic Strength

52%

#20

University of Louisiana-Monroe

Annual Tuition

$12,000

Academic Strength

66%

#21

Old Dominion University

Annual Tuition

$11,670

Academic Strength

64%

#22

Eastern Illinois University

Annual Tuition

$10,950

Academic Strength

62%

#23

University of West Alabama

Annual Tuition

$10,075

Academic Strength

59%

#24

Faulkner University

Annual Tuition

$10,230

Academic Strength

59%

#25

University of Illinois at Springfield

Annual Tuition

$12,105

Academic Strength

65%
Online Psychology Degree Overview & Career Information
Associate degrees in psychology are often used as a first step before transferring to a four-year program; bachelor's degrees are considered the basic foundational program in this discipline. Both associate and bachelor's degrees provide a significant amount of coursework in liberal arts and science topics like math, humanities, natural science, and history. Core classes within the psychology major explore topics such as social psychology, personality, psychology of learning, and depression and mood disorders. Many online psychology programs require that students work in psychology labs or on research projects.
Online master's programs in psychology are available in specialization areas like forensic psychology, industrial organizational psychology, counseling, or sport psychology. Most master's programs require a thesis project or fieldwork. The doctoral degree in psychology is the minimum requirement to work as a licensed psychologist who treats patients. Students take advanced coursework, do clinical assessments, and perform research. Most programs require a lengthy internship prior to or after graduation.
View Psychology Programs
View Psychology Programs
Online Certificates in Psychology
Psychology certificates are available at the undergraduate or graduate level and are designed to provide focused training in a particular area of human behavior and motivation. Undergraduate programs give students a basic understanding that can be applied to a variety of professional areas; graduate programs can provide continuing education credits or advanced training to counselors or psychologists. Psychology certificates require a high school diploma, bachelor's, or master's degree, depending on the certificate level. They generally require four to eight courses and can be completed in a year or less.
The coursework in an undergraduate program provides an introduction to a particular area of psychology. For example, a sport psychology certificate might include courses in performance training, coaching, and stress, while a child psychology certificate would discuss childhood development, human behavior, and learning and cognition.
Graduate certificates delve into more advanced areas of psychology. For example, licensed counselors might pursue a certificate in play therapy if they wish to work with children with emotional, mental, or physical disabilities. Other certificates explore topics such as autism spectrum disorders, adolescent mental health, and geropsychology.
An undergraduate certificate can be used by individuals who want to gain a understanding of human behavior in order to apply this knowledge to a particular work area. Graduate certificates can be used by licensed psychologists or counselors who want to focus their practice on a particular population or type of mental health issue. Graduate certificates may also be used to accrue continuing education credits, which are necessary to maintain a state license.
View Certificate Programs
View Certificate Programs
Online Associate Degrees in Psychology
Graduates with an associate degree in psychology may not have a lot of career options, as most psychologist jobs will require at least a master's degree. However, there are some assistant-level positions available for those with an associate degree in psychology as well as job titles such as rehabilitation assistant, child care provider, orderly, and coordinator. These positions are ideal for those who want to extend their psychology career in the future, as they'll gain necessary experience in hospitals and other healthcare facilities.
Program Requirements
Associate degrees in psychology require that students have a high school diploma or equivalent in order to be accepted. Programs will take about two years to complete if students attend full-time and take approximately five classes per semester.
Curriculum
Associate degrees will provide a helpful foundation for psychology students. Common courses include introduction to psychology, developmental psychology, marriage and family, research methods, professional writing, English, human development, abnormal psychology, psychology of personality, and theories of personality. Many of the courses in this program will provide a foundation for further study in psychology at the bachelor's or master's levels.
View Associate Programs
View Associate Programs
Online Bachelor's Degrees in Psychology
Psychology careers generally require a master's degree or higher, but jobs for bachelor's graduates do exist. Common positions at this level include psychological assistants or aides to established doctors and professionals. Bachelor's degree holders may also work at psychology offices or schools to help patients under the supervision of a licensed doctor. With a background in psychology, students can also get jobs managing people or working in human resources within many kinds of businesses.
Program Requirements
Bachelor's degrees in psychology require students to have completed high school and achieved good scores on a college-entry exam such as the SAT or ACT. Bachelor's programs in psychology take about four years to complete with a total of approximately 120 units of coursework. Psychology degrees at the bachelor's level may also include some fieldwork, which plays an important role in the education program; fieldwork allows students to see how psychology works in offices and healthcare facilities.
Curriculum
The first year or two of a psychology bachelor's program will focus on general education courses such as introduction to psychology, biology, English, statistics, history of psychology, human lifespan development, research methods, learning cognition, and culture, ethnicity and diversity. Once the general education is complete, the courses will get more specific, and students will be able to choose electives depending on the field of psychology they're most interested in. Common courses include child development, abnormal psychology, criminal psychology, family and marriage, human sexuality, and psychology of personality.
View Bachelor's Programs
View Bachelor's Programs
Online Master's in Psychology
Online master's degrees in psychology are offered by 132 accredited colleges and universities. The top schools for an online master's in psychology stand out from the rest with their strong academics and affordable annual tuitions. Although a master's degree in psychology does not qualify people to work as a full-fledged psychologist in any state, it can lead to a career as a psychology assistant, school psychologist, industrial-organizational psychologist, or specialized counselor in private practice, community service, or a government agency.
2018 Best Online Colleges for a Master's in Psychology
These 7 schools offer the best online psychology degrees at the master's level. With strong academics and low tuitions, each of these colleges is a strong choice for prospective psychology graduate students. LeTourneau University tops the list with an outstanding academic strength score of 70% and an affordable annual tuition of $11,070 for a Master of Arts in Psychology.
View our methodology for more details or learn more about SR Education Group.
Program Requirements
Applicants to a master's degree program in psychology must hold an undergraduate degree and provide official transcripts from any accredited schools they have attended. Some schools require that applicants meet a minimum GPA in previous coursework to be considered for admission. These 42-credit programs can be completed in two years. Some graduates continue their education by enrolling in a PhD program to become a clinical psychologist.
Curriculum
Master's degrees delve into more specialized areas of psychology and have course requirements that are quite different from those of undergraduate degrees. Core courses for master's psychology programs may include topics such as lifespan development, social psychology, tests and measurements, cognitive and affective psychology, learning theories in psychology, counseling theories and strategies, and therapeutic boundaries. Some graduate degree programs may require students to write a thesis or participate in an externship before they graduate.
Students may choose an area of concentration in their field and take elective courses tailored to that area. For example, a counseling graduate degree might require classes in interviewing, cultural awareness, and patient assessment, while sport psychology degrees would cover the biological basis of behavior, the psychology of coaching, applied sport psychology, and performance enhancement. Other specializations could include courses in human sexuality, the psychology of religion, family systems theory, dual diagnosis, eating disorders, alcoholism, organizational psychology, and interpersonal conflict in the workplace.
View Master's Programs
View Master's Programs
Online PhDs in Psychology
Doctor of Philosophy (PhD) and Doctor of Psychology (PsyD) degree programs prepare graduates to become licensed psychologists. The PhD tends to focus more on research, while the PsyD focuses on clinical practice.
A doctoral degree is the minimum educational requirement to become a licensed psychologist. After completing the degree, graduates can take the state licensing exam and perform any additional requirements for earning state certification. The psychologist license allows graduates to use the title "psychologist" and to diagnose and treat patients independently. Graduates who are not interested in private practice can work in hospitals, clinics, and universities, as well as conduct psychology research. Others can become college faculty members.
Program Requirements
Applicants to doctoral programs need an accredited master's or bachelor's degree, as well as previous introductory coursework in psychology. Along with official college transcripts, letters of recommendation and a resume must be submitted for consideration. Doctoral programs usually require four to six years of work, including a dissertation and internship.
Curriculum
Doctoral candidates in a psychology program will complete core courses in topics such as history and systems of psychology, multicultural perspectives in human behavior, cultural diversity, ethical and professional issues, and psychopharmacology. Students are also be able to round out their coursework by choosing from a list of electives. Possible options include human sexuality, dream analysis, psychology of chronic illness, positive psychology, dual diagnosis, and psychology of stress and stress-related disorders.
Doctoral students must also prepare a dissertation in order to graduate. Each student chooses a particular area of psychology they would like to research in depth with the help of a faculty advisor. Sometimes the dissertation topic is dependent on the type of research being performed in the clinic or hospital that is associated with the training program. Most psychology programs also require at least one year of clinical work in a psychology office, where students practice diagnosing and counseling patients.
View Doctoral Programs
View Doctoral Programs
The Importance of an Accredited Online Psychology Degree
Accreditation can be thought of as a qualification that a school or degree program earns by meeting a set of criteria. Accreditation is an important part of the US higher education system because it is one of the few mechanisms by which independent organizations can evaluate a program or a school and ensure that students who are attending the school are getting a quality education.
Each regional or specialized accreditation board has its own standards that schools or programs must meet in order to be granted accreditation. In general, a program must cover certain topics in their curriculum, provide students with appropriate resources through libraries and faculty, and possibly even provide certain nonacademic services.
The American Psychological Association's Commission on Accreditation is recognized by the US Department of Education as being the main accrediting agency for doctoral psychology programs in the United States. Other accrediting agencies provide institutional accreditation to many colleges and universities that offer psychology programs at the bachelor's and master's levels. The US Department of Education and the Council on Higher Education Accreditation each offers a current list of accredited schools and psychology programs.
It is important for schools to maintain their accreditation and important for students to ensure that the schools to which they are applying are accredited, because only accredited schools can use federal money. This means that only accredited schools can provide students with federal student loans, work study, or federal grants, and the majority of postsecondary students utilize these resources. It's also important for students who plan to continue their education at the graduate level to attend an accredited school so that their credits will transfer. Students who plan to become a licensed psychologist will also need a degree from an accredited institution.
Licensing and Certification Requirements for Psychologists
The path to becoming a psychologist is a long one, requiring many years of education and several more years of internships and professional development. It also mandates earning and maintaining a valid license. The type of psychology a person practices and the state in which they wish to practice may have some effect on the exact course a person takes to become a psychologist. There are some general licensing requirements that apply to all or nearly all states, such as a doctoral degree, an internship, a number of years of professional experience, and a passing score on a state examination. Many states require students to take the Examination for Professional Practice in Psychology (EPPP), administered by the The Association of State and Provincial Psychology Boards, or a variation of this test.
Licensed psychologists who specialize in a particular area of psychology, such as clinical neuropsychology, clinical psychology, cognitive and behavioral psychology, or counseling psychology, may also choose to earn professional certification. Certification is offered by several different professional agencies, such as the American Board of Professional Psychology, which issues credentials in many different areas. Although board certification is voluntary and not legally required for most specializations, many employers prefer hiring candidates with these credentials. Board-certified professionals are held accountable for their experience and knowledge, as candidates must fulfill extensive education, work experience, and continuing education requirements to earn these marks. Psychologists who have a specialized certificate will find it easier to market themselves to clients, and they will become part of ABPP's database of certified professionals.
Before beginning a specific educational or career path, it is recommended that students investigate the requirements for psychology practice in their particular state. The Association of State and Provincial Psychology Boards provides helpful information about licensure and psychology education that an aspiring psychologist in the United States needs to know, as well as information for consumers who utilize the services of licensed psychologists. It is especially helpful for people who are still in school because there is information about which schools are accredited and the scores earned on licensing examinations by graduates of different doctoral degree programs. People who are already licensed will find resources to help them complete required continuing education hours.
Specializations in Psychology
There's a big difference between studying psychology and training to be a psychologist. Prospective online students should be aware of these differences and evaluate their own career aspirations before enrolling in a program. While those with an understanding of psychology can act as consultants in a variety of capacities, only those with the proper training and credentials can become licensed psychologists.
Psychology is a very broad field, and a psychologist's job responsibilities will depend upon their chosen specialization. The following list represents just some of the areas in which professional psychologists can specialize:
Clinical Psychology: This is the area of psychology you are probably most familiar with from popular culture. Clinical psychologists meet with patients to treat their mental and emotional problems. They listen to the patient and help them find ways to change problematic or destructive behaviors. Clinical psychologists may work with different types of patients, such as children, families, or individuals with developmental disabilities.
Developmental Psychology: These psychologists study the ways people's behaviors and thoughts change as they age. Some study the psychology of children and teens, while others focus on the elderly.
Forensic Psychology: Forensic psychologists apply psychology to criminal justice issues and often work on a particular type of case. For example, some might work in criminal court and offer insight on the motivations of criminals, while others work in civil and family court.
Health Psychology: Health psychologists work with people and families who are experiencing illness. The psychologist helps patients learn coping strategies to deal with the mental strain of being unwell. Some health psychologists educate doctors, nurses, and other healthcare practitioners on behavioral aspects of illness.
Industrial Organizational Psychology: IO psychologists apply their understanding of psychology to business. They help businesses become more productive and healthy places to work. IO psychologists may work with managers to interview job candidates, create company policies, or make the workplace more enjoyable.
Rehabilitation Psychology: Rehabilitation psychologists help people cope with the aftermath of a serious illness or injury, especially when the illness or injury has resulted in a serious mental or physical disability. Rehabilitation psychologists support their patients so that they can accept and understand their new abilities and limitations and improve their quality of life.
School Psychology: School psychologists help students and education administrators. They may work with students who have behavioral or learning problems to help them do better in school. School psychologists also design educational programs, such as awareness campaigns about bullying or drugs. They work with teachers to make the classroom a better learning environment.
Social Psychology: Social psychologists examine the ways individuals act within a group. They study the ways social interactions affect people, and they may offer advice to improve group dynamics.
Sport Psychology: As an interdisciplinary field, sport psychology curricula draw content from various departments, including counseling, physical education, and psychology. Bachelor's programs cover the foundations of sport psychology and engage in a historical analysis of sports and related behaviors. Master's programs give students the opportunity to develop their theoretical and practical knowledge in individual and team motivation, injury recovery, performance enhancement, and stress management in sporting activities.
References
93%

of users found this page helpful
Was this page helpful?
Still have questions or feedback?
This website offers school details to prospective students as an informational resource. The appearance of a school listing on this website should not be interpreted as an endorsement by the school of this site.