2019 Best Online Colleges for Political Science Degrees
Students of an online political science degree program will study the history, development, and operation of policies and systems. The 209 degrees on this page offer a wide variety of degree focuses, including international relations, military studies, and public affairs. Online political science degrees are available at the associate, bachelor's, master's, and certificate levels. Aspiring political scientists will find 10 strong choices for master's degrees on our list of the best online colleges for political science. Schools on this list are ranked based on tuition costs and alumni salaries provided by PayScale.
There is no specific programmatic accreditation agency focused on political science degrees. However, as with all subjects, it is important for prospective students to verify the institutional accreditation status of any school they are considering attending in order to ensure their degree meets national standards.
Comprehensive List of Accredited Online Schools - Political Science Degrees (
78

)
2019 Best Online Colleges Offering a Master's in Political Science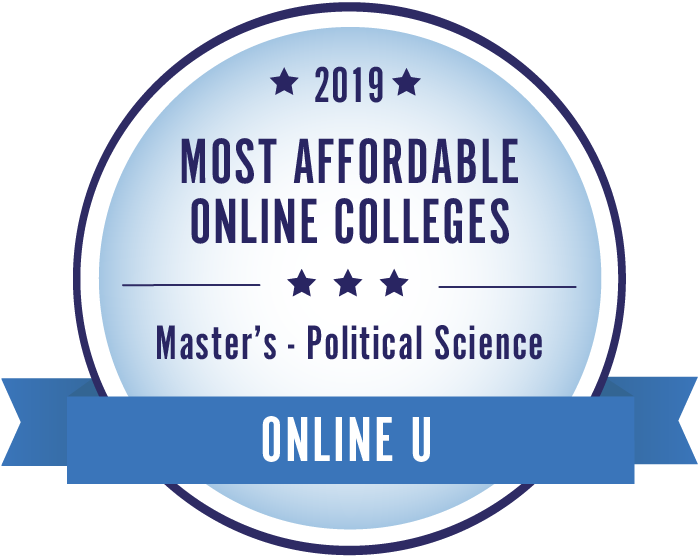 These nine universities offer the best online master's degrees in political science. Top-ranked Virginia Polytechnic Institute and State University offers a Master of Arts in Political Science for $12,277 per year. Median salary post-graduation is $113,576. Second-ranked Johns Hopkins University has a similarly impressive median salary for graduates at $110,700. Students at Johns Hopkins University can earn an MA in Government or an MS in Government Analytics with tuition starting at $23,382.
Alumni salaries were provided by PayScale. View our methodology for more details or learn more about SR Education Group.
Rank
School
Annual Tuition
Median Salary

#1

Annual Tuition

$12,277

Median Salary

$113,576

#2

Annual Tuition

$23,382

Median Salary

$110,700

#3

Annual Tuition

$7,245

Median Salary

$98,360

#4

Annual Tuition

$16,522

Median Salary

$96,552

#5

Annual Tuition

$10,350

Median Salary

$82,632

#6

Annual Tuition

$7,402

Median Salary

$71,400

#7

Annual Tuition

$13,560

Median Salary

$71,987

#8

Annual Tuition

$13,794

Median Salary

$70,212

#9

Annual Tuition

$9,911

Median Salary

$56,893
Salary data provided by

. Updated 2018.
Which Political Science Degree Level Is Best for Me?
Online degrees in political science are available at the associate, bachelor's, master's, and certificate levels. A bachelor's in political science is generally an entry-level requirement for many positions in this field. Graduates may pursue employment as policy analysts, research assistants, or administrators in public, private, and non-profit organizations. During the degree program, students spend four years studying general education requirements, as well as major classes like macroeconomics, microeconomics, American history, American government, comparative politics, foreign policy, and legal writing.
There are several online master's programs that can benefit someone aspiring to a career in political science. Both the Master of Public Administration and the Master of Public Policy degree programs typically focus on the professional skills needed to analyze and create policy, such as research methods, statistics, and program evaluation. The Master of Arts in political science provides training in political science research methods. These programs allow students to specialize in a particular area, such as international relations, public law, and comparative democracy.
View Political Science Schools (78)
View Political Science Schools
Online Associate Degrees in Political Science
If you have a keen interest in learning about the behavior and impact of political systems and governmental affairs, an associate degree in political science could help you access tools and knowledge in the industry. Students explore the history of political systems, as well as current trends and concepts. Additionally, they develop skills in critical analysis, public speaking, and written communication.
Program Requirements
The program requires two years of full-time study and contains between 60 and 64 credit hours. Qualified candidates should have a high school diploma or equivalent.
Curriculum
Associate degree programs in political science give students a broad overview of the field. Common classes include international relations, comparative politics, principles of microeconomics, principles of macroeconomics, political philosophy, government and policy, statistics, writing, US government, and global conflicts. Students must take a number of courses in the social sciences as well.
Associate degree holders may go on to become legal assistants, political fundraisers, campaign workers, and fundraisers after graduation. They may work in numerous settings, including non-profit organizations, government facilities, law offices, and labor organizations. Many of them also join professional organizations that support their career development, such as the American Political Science Association. Professionals who want to advance into positions with more authority and responsibility should enroll in bachelor's degree programs in this field.
View Associate Programs (8)
View Associate Programs (8)
Online Bachelor's Degrees in Political Science
Program Requirements
Online bachelor's degrees in political science generally take four years to complete for full-time students. Prospective political science majors will need to have a high school diploma or GED in order to enroll in a bachelor's degree program. Most schools will require that applicants submit trancripts from high school, as well as standardized test scores. Some schools may also require personal statements of some sort as part of the application process.
Curriculum
Students in an online bachelor's degree program can expect to take a variety of general education requirements in addition to more specific political science classes. Depending on the school, general education requirements might include math, science, English, history, and psychology, and electives in the humanities and arts. Once students begin their political science curriculum, they will likely take courses in mass communications, statistical analysis, government structure, political theories and methods, economics, and business.
Many political science undergraduate students complete internships in addition to or as part of their degree program. They can volunteer for lobbyist organizations or work at non-profit agencies. Some students travel abroad or to Washington, DC, to complete their internships, and many schools offer school credit to those who do. However, many political science graduates go on to law school or to earn a master's degree in the field, where there are opportunities for all kinds of careers. Those who have bachelor's degrees typically work for polling companies, news organizations, non-profits, or lobbyist organizations.
View Bachelor's Programs (55)
View Bachelor's Programs (55)
Online Master's in Political Science
Individuals hoping to have careers in political analysis, working for government agencies, individual politicians, or private companies, may want to consider pursuing a master's degree in political science. A master's degree can be a helpful step in the process of becoming a politician or a political scientist.
Program Requirements
To qualify for master's in political science programs, students must hold bachelor's degrees. Many schools also require applicants to submit resumes detailing their relevant job, internship, and volunteer experience. Applicants must also submit transcripts, letters of recommendation, and a statement of purpose. Earning a master's degree in political science requires two years of coursework, or 30 units.
Curriculum
Students typically begin their degree program by taking courses in communications, political theories, political structures and methodologies, sociology, business, law, the criminal justice system, and elections. Most students specialize in a certain area of political science and structure their curriculum around their chosen concentration. Most political science master's programs have a thesis requirement. Students spend many months choosing a topic, developing their research processes, and working with professors to write and edit their thesis.
View Master's Programs (21)
View Master's Programs (21)
Online Certificates in Political Science
A certificate in political science is offered by some universities and community colleges as a chance for people who are interested in learning more about political science to do so without committing to a full degree program. A certificate in political science can take anywhere from a couple of months to an entire year to earn, depending on the program. Many certificate programs are not accredited, so students will not be able to transfer any credits earned through these programs to full-fledged degrees. Students who are interested in transferring should choose to complete a two-year associate degree at a community college instead.
A political science certificate is a short-term experience, and course offerings will be limited. Most programs will expect that applicants already have a base of knowledge to build on, so instructors do not have to repeatedly go over the basics. Most programs have a highly structured curriculum with classes that explore current issues and topics in domestic and world affairs, as well as law and business.
View Certificate Programs (18)
View Certificate Programs (18)
The Importance of an Accredited Online Political Science Degree
Accreditation is a designation awarded to a school on the condition that the school meets certain academic and proprietary standards. This process holds schools accountable and many students are comforted by the fact that accredited schools undergo regular auditing processes that are designed to protect them from fraud or substandard education. Also, only accredited schools may offer federal financial aid, which helps many students with educational costs. Students can check the accreditation status of the schools they are considering through the database maintained by the US Department of Education.
Career Specializations for Political Science Graduates
Students in online political science degree programs study history, communication, administration, policy, and a number of other subjects that are applicable to jobs in both public and private organizations. These liberal arts programs discuss the function of government and how public policy is created. The interdisciplinary nature of this degree helps to prepare graduates for a variety of careers. Here are just some of the careers that political science graduates can work toward:
Administrator: Graduates are well equipped to enter administrator or assistant administrator positions in local, state, and federal government agencies. Others can become managers in healthcare settings, community service organizations, non-profits, or the private sector.
Campaign Organizer: People running for political office hire teams to help them organize their campaigns and get elected. This staff gathers useful information about voter issues, responds to media, schedules events, and makes sure that the people running for office get their message out.
Journalist: An understanding of geopolitical issues can be very useful for becoming a politics or news reporter. The political science background also focuses on reading and writing skills, which are vital for newspaper and news magazine journalists.
Lawyer: Practitioners of the law benefit from a foundation in political science in order to provide history, context, and expertise in the nature of legal ideas.
Policy Analyst: Policy analysts work in government agencies, non-profits, and private organizations to keep track of legislative and judicial action and to analyze the effects of particular policies. Analysts also investigate new policy proposals to predict the effects of new legislation.
Political Organizer: Political organizers spread the word about a particular political movement or issue. They canvas communities to rally support, organize volunteers, and monitor news breaks to stay on top of developments related to their cause.
Political Scientist: These academic experts work in policy analysis, and the majority of them are enlisted for work by the federal government.
Public Official: Many senators, congressmen, and other governmental executives and legislators have studied political science academically to prepare for their careers.
References
0%

of users found this page helpful
Was this page helpful?
Still have questions or feedback?
This website offers school details to prospective students as an informational resource. The appearance of a school listing on this website should not be interpreted as an endorsement by the school of this site.