2019 Best Online Colleges for Physical Education Degrees
Online degrees in physical education are available at the associate, bachelor's, master's, doctoral and certificate levels. There are 50 accredited online schools offering physical education degrees from which to choose. In addition to a comprehensive list, we highlight the 25 best online colleges offering physical education degrees, ranked according to tution costs and alumni salaries provided by PayScale.
Prospective physical education students should ensure that their programs of choice are regionally accredited. In addition to regional accreditation, students looking to go into teaching will want to make sure that their programs have programmatic accreditation from CAEP to ensure the program meets high standards of academics and professional preparation. Aspiring physical education teachers will also have to check on the specific teacher licensing requirements for their state.
Comprehensive List of Accredited Online Schools - Physical Education Degrees (
51

)
2019 Best Online Colleges Offering a Master's in Physical Education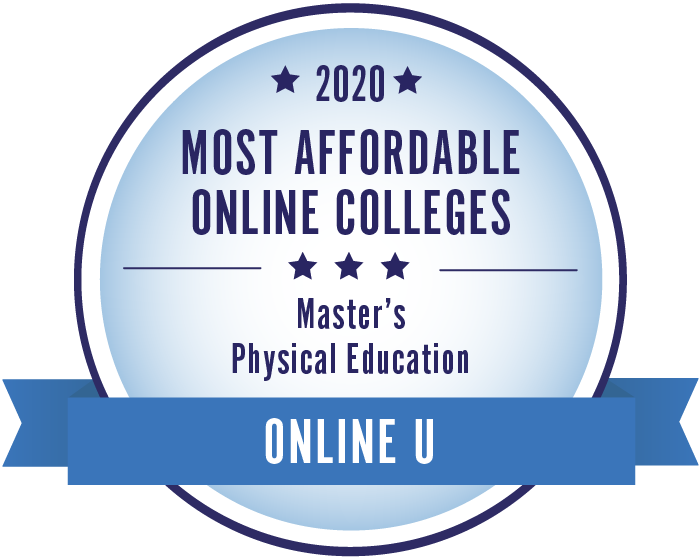 The following eight schools offer affordable online master's degrees in physical education, with 4 under $15,000. #1 is Towson University, with an annual tuition of $12,975 and a reported median salary of $73,500. University of Memphis also has a physical education master's program for a low cost at $10,854 per year.
Alumni salaries were provided by PayScale. View our methodology for more details or learn more about SR Education Group.
Rank
School
Annual Tuition
Median Salary

#1

Annual Tuition

$12,975

Median Salary

$73,500

#2

Annual Tuition

$22,650

Median Salary

$68,900

#3

Annual Tuition

$15,864

Median Salary

$67,300

#4

Annual Tuition

$22,518

Median Salary

$66,600

#5

Annual Tuition

$10,854

Median Salary

$64,700

#6

Annual Tuition

$17,920

Median Salary

$61,300

#7

Annual Tuition

$13,560

Median Salary

$59,800

#8

Annual Tuition

$11,728

Median Salary

$58,700
Salary data provided by

. Updated 2018.
100%

of users found this page helpful
Was this page helpful?
Still have questions or feedback?
This website offers school details to prospective students as an informational resource. The appearance of a school listing on this website should not be interpreted as an endorsement by the school of this site.