2019 Best Master's in Supply Chain Management Online Programs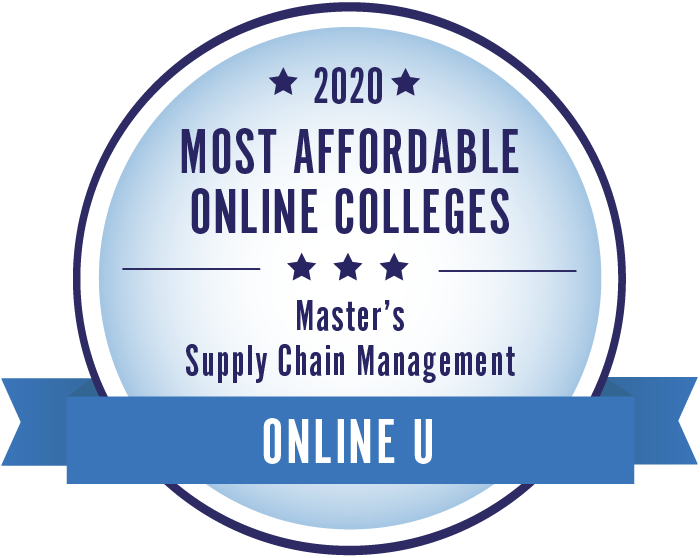 The 16 schools below are the best options for obtaining an online master's in supply chain management. The schools are ranked by alumni salaries and annual tuition rates. The University of Texas at Dallas comes in first place, with an average alumni salary of $141,600 and an annual tuition rate of $30,992. The University of Wisconsin-Platteville, ranked at #5 this year, has the least expensive tuition on the list. Annual tuition at the school is $10,125 per year, and its Master of Science in Integrated Supply Chain Management degree is available in eight different specializations including Logistics and Operations.
Alumni salaries were provided by PayScale. View our methodology for more details or learn more about SR Education Group.
Rank
School
Annual Tuition
Median Salary

#1

The University of Texas at Dallas

$30,992

$141,600

#2

University of Southern California

$34,502

$122,700

#3

Boston University

$23,760

$116,300

#4

University of Maryland - College Park

$53,946

$118,100

#5

University of Wisconsin-Platteville

$10,125

$105,700

#6

Embry-Riddle Aeronautical University-Worldwide

$11,970

$104,100

#7

University of Maryland Global Campus

$11,862

$98,000

#8

Elmhurst College

$13,050

$94,200

#9

Central Michigan University

$10,728

$92,600

#10

Friends University

$10,215

$92,000

#11

National University

$14,620

$87,400

#12

Liberty University

$12,995

$83,600

#13

Southern New Hampshire University Online

$15,048

$76,700

#14

Bellevue University

$10,350

$74,700

#15

Indiana University - Bloomington

$19,950

$74,700

#16

Fontbonne University

$11,310

$70,800
Salary data provided by

.
2019 Online Master's Degree in Supply Chain Management Ranking Details
Online Master's in Supply Chain Management Overview
Online master's programs are offered through many colleges and universities across the United States. Students enrolled in these programs will take courses in such areas as supply chain project management, supply chain analysis, and strategic procurement. A research project or thesis paper may also be a graduation requirement. After earning their degree, students can find work in various advanced managerial positions, such as director of supply chain operations, senior supply chain management analyst, director of purchasing, or commodity manager.
This degree is appropriate for individuals who have a bachelor's degree and work experience in a different field, but who want to make a career change to supply chain management. A bachelor's degree and work experience is required for acceptance into a master's degree program, and programs typically take around two years to complete.
0%

of users found this page helpful
Was this page helpful?
Still have questions or feedback?
This website offers school details to prospective students as an informational resource. The appearance of a school listing on this website should not be interpreted as an endorsement by the school of this site.