2019 Best Master's in Special Education Online Programs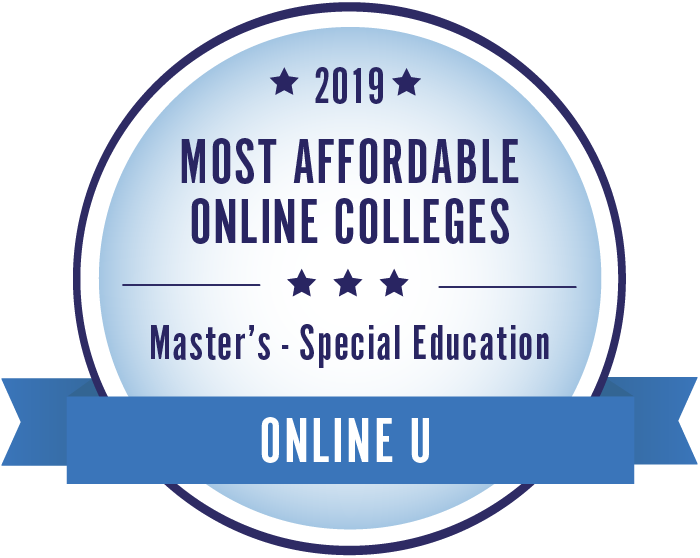 The following 24 schools are ranked for their impressive salaries and affordable tuitions for their online master's in special education degrees. All schools on this list are under $32,000 per year, and 15 are under $15,000. Ranked #1 is The George Washington University, with a low cost of only $14,620 each year. Graceland University, ranked #11, has a great return on investment, with an affordable annual tuition of $7,575 and a reported mid-career salary of $71,500.
Alumni salaries were provided by PayScale. View our methodology for more details or learn more about SR Education Group.
Rank
School
Annual Tuition
Median Salary

#1

The George Washington University

$14,620

$91,400

#2

Purdue University - Main Campus

$11,200

$89,200

#3

Mercy College

$15,696

$89,000

#4

Michigan State University

$12,945

$82,200

#5

Hofstra University

$21,504

$80,100

#6

New York University

$31,068

$77,000

#7

University of Massachusetts-Boston

$10,925

$74,100

#8

National University

$15,480

$73,200

#9

Portland State University

$16,537

$73,300

#10

University of Washington - Seattle

$26,505

$74,100

#11

Graceland University

$7,575

$71,500

#12

Central Michigan University

$10,728

$69,000

#13

University of North Texas

$12,150

$66,900

#14

University of South Florida - Main Campus

$15,864

$67,300

#15

University of Houston

$17,046

$67,000

#16

University of Memphis

$9,045

$64,700

#17

Ball State University

$9,240

$63,900

#18

Arizona State University

$8,925

$63,100

#19

University of Louisville

$12,852

$63,600

#20

University of St. Thomas

$12,037

$63,000

#21

Lesley University

$10,725

$62,800

#22

Indiana University - Bloomington

$9,273

$61,000

#23

Texas A&M University-College Station

$20,422

$61,200

#24

Liberty University

$9,960

$59,800
Salary data provided by

.
2019 Online Master's Degree in Special Education Ranking Details
Online Master's in Special Education Overview
As part of a master's degree curriculum, students will take classes in subjects such as adaptive instruction and assessment, instruction for special education students, social, legal, and ethical issues in special education, and applied behavior analysis. An internship or student teaching is also required, unless one is enrolled in a program that does not lead to licensure.
Upon completing a master's degree, graduates will be qualified to work as licensed special education teachers at the elementary, middle, and high school levels. They might also find employment as a special education consultant or in supervisory roles within a school setting. Admission requirements for a master's degree program will vary based on the institution, but most require that applicants have earned a bachelor's degree. Although it is beneficial to have an undergraduate degree in a related field, admission to a graduate degree program is not dependent on this factor. Other admission requirements may include a resume, personal statement, GRE test scores, and letters of recommendation. Some of the more competitive programs may require applicants to go through an interview process as well.
0%

of users found this page helpful
Was this page helpful?
Still have questions or feedback?
This website offers school details to prospective students as an informational resource. The appearance of a school listing on this website should not be interpreted as an endorsement by the school of this site.