2019 Best Accredited Online Nutrition Master's Degrees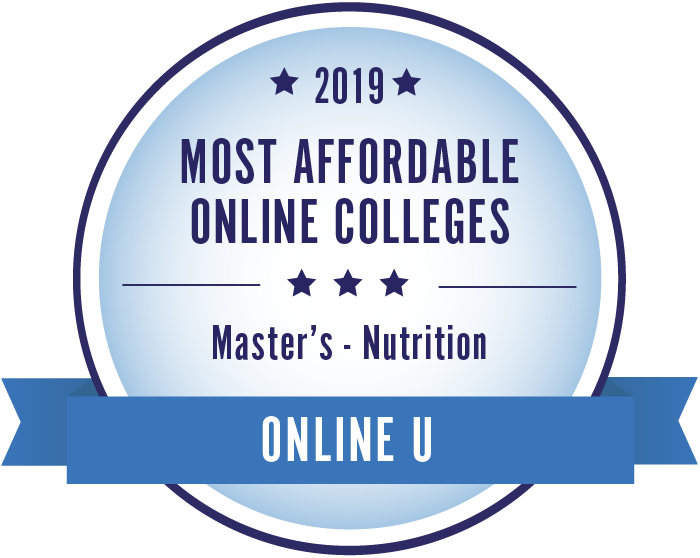 These 24 schools offer the best online master's degrees in nutrition. Almost half of the entries on this list cost less than $10,000 per year, making them excellent choices for students looking for a low-cost, quality education. At #5 is Virginia Polytechnic Institute and State University, which offers a Master of Science in Nutrition for $14,250 per year. Graduates of the school reported a median salary of $113,576.
Alumni salaries were provided by PayScale. View our methodology for more details or learn more about SR Education Group.
Rank
School
Annual Tuition
Median Salary

#1

American University

$32,452

$118,741

#2

Auburn University

$7,995

$114,475

#3

Iowa State University

$9,306

$114,483

#4

Colorado State University-Fort Collins

$11,020

$113,234

#5

Virginia Polytechnic Institute and State University

$14,250

$113,576

#6

Adelphi University

$11,730

$112,943

#7

University of Illinois Urbana - Champaign

$10,800

$110,304

#8

University of Massachusetts - Amherst

$9,225

$108,921

#9

Kansas State University

$11,212

$105,589

#10

Arizona State University

$10,530

$104,728

#11

University of Memphis

$10,251

$101,493

#12

The Sage Colleges

$12,900

$101,400

#13

Andrews University

$7,644

$100,634

#14

University of North Dakota

$6,464

$99,015

#15

University of Kansas

$10,440

$97,049

#16

Central Michigan University

$8,940

$96,721

#17

Oklahoma State University-Main Campus

$18,430

$96,410

#18

University of Southern Mississippi

$8,218

$95,036

#19

University of Alabama at Birmingham

$11,808

$94,995

#20

University of Georgia

$9,435

$94,517

#21

Texas Woman's University

$10,642

$93,342

#22

University of Bridgeport

$14,300

$87,100

#23

Mississippi State University

$8,066

$84,600

#24

University of Northern Colorado

$10,170

$83,700
Salary data provided by

. Updated 2018.
Online Master's in Nutrition
Online master's degrees in nutrition can serve as an entryway into the nutrition and dietetics career field or as a higher learning opportunity for practicing nutritionists. Registered dietitian nutritionists (RDNs) who want to earn the nutrition specialist certification will need a master's or doctoral degree in the field in order to be eligible. Students with no educational background in nutrition who want to become RDNs can also earn a master's in nutrition to make them eligible for certification.
What are the Prerequisites for an Online Master's in Nutrition?
Applicants to an online master's in nutrition program must have a bachelor's degree from an accredited college. While most schools do not require that a student have a bachelor's degree in nutrition specifically, many schools have expectations of previous coursework in biology, chemistry, physiology, and other natural sciences. If students do not have experience with these subjects, they may be required to complete prerequisite courses prior to admittance. Applicants will need to submit their undergraduate transcripts as part of the application process. Some graduate programs also require that applicants have relevant work experience. While a master's degree is not required to work as a nutritionist, a graduate degree can help qualify you for higher-level positions and a higher salary.
What Classes Will I Take in an Online Master's in Nutrition Program?
Nutritionists study every aspect of the food system at the graduate level. In addition to advanced nutrition courses, master's programs may focus on nutrition subcategories such as pediatric nutrition, sports nutrition, eating disorders, and nutrition and aging. Other courses teach students about the production of food, how food is marketed to people, and how people get their information about nutrition and make food choices. Students also study how nutrition affects people's bodies and minds through courses like psychology of nutrition, nutrition for disease prevention, nutrition for weight control, and childhood or developmental nutrition. Many master's degree programs also heavily incorporate clinical practice, research opportunities, and seminars.
Where do Nutritionists Work?
Individuals with an online master's degree in nutrition may find work in a variety of settings. While a bachelor's degree in nutrition is generally the minimum requirement to become a registered dietitian, a master's degree in the field is required for the certified nutrition specialist (CNS) designation. Additionally, a master's can open up career options in public health, public policy, medicine, and education, among other industries. Online master's degrees in nutrition can also provide students who already hold a bachelor's degree in nutrition with a more advanced understanding of the discipline.
Those who earn an online master's in nutrition and want to pursue work as a nutritionist have multiple career options. They may work as clinical dietitians in hospitals or clinics, providing individualized care to patients. They can also work as community dietitians at non-profit organizations, government agencies, or medical clinics, developing large-scale programs to educate community members about nutritional needs.
100%

of users found this page helpful
Was this page helpful?
Still have questions or feedback?
This website offers school details to prospective students as an informational resource. The appearance of a school listing on this website should not be interpreted as an endorsement by the school of this site.