2019 Best Accredited Online MHA Programs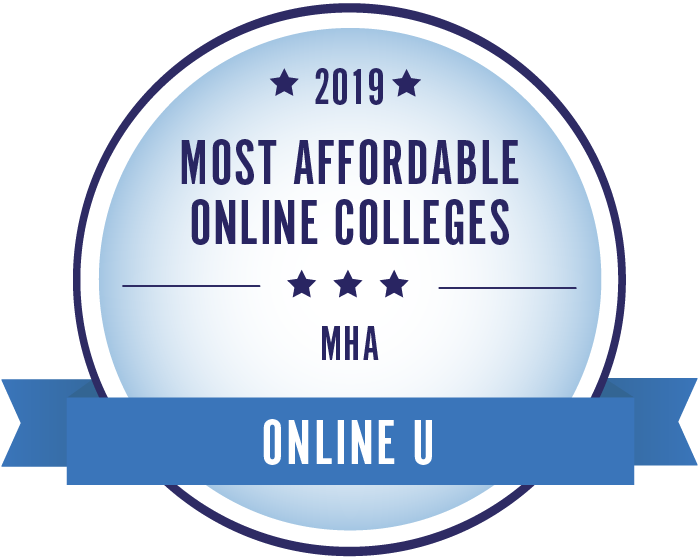 With low tuition rates and high median salaries, these 20 schools make up our list of the best online master's degrees in healthcare administration (MHAs). Every school on this list costs less than $69,000 annually. Our #1 pick for 2019 is University of Southern California which offers an Executive Master of Health Administration for $33,534 per year. Graduates earn a median salary of $132,400.
View our methodology for more details, learn more about SR Education Group, or browse our comprehensive guide to an online healthcare administration degree.
Rank
School
Annual Tuition
Median Salary

#1

Annual Tuition

$33,534

Median Salary

$132,400

#2

Annual Tuition

$16,650

Median Salary

$130,009

#3

Annual Tuition

$26,439

Median Salary

$125,000

#4

Annual Tuition

$7,500

Median Salary

$99,600

#5

Annual Tuition

$12,060

Median Salary

$95,700

#6

Annual Tuition

$10,728

Median Salary

$95,391

#7

Annual Tuition

$14,040

Median Salary

$94,400

#8

Annual Tuition

$15,660

Median Salary

$93,900

#9

Annual Tuition

$12,240

Median Salary

$92,800

#10

Annual Tuition

$11,862

Median Salary

$92,000

#11

Annual Tuition

$13,912

Median Salary

$91,900

#12

Annual Tuition

$12,420

Median Salary

$90,000

#13

Annual Tuition

$11,590

Median Salary

$88,300

#14

Annual Tuition

$19,665

Median Salary

$89,000

#15

Annual Tuition

$68,900

Median Salary

$95,000

#16

Annual Tuition

$17,028

Median Salary

$85,900

#17

Annual Tuition

$10,020

Median Salary

$81,700

#18

Annual Tuition

$10,350

Median Salary

$79,400

#19

Annual Tuition

$18,000

Median Salary

$78,800

#20

Annual Tuition

$13,794

Median Salary

$59,500
Online Master of Health Administration (MHA) Degrees
An online Master of Health Administration program gives graduates the opportunity to be at the forefront of the medical research and health care industry; the curriculum provides students with the skills needed to coordinate and run a healthcare services organization. Students examine business management principles as they apply to a healthcare organization, as well as healthcare quality and policy issues.
What are the admissions requirements for an online MHA?
Applicants to online master's in healthcare administration programs need an accredited bachelor's degree. Most programs accept individuals from a variety of academic backgrounds, though some amount of professional experience in a healthcare setting may be required. Some schools may also require that the applicant have a bachelor's degree in a related field.
Most institutions will require GRE (Graduate Record Exam) or GMAT (Graduate Management Admissions Test) scores that are less than five years old. Minimum GPA requirements and test scores vary from school to school. In addition to test scores, all schools will require applicants to submit their undergraduate transcripts and some may require letters of recommendation, personal statements, and/or CVs.
Internationally educated students may be required to submit an English language proficiency test and have their international degrees evaluated before admission.
How long does an online MHA take?
These degrees typically take two years to complete; students take 12 to 15 courses. Some schools offer accelerated options which can be completed in fewer than two years. For working students, part-time enrollment is also possible at some schools, allowing them to complete the degree over a longer period of time.
What classes will I take in an online MHA program?
The interdisciplinary curriculum in the Master of Health Administration (MHA) program focuses on management skills, information technology, quality care, and healthcare policy. Management courses touch on topics like decision making, organizational behavior, human resources management, and communication in healthcare organizations. Business classes may include topics such as financial management in healthcare, introduction to microeconomics, statistical reasoning, and strategic planning. These classes prepare students to lead and coordinate the teams of clinical workers in healthcare settings with an understanding of business operations.
MHA students should also expect to take healthcare-related classes such as an introduction to U.S. public health care system, current issues in public health, managed care and health insurance, and more. Other courses in the curriculum will focus on quality care topics like statistics, healthcare monitoring, and ways of maintaining care standards. Health policy courses teach future leaders about the ways in which the healthcare system impacts different groups in society.
Most health administration master's degrees require an internship, a research project, or both. Internships require work in a hospital, outpatient care facility, or another health center, shadowing an administrator.
What can I do with an online MHA?
Graduates of these types of programs are trained to coordinate with doctors, nurses, and other healthcare professionals to run health care facilities such as hospitals, clinics, research facilities, and non-profit organizations, with a focus on medical research and aid.
Many MHA graduates may go on to have careers as medical or health services managers. While a bachelor's degree is the minimum entry-level requirement for these types of positions, a master's degree can provide advanced training and better job opportunities. Healthcare administration graduates without professional experience in healthcare management usually begin working as assistant managers or managers of smaller departments. After gaining experience, managers can advance into higher-paying positions.
Professionals with a master of health administration are in high demand; employment opportunities can be found in government, health care, and non-profit sectors. Graduates with experience in the field may find jobs as healthcare consultants, health services managers, clinic managers, facility managers, department or division managers, chief executive officers, or chief operations officers.
Professionals with an MHA degree can also opt to further their studies by getting a doctoral degree within the same or a similar field.
0%

of users found this page helpful
Was this page helpful?
Still have questions or feedback?
This website offers school details to prospective students as an informational resource. The appearance of a school listing on this website should not be interpreted as an endorsement by the school of this site.