2019 Best Online Master's in Finance Programs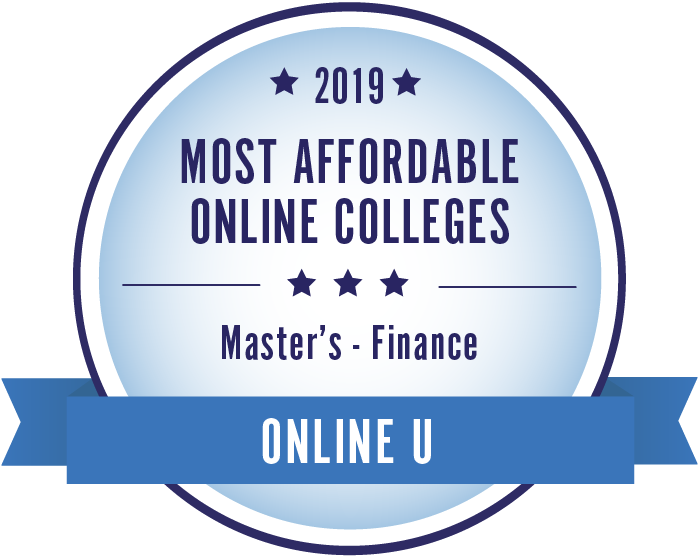 Online learners seeking a master's degree in finance should consider the following 9 schools that have been ranked according to their low tuitions and high earning potential. This year, the top-ranked school is Johns Hopkins University, offering a Master of Science in Finance for $24,660 per year. Graduates of the program reported an average mid-career salary of $148,400. University of Maryland Global Campus, ranked at #7, has the lowest tuition on the list: only $11,862 for their online Master of Science in Accounting and Financial Management program.
Alumni salaries were provided by PayScale. View our methodology for more details or learn more about SR Education Group.
Rank
School
Annual Tuition
Median Salary

#1

$24,660

$148,400

#2

$14,730

$139,000

#3

$56,364

$131,100

#4

$23,760

$118,400

#5

$19,950

$108,400

#6

$23,345

$108,300

#7

$11,862

$99,400

#8

$14,040

$78,300

#9

$13,794

$76,600
Salary data provided by

.
2019 Online Master's Degree in Finance Ranking Details
Online Master's Degrees in Finance Overview
To earn a master's degree in finance, students spend two to three years completing the required coursework; most programs require 10-20 courses. Applicants typically need a bachelor's degree, previous coursework in economics and statistics, and GRE or GMAT scores. Students may also be required to have a year or more of professional business experience before applying to MBA programs.
Different finance master's degrees may have different curriculum focuses. For example, some emphasize quantitative understanding of financial instruments, while others emphasize finance integrated with strategic business principles. Some programs include a set course schedule, while others allow students to choose electives in their professional area. Possible electives include bond markets, negotiation, corporate financial policy, and game theory. Most master's programs require that students complete a thesis, which involves a significant amount of research in a particular area of finance theory or practice.
The core of the online MBA degree covers an array of business topics, which discuss nearly every aspect of running a successful enterprise. Courses in leadership and communication areas, such as decision making, leading people, and organizational behavior, discuss the skills for managing employees and organizations. Quantitative courses like data analysis, economics, and financial decision making discuss the critical thinking and math skills necessary to maintain an organization's financial integrity. Courses in areas like marketing and international business discuss more specialized aspects of promoting a business and integrating it into a global landscape.
Many online master's programs require that students complete an internship in a finance setting; online schools place students in businesses in their local community. Some online business programs require on-site attendance once or several times during the degree program where students visit campus to listen to seminars and meet their cohort.
With a master's degree in finance, graduates may qualify for positions as financial analysts, stock brokers, budget analysts, personal financial advisors, risk managers, or financial managers. Financial professionals work for investment companies, banks, accounting agencies, the government, and for individual businesses and corporations. Other possible places of employment include hedge funds, investment banks, corporate finance departments, consulting firms, and economic development settings. Those with many years of professional experience can become independent consultants.
0%

of users found this page helpful
Was this page helpful?
Still have questions or feedback?
This website offers school details to prospective students as an informational resource. The appearance of a school listing on this website should not be interpreted as an endorsement by the school of this site.