2019 Best Master's in ESL Online Programs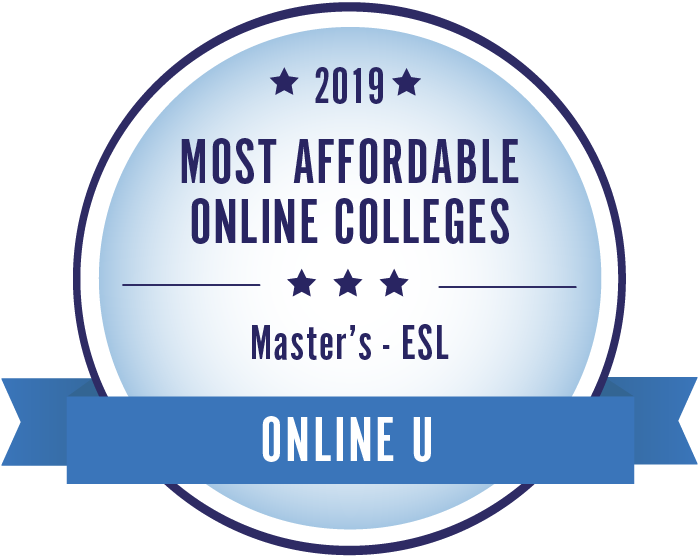 Combining high alumni salaries and affordability, these 14 schools offer the best online master's degree programs in English as a second language. Of these schools, four have annual tuition rates under $10,000. The #1 school on the list is The George Washington University, boasting a reported alumni salary of $91,400 and a low annual tuition of $14,620. At #14, Stephen F. Austin State University is the most affordable option, with an annual tuition of $7,056.
Alumni salaries were provided by PayScale. View our methodology for more details or learn more about SR Education Group.
Rank
School
Annual Tuition
Median Salary

#1

$14,620

$91,400

#2

$13,000

$89,200

#3

$14,824

$89,000

#4

$9,086

$68,600

#5

$15,864

$67,300

#6

$22,518

$66,600

#7

$10,251

$64,700

#8

$9,240

$63,900

#9

$8,925

$63,100

#10

$10,725

$62,800

#11

$20,422

$61,200

#12

$13,560

$59,800

#13

$15,808

$59,100

#14

$7,056

$57,000
Salary data provided by

.
2019 Online Master's Degree in ESL Ranking Details
Online Master's in ESL Overview
Online master's degree programs in ESL are available to those who already have a teaching license and who want to add to their knowledge and skill set, as well as individuals who don't have a teaching background and who want to begin a career as an ESL teacher. This type of program will generally take two years to complete and will consist of around 30 credit hours of study. In order to be admitted to one of these programs an applicant will need to have earned a bachelor's degree, and depending on the program, this degree may or may not need to be in a related field. Depending on the nature of the program, the applicant may also need to have a teaching license and work experience in the field. Other typical admission requirements include letters of recommendation, an essay outlining the individual's career and educational goals, and a resume.
Classes that students may take include Language Structure and Acquisition, Linguistics, Language and Culture in the Classroom, and ESL for Children. Student teaching will also usually be required. After earning a master's degree, graduates will be qualified to work as an ESL teacher to students from Pre-K to the twelfth grade. Those who are looking to earn a master's as a way to become a licensed teacher will need to check with their state for any additional requirements.
0%

of users found this page helpful
Was this page helpful?
Still have questions or feedback?
This website offers school details to prospective students as an informational resource. The appearance of a school listing on this website should not be interpreted as an endorsement by the school of this site.