2020 Best Online Master's Degrees in Environmental Science
Updated April 6, 2020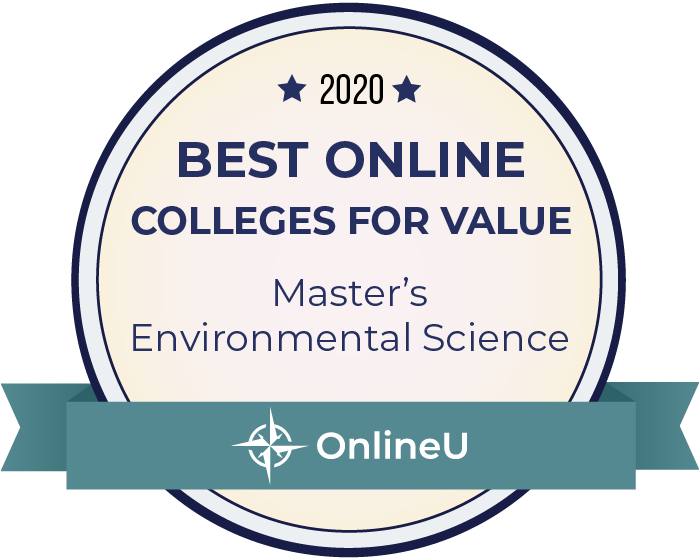 With low tuition rates and high average alumni salaries, the following 23 schools offer the best online master's in environmental science programs. A degree from California State University-Fresno has an impressive return on investment, with an annual tuition of $13,963 and alumni reporting a mid-career salary of $128,892. Second-ranked University of Idaho offers a M.S. in Environmental Science for $9,876 per year. Graduates of the school's environmental science program earn a median salary of $125,060.
Alumni salaries were provided by PayScale. View our methodology for more details or learn more about Guide to Online Schools.
2020 Online Colleges Offering Environmental Science Degrees - Ranking Details
Online Master's in Environmental Science Overview
Students typically enroll in several traditional classes during the first semester in a graduate program. Schools vary with regard to their credit demands, but in most cases students will take more classes during the first year while they acclimate to the program and find internship or research opportunities. The majority of programs will ask students to take a certain number of set classes, such as Introduction to Environmental Science and Research Methods in Environmental Science. From there, students may be able to select their own courses based on their own particular interests.
Schools will also vary depending on how they structure classes. There may be variation within the school, but most master's program courses will be conducted in a discussion format, allowing students the chance to develop and share their ideas. Graduate classes are also often heavily paper-based, rather than via examinations.
A master's student who is studying environmental science will probably have to write an extended, research-based paper. They will conduct research on a topic of their choice and then present their findings in an academic paper, which typically takes at least a semester to complete. Most students spend their entire second year developing their master's thesis ideas. It is not unheard of for schools to offer a designated thesis-writing class in order to offer adequate support to students, but most will also form a partnership with one particular professor who will guide them through the research and academic writing process.
Some universities are particularly focused on research, and they invest millions of dollars a year in helping fund large research projects. In fact, universities have hosted some of the most innovative research projects for environmental science in the last couple of decades, and students have the opportunity to get involved in such projects. This is something to consider when choosing a school as this type of experience can provide opportunities for networking and ongoing professional partnerships.
This website offers school details to prospective students as an informational resource. The appearance of a school listing on this website should not be interpreted as an endorsement by the school of this site.