2019 Best Master's in Engineering Management Online Programs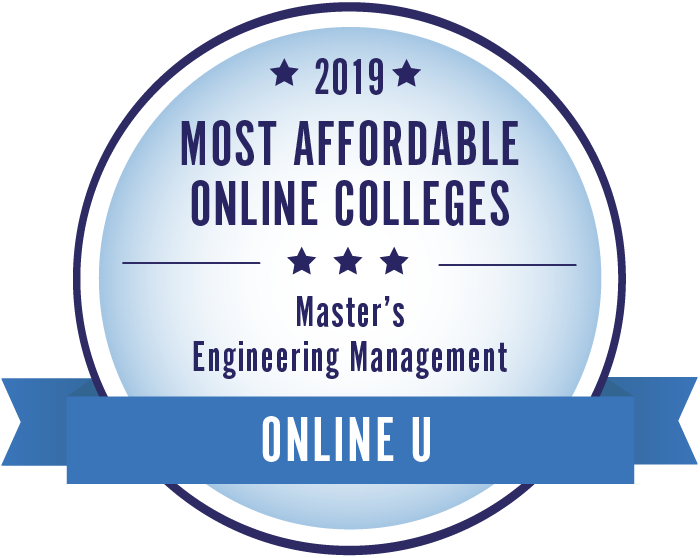 Based on their affordability and median reported alumni salaries, these 19 schools offer the best options for online master's degrees in engineering management. Ranked #1 is Lehigh University, which offers a Master of Engineering in Management Science and Engineering and a Master of Science in Management Science and Engineering for $22,500. Graduates of this program report a median mid-career salary of $127,000. University of Colorado Boulder follows in second place, with an annual tuition of $30,420 and a reported median alumni salary of $120,900.
Alumni salaries were provided by PayScale. View our methodology for more details or learn more about SR Education Group.
Rank
School
Annual Tuition
Median Salary

#1

Lehigh University

$22,500

$127,000

#2

University of Colorado Boulder

$30,420

$120,900

#3

University of Massachusetts - Amherst

$9,200

$116,500

#4

Purdue University - Main Campus

$11,625

$116,800

#5

University of California - Los Angeles

$15,451

$112,880

#6

Arizona State University

$13,860

$112,000

#7

Drexel University

$29,095

$112,100

#8

Iowa State University

$9,405

$109,100

#9

University of Maryland - College Park

$18,165

$109,900

#10

Texas Tech University

$10,515

$107,900

#11

South Dakota School of Mines and Technology

$9,772

$107,700

#12

Missouri University of Science and Technology

$18,000

$105,700

#13

Oklahoma State University-Main Campus

$16,678

$102,300

#14

University of Southern California

$40,100

$105,000

#15

University of Louisville

$10,710

$100,700

#16

University of Massachusetts-Lowell

$8,625

$99,700

#17

Washington State University

$8,730

$99,500

#18

University of South Florida - Main Campus

$15,864

$94,400

#19

Lamar University

$15,644

$90,100
Salary data provided by

.
2019 Online Master's Degree in Engineering Management Ranking Details
Online Master's in Engineering Management Overview
Students enrolled in masters-level programs learn the management skills that they will need to supervise teams of engineers and non-engineers alike. Typical graduate-level courses may include financial management, enterprise information systems, statistics, and ethics.
A master's program in engineering management may be an appropriate option for someone who has an engineering background but is interested in moving into management-level positions. To be admitted to an engineering management master's program, applicants must have a bachelor's degree in engineering or a science-related field from a school accredited by the Accreditation Board for Engineering and Technology. A 3.0 grade point average or higher typically is required, as is field-related work experience. Students may spend as little as a year completing their coursework, although two years is the average time of completion.
0%

of users found this page helpful
Was this page helpful?
Still have questions or feedback?
This website offers school details to prospective students as an informational resource. The appearance of a school listing on this website should not be interpreted as an endorsement by the school of this site.