2019 Best Online Master's in Electrical Engineering Programs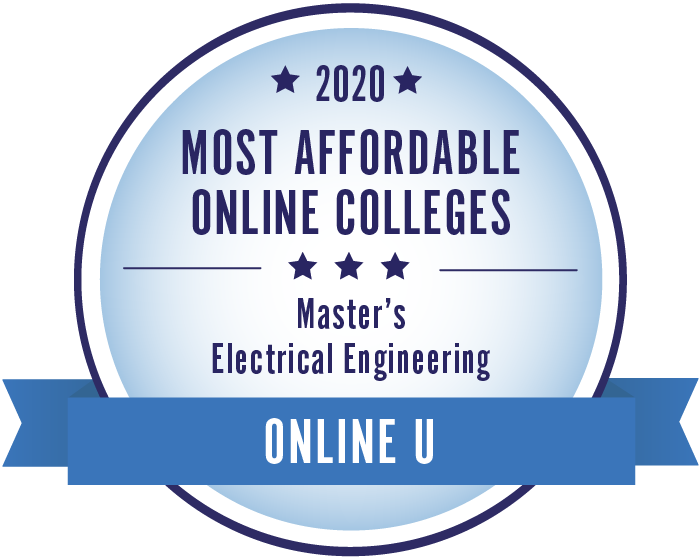 This list represents the colleges that offer the best online master's degrees in electrical engineering, based on the reported median salary of graduates and tuition costs. Washington State University, ranked 20 out of 23, has the lowest tuition of any school on the list at $8,730 per year. The highest reported alumni median salary, $132,700, goes to #1-ranked Columbia University in the City of New York.
Alumni salaries were provided by PayScale. View our methodology for more details or learn more about SR Education Group.
Rank
School
Annual Tuition
Median Salary

#1

Columbia University in the City of New York

$30,270

$132,700

#2

Texas A&M University-College Station

$21,632

$131,300

#3

Stanford University

$20,280

$127,320

#4

Worcester Polytechnic Institute

$22,695

$121,600

#5

Illinois Institute of Technology

$24,480

$121,800

#6

University of Colorado Boulder

$30,420

$120,900

#7

Purdue University - Main Campus

$19,530

$116,800

#8

Georgia Institute of Technology

$16,300

$115,420

#9

The University of Texas at Austin

$22,500

$114,400

#10

University of California - Los Angeles

$15,451

$112,880

#11

University of Houston

$18,000

$113,100

#12

Arizona State University

$13,860

$112,000

#13

Colorado State University-Fort Collins

$10,275

$111,200

#14

Drexel University

$29,095

$112,100

#15

Iowa State University

$9,405

$109,100

#16

Missouri University of Science and Technology

$18,000

$105,700

#17

North Carolina State University

$18,675

$104,800

#18

Oklahoma State University-Main Campus

$16,678

$102,300

#19

University of Southern California

$37,427

$105,000

#20

Washington State University

$8,730

$99,500

#21

Villanova University

$20,925

$99,200

#22

University of Minnesota Digital Campus

$20,910

$98,300

#23

Auburn University

$14,235

$95,700
Salary data provided by

. Updated 2018.
Online Master's in Electrical Engineering Overview
Program Requirements
The degree takes two years to complete and requires that applicants have an accredited bachelor's degree in electrical or electronics engineering. Students complete between 12 and 20 courses, depending on the scope of the program; some degrees also require a thesis.
Curriculum
Students in the master's program study advanced applications of circuitry and currents. Common courses discuss electrical design, product development, and management skills and techniques. Many graduate programs in electrical engineering require students to write a master's thesis or complete a culminating project. This project demonstrates a student's mastery of a very specific subject, and most people spend at least one semester working extensively on their project.
With a master's degree in electrical engineering, graduates are prepared for management roles in engineering settings. Engineering services, instruments manufacturing, electric power generation, semiconductor manufacturing, and scientific research and development are industries employing large numbers of electrical engineers. According to the Bureau of Labor Statistics, electrical engineers will find the best job opportunities with engineering services firms. Electrical engineers who want to further improve their job prospects can earn a Professional Engineer license (BLS).
0%

of users found this page helpful
Was this page helpful?
Still have questions or feedback?
This website offers school details to prospective students as an informational resource. The appearance of a school listing on this website should not be interpreted as an endorsement by the school of this site.