2019 Best Online Master's in Accounting Programs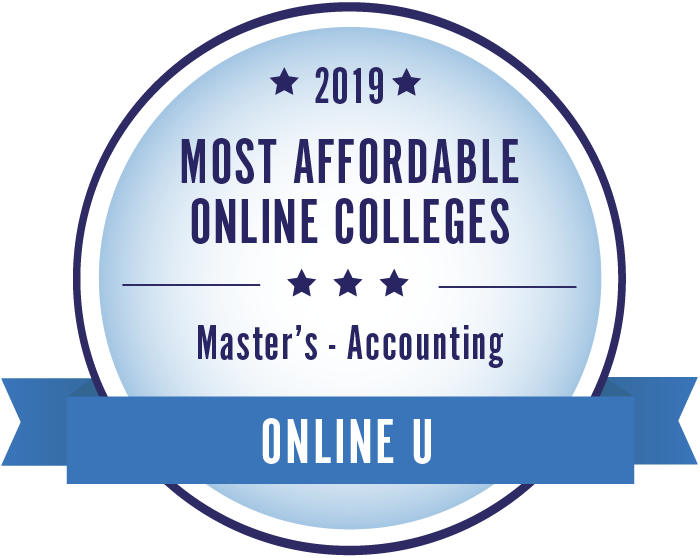 For affordable online master's in accounting degrees with high earning potential, look no further than this list of the 24 top-ranked online colleges. Villanova University Online Graduate Programs takes the top spot, with annual tuition of $21,750 and a median alumni salary of $177,200. Fourth-ranked Southern Utah University has the lowest tuition on the list, offering an online Master of Accountancy for $7,097 per year.
Alumni salaries were provided by PayScale. You can read more about our ranked schools below or browse our comprehensive guide to an online accounting degree. View our methodology for more details or learn more about SR Education Group.
Rank
School
Annual Tuition
Median Salary

#1

$21,750

$177,200

#2

$25,580

$148,300

#3

$7,176

$131,800

#4

$7,097

$131,700

#5

$34,980

$135,200

#6

$13,125

$128,400

#7

$23,345

$126,500

#8

$13,600

$125,000

#9

$10,425

$124,400

#10

$54,149

$129,300

#11

$30,992

$116,800

#12

$12,750

$100,000

#13

$9,612

$96,100

#14

$11,862

$91,900

#15

$29,667

$87,400

#16

$13,794

$84,800

#17

$13,760

$84,500

#18

$10,350

$80,900

#19

$13,500

$81,100

#20

$13,912

$80,700

#21

$50,750

$85,300

#22

$8,505

$74,000

#23

$24,621

$74,200

#24

$13,560

$68,900
Salary data provided by

. Updated 2018.
Overview of an Online Master's in Accounting
Online master's programs in accounting cover topics in theory, managerial principles, critical thinking, and analysis. These programs typically take between one and two years, and are geared towards students seeking to expand their accounting skill set, prepare for licensing exams, or make a pivot in their career.
Can a Non-Accounting Graduate Earn a Master's in Accounting?
Most Master of Accounting programs do not require applicants to have a bachelor's in accounting, however many programs require foundational classes in accounting, business, and management. Some programs are specifically tailored for students with no prior accounting experience, and include all introductory coursework in the program's curriculum. Beyond these prerequisites, typical programs require an accredited undergraduate degree and GMAT or GRE scores.
What Type of Classes Will I Take?
The accounting master's curriculum revolves around advanced accounting concepts, specialized accounting topics, and business coursework. In advanced accounting classes, students learn how to manage accounts in a variety of settings. Management accounting classes discuss corporate mergers, contracts, and other business accounting topics, while classes in financial accounting cover financial statement preparation and analysis. Other courses discuss information systems in accounting, strategic management, business law, and taxation.
What Is the Difference Between a Master of Accounting and an MBA in Accounting?
An MBA in Accounting offers a more general business curriculum with a partial focus in accounting, whereas a Master of Accounting program will focus heavily on advanced accounting principles. Due to their in-depth nature, Master of Accounting programs are often designed to prepare students to sit for licensing exams such as the Certified Public Accountant exam. Students in a Master of Accounting program can also often focus their studies on a specific topic such as internal auditing or taxation. Students seeking a broader variety of career options might prefer an MBA with a concentration in accounting.
What Can You Do With a Master's in Accounting?
For most graduates, the master's degree in accounting is used to enter a more competitive position as a professional accountant. Students who have completed 150 credit hours of post-secondary education are eligible to sit for the CPA exam. The CPA credential is highly valued in the field and can be useful for finding a job. Master's-level accountants may work in a variety of settings, including private accounting services, finance and insurance, state and local government, and manufacturing.
0%

of users found this page helpful
Was this page helpful?
Still have questions or feedback?
This website offers school details to prospective students as an informational resource. The appearance of a school listing on this website should not be interpreted as an endorsement by the school of this site.