Complete Guide to Best Online Business Management Degrees
0%

of users found this page helpful
Was this page helpful?
2018 Best Online Colleges Offering Bachelor's in Management Degrees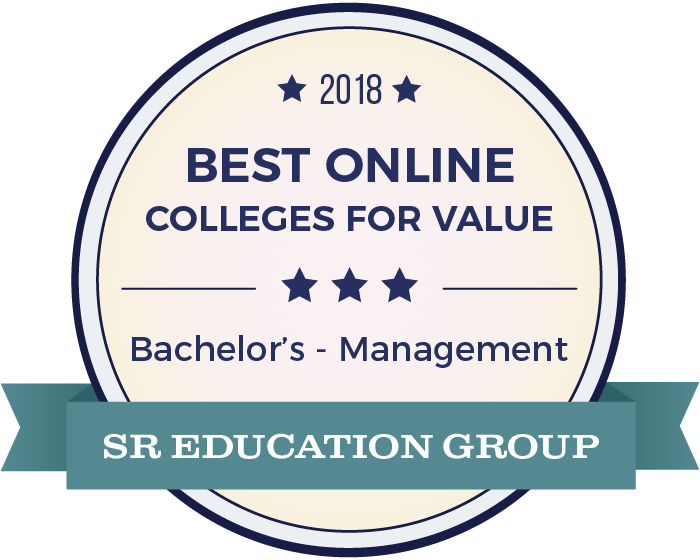 This list features the top 25 online bachelor's degrees in management based on their academic strength and low annual tuition rates. Sixteen schools on the list have tuition of less than $10,000 per year. With an annual tuition rate of $7,290 and an academic strength score of 68%, Ohio University-Main Campus offers the number one degree program on the list. The highest ranking program by academic strength is offered by the University of Iowa. The University of Iowa program also offers an affordable tuition rate of just over $10,000 per year.
View our methodology for more details or learn more about SR Education Group.
Rank
School
Annual Tuition
Academic Strength

#1

Ohio University-Main Campus

Annual Tuition

$7,290

Academic Strength

68%

#2

Southern Utah University

Annual Tuition

$5,918

Academic Strength

64%

#3

University of Iowa

Annual Tuition

$10,312

Academic Strength

73%

#4

Arkansas State University

Annual Tuition

$6,300

Academic Strength

59%

#5

Colorado State University-Global Campus

Annual Tuition

$10,500

Academic Strength

71%

#6

Georgia Southwestern State University

Annual Tuition

$6,480

Academic Strength

60%

#7

Southeast Missouri State University

Annual Tuition

$8,752

Academic Strength

65%

#8

Valdosta State University

Annual Tuition

$7,500

Academic Strength

62%

#9

Minot State University

Annual Tuition

$6,750

Academic Strength

59%

#10

Lamar University

Annual Tuition

$7,440

Academic Strength

60%

#11

Florida International University

Annual Tuition

$9,893

Academic Strength

67%

#12

West Texas A & M University

Annual Tuition

$7,639

Academic Strength

61%

#13

Bemidji State University

Annual Tuition

$8,530

Academic Strength

62%

#14

Westfield State University

Annual Tuition

$9,180

Academic Strength

62%

#15

The University of Texas of the Permian Basin

Annual Tuition

$8,912

Academic Strength

61%

#16

Creighton University

Annual Tuition

$13,350

Academic Strength

72%

#17

Dakota State University

Annual Tuition

$10,050

Academic Strength

63%

#18

Northwestern State University of Louisiana

Annual Tuition

$9,600

Academic Strength

62%

#19

King University

Annual Tuition

$9,455

Academic Strength

60%

#20

Old Dominion University

Annual Tuition

$11,070

Academic Strength

64%

#21

Toccoa Falls College

Annual Tuition

$10,080

Academic Strength

61%

#22

Dickinson State University

Annual Tuition

$9,659

Academic Strength

60%

#23

Regent University Online

Annual Tuition

$11,850

Academic Strength

65%

#24

Friends University

Annual Tuition

$13,330

Academic Strength

69%

#25

Waldorf University

Annual Tuition

$8,700

Academic Strength

56%
Comprehensive List of Accredited Online Schools - Management Degrees (
549

)
Online Management Degree Overview & Career Information
Students who earn an associate or bachelor's degree will learn skills to help qualify them for an entry-level management job. Both degree programs in business management teach students about organizational behavior, leadership, human resources, and project management to be successful in the business world. Bachelor's degree programs take a longer time to complete, but offer a more in-depth education than associate programs. A wide variety of management certificate programs are available to help students become effective leaders, managers, or supervisors in specific realms, such as resource management or operations management.
Master's and doctoral degrees in management are advanced degrees, giving students greater skills in a more specialized concentration than an undergraduate program. Higher-level management jobs typically require a master's degree, or even a doctorate in some situations. For example, a master's degree program in project management would provide skills that are valued by companies in any industry, such as planning, cost control, human and strategic issues, value management, and commercial and procurement law. Doctorates will instruct students in more complex management issues and help them advance in their current career or work in higher education.
Admission requirements for an online business management degree will vary depending on the school and the level of the program. Associate and bachelor's degree programs in management will require that students have a high school diploma, good grades, and the necessary educational background for the major. Master's degree programs require that students have already earned their bachelor's degree, while doctorates require applicants to have a bachelor's or master's degree. In order to enroll in a graduate certificate program, students must have already earned a degree or, in some cases, being currently enrolled in a degree program is sufficient.
View Management Programs
View Management Programs
Online Associate Degrees in Management
Online associate degrees in management provide introductory training in the skills to run a business efficiently. These associate programs require two years of coursework and about 60 course credits. Applicants need a high school diploma or GED for admission.
The curriculum in the management program is interdisciplinary and requires students to master a variety of business principles. Common courses include corporate communications, business finance, human resources, organizational strategy, business ethics, entrepreneurship, financial and managerial accounting, micro- and macroeconomics, and employment law. The associate coursework also requires general education classes in topics like math, social science, natural science, and the humanities.
Many associate programs in management also require students to complete an internship or work experience during the degree. Since business is a very hands-on profession, this component allows students to gain experience that may be attractive to future employers.
Graduates can apply for entry-level management positions in lodging and hospitality, advertising, human resources, administrative services, information technology, construction, food service, and healthcare management. Many associate degree graduates start their careers as office managers, management trainees, or administrative assistants; after gaining some experience, graduates may be able to move into staff-level management positions. Graduates of transferable associate degree programs can also choose to pursue a bachelor's degree at a later time, which may open up more opportunities for higher-ranking administrative and management roles.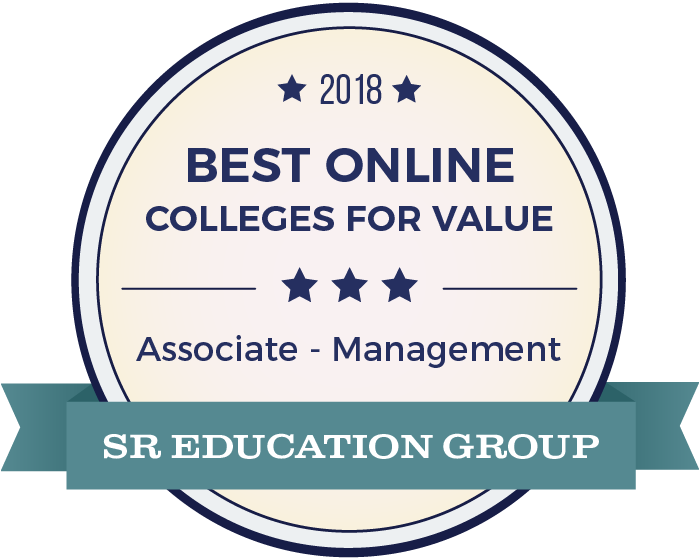 2018 Top Online Colleges for an Associate Degree in Management
Listed below are the top online colleges offering associates in management degrees, ranked by affordability and academic strength. Huntington University ranks first with a tuition rate of $12,200 per year and an academic strength score of 62%. Indiana Institute of Technology follows closely behind at #2, with a slightly lower tuition of $11,880 and an academic strength score of 57%.
View our methodology for more details or learn more about SR Education Group.
View Associate Programs
View Associate Programs
Online Bachelor's Degrees in Management
A bachelor's degree in management provides practical and theoretical training in business leadership skills. This program requires four years of full-time study and about 120 credit hours of courses. The chief prerequisite is a high school diploma or GED; depending on the program students may need to submit additional materials, such as a resume, personal statement, and test scores.
The management bachelor's curriculum teaches foundational principles in business communication, quality assurance, financial records, and customer relations. It also helps provide an in-depth understanding of organizational structures and how to assess ideal candidates for employment. Other common core classes include supply side marketing, business law and ethics, workplace diversity, and researching and writing reports.
Students in the bachelor's program may be required to complete an internship or capstone course before graduating. A capstone course requires students to complete a large project that draws on the principles introduced during the degree program. For example, business students might be required to launch their own small start-up company over the course of one semester.
A bachelor's degree is the usual educational requirement for entry-level management positions in finance, banking, retail, hospitality, travel and tourism, marketing, healthcare, and human resources. Graduates with little professional experience may be hired as assistants or specialists in their field until they gain the requisite on-the-job training. Students should also consider the kinds of professional fields they might want a management position in and choose a degree program that will help them tailor their education accordingly.
View Bachelor's Programs
View Bachelor's Programs
Online Master's in Management
Online management degrees at the master's level focus on the skills for leading teams of employees and managing complex issues in a fast-paced environment. These programs may provide an interdisciplinary foundation of business topics, or they may concentrate on a particular area of business. Master's in Management programs usually take one or two years to complete when students enroll on a full-time basis. Applicants need an accredited bachelor's degree, as well as GRE, GMAT, or MAT scores. Many require several years of business experience. Prospective graduate students can browse our list of the best online master's in management programs to learn more about the best online programs, differences between specific degrees, and available careers for master's degree holders.
Online Doctoral Degrees in Management
The online doctorate in management combines management scholarship and research with the study of professional practices. Applicants to management doctoral programs typically need a relevant bachelor's or master's degree and professional experience. Most successful applicants also have a strong resume. Doctorates typically take three to five years to complete.
To earn a doctoral degree in management, students become experts in business structure and modeling, as well as management structure and theories. Required courses often include business finance, applied business theories, business statistics, and academic writing. Organizational behavior, technology in business, and strategic management are other common classes. All doctoral students complete a dissertation on a topic related to management. Students study their chosen topic exhaustively and in some cases conduct original research as well. Under the guidance of a professor, students write and rewrite their dissertation and present it to a panel at the end of their time in school.
Some graduates of doctoral degree programs in management stay in academia; a PhD is the typical requirement to become a professor of management, administration, or business at universities and colleges. Some people with doctoral degrees in management become consultants, advising companies on their management structure and business models. Others enter upper-level management roles in local and state governments, educational institutions, and non-profits.
View Doctoral Programs
View Doctoral Programs
Online Certificates in Management
Certificates in management are usually graduate certificates, developed for business professionals that want to improve their ability to lead employees and strategize for their organization. The certificates are available in general management topics or in specialized areas, such as management consulting. They are often offered by university extension programs and business schools and consist of four to eight courses. Management graduate certificates typically require an accredited bachelor's degree.
The management certificate coursework discusses a variety of dimensions of leadership required in organizations. For example, a course in business negotiating discusses communication across cultures during difficult conversations. Courses in effective leadership discuss how to lead teams and align individual and organizational goals. Other common courses include managing organizational change, organizational communication, entrepreneurship, and marketing. Some certificates have a full set of required courses, while others allow students to pick and choose the classes that are most relevant to their careers.
The management certificate can be useful for advancing in one's current workplace or moving into business from another profession. Current professionals can consider roles as human resources specialists or managers, organizational specialists, or administrative managers. Those with significant business experience can move into consulting roles. Professionals in noncorporate settings, such as registered nurses, can use the certificate to prepare for supervisory positions. The management topics discussed in the certificate program are also relevant to the non-profit and public service sector.
View Certificate Programs
View Certificate Programs
The Importance of Accreditation
Prospective management students are encouraged to thoroughly research the online degree or certificate programs they are interested in and make sure that the program they choose will provide them with an education that will be of real value to them. One important way to help narrow down your options is to select schools or programs that have been accredited. The US Department of Education and the Council for Higher Education Accreditation recognize a select group of independent, nongovernmental accrediting agencies to carefully review and evaluate schools and degree programs. The schools and programs that meet their standards of academic excellence receive accreditation, which must be renewed every few years.
Accreditation can be institutional, meaning that the college or university as a whole is accredited, or programmatic, meaning that an individual degree program has been accredited. One example of a programmatic accrediting agency is the Accreditation Council for Business Schools and Programs. ACBSP accredits schools and programs around the world, in areas such as accounting, economics, finance, management, and business administration -- all disciplines that require well-educated management graduates.
In addition to helping you feel confident that you're receiving a high-quality education, attending an accredited management program will also enable you to apply for financial aid and scholarships as well as transfer credits to other accredited colleges and universities. For more information about accreditation, please visit the Guide to Online Schools Accreditation hub.
Management Certification
To help make your resume stand out from the crowd, you may want to consider earning a certification to highlight your specialized management skills and show your commitment to the field. Two popular certifications are the Project Management Professional (PMP) certification and Six Sigma certification.
Project Management Professional (PMP) Certification
PMP certification is a great way for people who are interested in project management to get the necessary skills to enter the job market. The certification programs generally consist of a group of approximately six classes that focus on the fundamentals of effective project management. Leadership skills, ethics, strategic execution, risk management, and financial mastery are some of the subjects covered. These certificates take a few months to a year to earn; some programs require students to have a bachelor's degree, while others don't. The Project Management Institute is the main evaluator of PMP certification programs.
Six Sigma Certification
Six Sigma is a business strategy that was originally developed by Motorola. The strategy, which can be helpful for business professionals and project managers, focuses on quality management and streamlining business practices to decrease the number of defects in a final product. There are two types of Six Sigma certifications: green belt and black belt. Green belt programs take around 40 hours of work to earn, while black belts take about 100. No central body regulates or certifies Six Sigma programs, so you should be careful to choose a reputable program before you enroll.
Career Specializations for Online Management Degree Graduates
Online management certificate and degree programs give students opportunities to learn about the challenges and complexities of the business world. Graduates can find employment in a wide range of for-profit and non-profit sectors.
Non-Profit Management
Certificate and undergraduate programs in non-profit management focus on teaching students basic principles in non-profit management. Common courses may include an introduction to non-profit management, fundraising management, grant writing, public policy advocacy, financial management, building partnerships, and non-profit marketing. Associate and bachelor's students are also required to take a number of liberal arts classes. Graduates often qualify for entry-level management positions in public relations, finance, or the administrative services department of their organization.
Some schools offer master's degrees in non-profit management or non-profit studies, while others provide master's degrees in business administration with an emphasis on non-profit management. Regardless of the specific kind of graduate program offered, students get the opportunity to further explore the legal and business aspects of this field. Master's degree programs also show students how to examine the trends and shifts affecting the non-profit world. Coursework may include project management, volunteer and staff management, and managerial economics.
Most doctoral degrees in non-profit management are offered through business schools as a Doctor of Philosophy (PhD) or Doctor of Business Administration (DBA). PhD programs are designed to stress theory and prepare students for careers in academia or research. Those with a PhD are also qualified to start their own organization. DBA programs, on the other hand, focus on showing students how to put theory into practice and mostly target those who desire roles as company executives or consultants. The programs typically cover advanced topics in organizational behavior, public policy, and business fundamentals. Doctoral candidates in all programs are expected to present an original dissertation at the end of their studies.
Office Management
Online office management and administration degrees cover the skills for taking on a multifaceted business role. These degree programs discuss office information technology, managing employees, facilities management, finance, and business regulations. Graduates have the analytical, communication, and leadership skills to begin managing in a variety of settings. Office management degrees can be pursued at every educational level, from the undergraduate certificate to the doctorate. Undergraduate programs provide a broad introduction to business and management topics, while graduate degrees allow students to specialize in a particular area of office management, such as human resources, supply chain management, or healthcare management.
Undergraduate certificate and associate degree programs are usually designed to cover a broad array of business topics. Students master the necessary information technology skills, such as desktop publishing, word processing, and electronic spreadsheets. Business core classes discuss topics like accounting, organizational behavior, and marketing. Most programs also contain a handful of general education classes to help develop well-rounded graduates.
An online bachelor's degree in an office management area will prepare graduates for the largest number of entry-level administrative positions. At the bachelor's level, students also often have the ability to specialize the business core of classes with an additional set of electives in an area like business administration, marketing management, and human resources management. Core classes revolve around generally applicable business topics, such as finance principles, operations management, business policy, and managing organizational behavior.
Online master's and doctorate programs that touch on office management skills are available in a few different focus areas. The Master of Business Administration is a popular degree program that combines business theory with practical business skills. Master of Science degrees in finance, marketing, industrial organizational behavior, or human resources can also be good preparation for different types of office management roles. Doctorate in Business Management degrees are typically aimed at researchers who want to further examine business policies or teach in a college faculty position.
Restaurant Management
The culinary industry is an exceptionally large industry in the United States. From fast food to fine dining, thousands of people work in the food-service industry. While the most recognizable people are servers, busboys, chefs, and hosts or hostesses, there are also people dedicated to ensuring that every restaurant runs smoothly. Restaurant managers are managers like any other; they are responsible for ordering food and other supplies, organizing and scheduling staff, training, and managing the financial side of restaurant organization. Some people move up through the ranks to restaurant management careers from lower-level positions, while others pursue educational opportunities to earn diplomas, associate degrees, or bachelor's degrees that prepare them for the tasks they will be asked to perform.
A diploma in restaurant management is the most common educational option in the field. It takes one year or less to complete and teaches students to navigate basic ordering procedures, human resources, customer service, and general restaurant organization. Students who are pursuing associate degrees in restaurant management will also study all of these essential topics, but they will get a broader introduction to business. Students in two-year programs will learn more about financial planning, leadership, and public relations.
Most bachelor's degree programs in restaurant management are actually business bachelor's degrees with a concentration in restaurant management. Because of this, students will be required to complete a challenging set of classes, including economics, public relations, human resources management, finance, business ethics, and the laws that govern restaurant management and business in general. They will also study advertising and business model development. Graduates of these programs often have their choice of top jobs in the restaurant management field and have the qualifications to successfully open their own restaurants.
Retail Management
A career in retail management is ideal for those who like a challenge, are good with people, have great communication skills, are highly organized and motivated, and like to be on their feet doing physical tasks more than they like sitting at a desk in an office building. Of course, going into retail management also works best if you have a genuine passion for the retail business and improving consumer experiences. Armed with a degree in retail management, the most obvious career for graduates would be as a store manager. Other career options include being a retail specialist or analyst at a company's corporate headquarters or retail department.
Certificate programs in retail management provide students with the very basic education needed to move up the retail ladder. Courses may include marketing, management accounting, fundamentals of retailing, business communications, human resource management, and human relations. Associate degree programs combine retail management-specific courses with general education courses in English, math, social sciences, and natural sciences. Completion of an associate degree program allows graduates to enter the workforce right away or transfer to a four-year bachelor's program for two additional years of study.
Bachelor's degree programs typically require that students take courses that help them learn to be effective retail business leaders; this includes courses in communications, management, finance, marketing, and human resources. Retail-specific courses may include fundamentals of retail management; retailing analytical tools and techniques; brand building and channel development; marketing, merchandising, and advertising; and management and operational issues in retail. Some programs offer specializations in subfields such as marketing, project management, and management and leadership.
References
0%

of users found this page helpful
Was this page helpful?
Still have questions or feedback?
This website offers school details to prospective students as an informational resource. The appearance of a school listing on this website should not be interpreted as an endorsement by the school of this site.