2019 Best Online Colleges for Law Enforcement Degrees
The 6 online law enforcement programs on this comprehensive list will help prepare students to work in local police departments, federal agencies, national parks, and courts. The schools that made our list of best online law enforcement colleges are particularly strong options for aspiring law enforcement professionals, based on tuition costs and alumni salaries reported by PayScale. Online law enforcement degrees are available at the associate, bachelor's, master's, and certificate levels.
Students should also consider accreditation and career options when choosing an online degree in law enforcement. Since there is no specific programmatic accreditation for law enforcement degrees, students should focus on institutions with regional or national accreditations when selecting which online schools to attend.
Comprehensive List of Accredited Online Schools - Law Enforcement Degrees (
6

)
School
Accreditation
Annual Tuition
Recommend Rate
Baker College Online

HLC

$9,360
60%

(88 reviews)

71 Programs, 1 Associate in Law Enforcement

Criminal Justice - Law Enforcement (Police Academy) - Associate

Bryant & Stratton College Online

MSCHE

$14,383
65%

(52 reviews)

53 Programs, 1 Associate in Law Enforcement

California University of Pennsylvania

MSCHE

$15,326
80%

(15 reviews)

108 Programs, 1 Associate in Law Enforcement

Associate of Science in Technical Studies: Applied Policing and Technology

Carrington College

WASC ACCJC

$13,975 - $54,125
0%

(2 reviews)

7 Programs, 1 Associate in Law Enforcement

Associate of Science in Criminal Justice - Private Security/Loss Prevention

Eastern Kentucky University

SACS COC

$18,250
33%

(3 reviews)

102 Programs, 1 Associate in Law Enforcement

Associate in Police Studies

University of Maine at Fort Kent

NECHE

$12,075
Add Review

17 Programs, 1 Associate in Law Enforcement

Associate of Arts in Conservation Law Enforcement
2019 Best Online Colleges Offering Bachelor's in Law Enforcement Degrees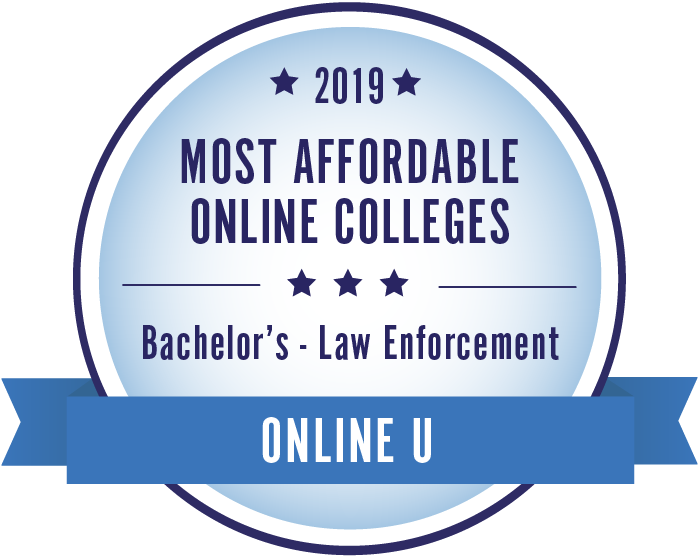 The best online law enforcement degrees are offered by the seven schools on this list. Park University is ranked first with an annual tuition of $11,970 and a median salary of $63,700. Northwestern State University of Louisiana is the least expensive option, offering a Bachelor of Science in Unified Public Safety Administration with a Law Enforcement Administration concentration for only $9,600 per year.
Alumni salaries were provided by PayScale. View our methodology for more details or learn more about SR Education Group.
Rank
School
Annual Tuition
Median Salary

#1

$11,970

$63,700

#2

$12,270

$61,800

#3

$13,620

$56,700

#4

$9,600

$51,800

#5

$19,171

$52,400

#6

$16,900

$46,100

#7

$13,640

$40,300
Salary data provided by

.
2019 Online Colleges in Law Enforcement Ranking Details
100%

of users found this page helpful
Was this page helpful?
Still have questions or feedback?
This website offers school details to prospective students as an informational resource. The appearance of a school listing on this website should not be interpreted as an endorsement by the school of this site.