2019 Best Online Colleges for Industrial Engineering Degrees
There are 50 online colleges and universities offering degrees in industrial engineering. Available at the bachelor's, master's, doctoral, and certificate levels, online industrial engineering programs teach students to look at production processes and come up with ways to make these processes more efficient. These engineers need to have an understanding of a wide range of factors, such as costs, environmental impact, technology, equipment, and human factors. Industrial engineers may work in a range of different industries, from manufacturing to governmental agencies and non-profit organizations. Their duties may cover the areas of supply chain management, quality assurance, and project management. Prospective industrial engineering students look for degrees that are accredited and may find our list of best online industrial engineering degrees useful. This list highlights schools with low tuitions and comparatively high alumni salaries, as reported by PayScale.
Comprehensive List of Accredited Online Schools - Industrial Engineering Degrees (
51

)
2019 Best Online Colleges Offering a Master's in Industrial Engineering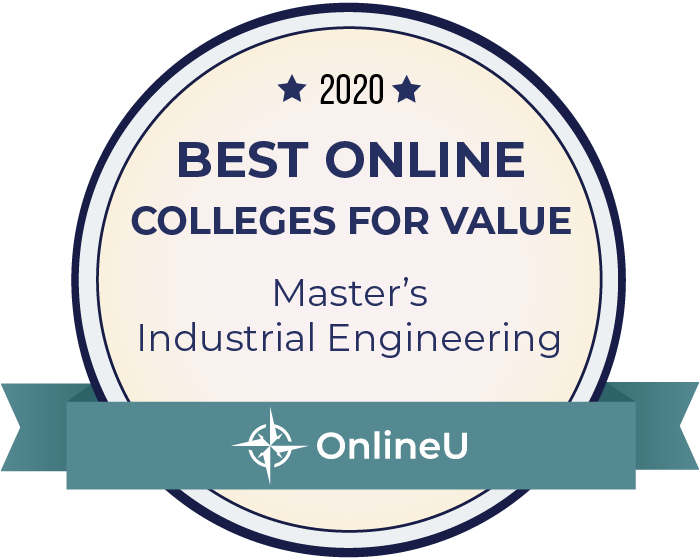 The 12 colleges on this list represent the best schools for obtaining an online master's degree in industrial engineering, based on reported median alumni salaries and tuition. University of Central Florida, with an annual tuition of $9,572, is the most affordable. Though it ranks #12, alumni report median mid-career salaries over $100,000 per year. North Carolina State University ranks #1 overall, with a high median salary of $133,500. Students can obtain a Master of Science in Industrial Engineering from #2-ranked New Mexico State University for only $13,216 per year, and graduates report median mid-career salaries of $131,400.
Alumni salaries were provided by PayScale. View our methodology for more details or learn more about SR Education Group.
Rank
School
Annual Tuition
Median Salary

#1

$21,165

$133,500

#2

$13,216

$131,400

#3

$16,678

$131,400

#4

$16,120

$129,800

#5

$16,300

$127,700

#6

$19,530

$125,500

#7

$21,632

$122,700

#8

$11,379

$121,300

#9

$13,860

$113,000

#10

$26,970

$113,100

#11

$12,240

$107,100

#12

$9,572

$105,600
Salary data provided by

. Updated 2018.
0%

of users found this page helpful
Was this page helpful?
Still have questions or feedback?
This website offers school details to prospective students as an informational resource. The appearance of a school listing on this website should not be interpreted as an endorsement by the school of this site.