2019 Best Online Colleges for Forensic Science Degrees
Online degrees in forensic science are available at the certificate, bachelor's, and master's degree levels. Forensic science is the use of a wide variety of scientific disciplines to answer important questions within the legal system. Forensic scientists use their knowledge to gather evidence that may be used in a criminal investigation or court of law. Our list of the best online colleges ranks master's programs in forensic science, based on tuition costs and alumni salaries provided by PayScale.
When researching forensic science degree programs, it's important to ensure that the program you choose will adequately prepare you for your chosen profession. Many excellent online forensic science degree programs are accredited by the American Academy of Forensic Sciences (AAFS). This organization ensures that programs are designed to provide quality education in forensic science fields. Students should also consider enrolling in a program at a school that is regionally or nationally accredited.
Comprehensive List of Accredited Online Schools - Forensic Science Degrees (
45

)
2019 Best Online Colleges Offering a Master's in Forensic Science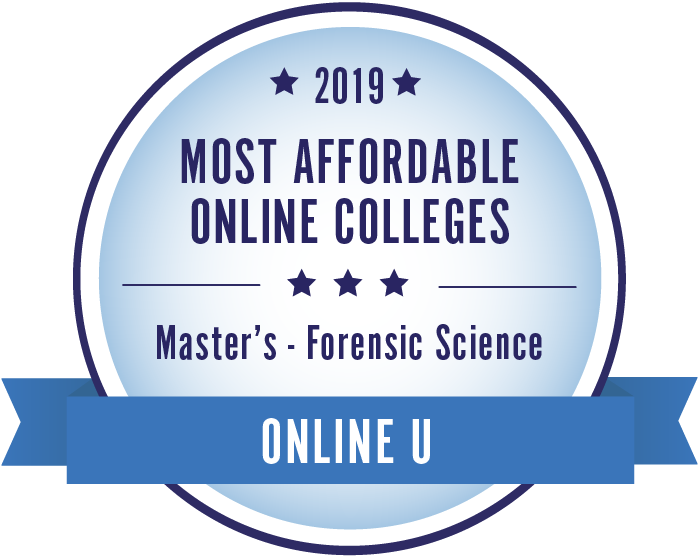 The best online master's degrees in forensic science are offered by these six universities. University of Central Florida is the least expensive school on the list, with an annual tuition of only $9,572. Forensic science students at University of Central Florida have two options: an MS in Digital Forensics and an MS in Forensic Science. Graduates of top-ranked Florida International University report earning a median salary of $97,224, making it a good return on investment for prospective students.
Alumni salaries were provided by PayScale. View our methodology for more details or learn more about SR Education Group.
Rank
School
Annual Tuition
Median Salary

#1

Annual Tuition

$10,500

Median Salary

$97,224

#2

Annual Tuition

$9,572

Median Salary

$94,282

#3

Annual Tuition

$13,725

Median Salary

$90,221

#4

Annual Tuition

$11,325

Median Salary

$79,814

#5

Annual Tuition

$13,760

Median Salary

$73,100

#6

Annual Tuition

$16,274

Median Salary

$50,300
Salary data provided by

. Updated 2018.
78%

of users found this page helpful
Was this page helpful?
Still have questions or feedback?
This website offers school details to prospective students as an informational resource. The appearance of a school listing on this website should not be interpreted as an endorsement by the school of this site.