2019 Best Online Colleges for Forensic Psychology Degrees
Online degree programs in forensic psychology explore social and behavioral science and the relationships between psychology and the criminal justice system. They are available at the bachelor's, master's, and doctoral level, with certificate-level programs available in related disciplines. Master's level students will find strong choices on our list of the best online master's degrees in forensic psychology, ranked based on tuition costs and alumni salaries reported by PayScale. Graduates of these degree programs may pursue a variety of careers in psychology clinics or the criminal justice system.
For the best educational and professional outcomes, prospective online forensic psychology students should seek out programs offered by an accredited school. In addition to researching accreditation, students should look up licensure requirements for forensic psychologists before enrolling in a degree program.
Comprehensive List of Accredited Online Schools - Forensic Psychology Degrees (
14

)
2019 Best Online Colleges Offering a Master's in Forensic Psychology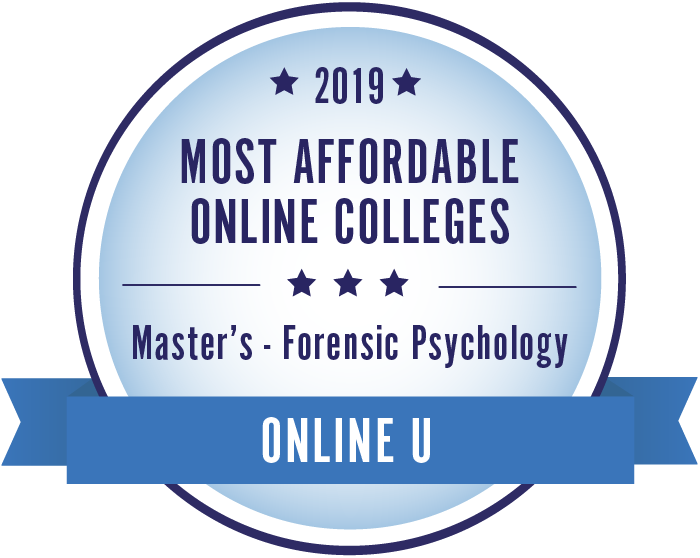 These seven universities are the top-ranked online forensic psychology schools in the country. Top-ranked University of California-Irvine has an impressive median salary for graduates of $127,000. Students can earn a Master of Legal & Forensic Psychology for $13,975 per year. Second-ranked Arizona State University is a similarly affordable option, offering an MS in Psychology - Forensic Psychology for $10,574 annually. Graduates of forensic psychology master's programs at Arizona State University report earning a median salary of $104,728.
Alumni salaries were provided by PayScale. View our methodology for more details or learn more about SR Education Group.
Rank
School
Annual Tuition
Median Salary

#1

$13,975

$127,000

#2

$10,574

$104,728

#3

$6,060

$99,015

#4

$13,590

$79,814

#5

$13,560

$71,987

#6

$13,794

$70,212

#7

$8,550

$50,400
Salary data provided by

. Updated 2018.
Which Forensic Psychology Degree Level Is Best for Me?
Online bachelor's programs in forensic psychology are primarily general psychology undergraduate degrees that include the option to specialize in forensic psychology through a set of core classes relating to criminal behavior, abnormal psychology, and human development. The foundational coursework includes cognitive psychology, social psychology, statistics, and research methods in psychology.
While the bachelor's program provides a strong psychology foundation, the master's degree in forensic psychology is required for independent consulting as a forensic psychologist. The curriculum focuses on skills related to the practice of forensic psychology, such as interviewing, clinical practice, ethical considerations, and research methods. Internships and field work experience are an integral part of the master's program, where students learn how to apply forensic psychology to a variety of criminal settings, such as corrections, probation, or criminal courts.
Doctorates in forensic psychology can prepare graduates for advanced, independent clinical psychology work; these programs may also include psychology research methods. Advanced coursework in the doctoral program discusses psychology and civil law, juvenile justice, and forensic assessment. Practical clinical programs have a large internship component, where students work for a year or more in a setting such as a court clinic, forensic unit, or jail.
View Forensic Psychology Schools (13)
View Forensic Psychology Schools
Online Bachelor's Degrees in Forensic Psychology
The forensic psychology bachelor's program focuses on the intersection between psychology and law to understand the psychology of aberrant behavior. Students develop a deep understanding of the behavior of an individual, as well as the larger repercussions an individual's actions can have on the criminal justice system. Prerequisites vary by program but may include English , laboratory science, math , and social sciences.
Program Requirements
Online bachelor's degree programs in forensic psychology take approximately four years to complete. Applicants will need to have earned a high school diploma or a GED to be eligible for enrollment. Most schools require official transcripts from high school or GED programs in addition to any other colleges that an individual may have attended prior to applying. Some schools also have minimum GPA requirements for applicants.
Curriculum
Bachelor's students learn about several core areas: abnormal behavior, counseling processes and techniques, criminal profiling, crisis intervention strategies, cross-cultural psychology, forensic assessment strategies, forensic counseling, human development, motives and patterns of criminal behavior, multicultural issues and diversity in society, psychological disorders, psychological inquiry processes, psychology and law, social psychology, and violence and aggression. Program electives may include topics such as death and dying, drugs and society, forensics and the law, human sexuality, sex crimes, and victims and justice. Students also have the opportunity to develop research competencies in psychology, which involves research design, data analysis, and interpretation. Bachelor's programs usually incorporate a capstone course as a culminating experience.
Bachelor's graduates may pursue a wide range of careers in business , correctional institutions, community corrections offices, courts, government agencies, law enforcement agencies, and the military. Career options include case manager, correctional officer, crime analyst, investigative researcher, law enforcement advocate, probation officer, psychological assistant, and victims' advocate.
View Bachelor's Programs (14)
View Bachelor's Programs (14)
Online Master's in Forensic Psychology
Online master's degrees in forensic psychology can help to prepare students for leadership roles in the field. Programs provide students with an opportunity to gain an in-depth understanding of the role of psychology within the legal system. Key focus areas include application of forensic psychology to law enforcement; legal and organizational consultation; and program analysis.
Program Requirements
Applicants to an online master's in forensic psychology program should hold a bachelor's degree with a behavioral or social science major. Programs require completion of 36 to 44 credits, which usually takes two years. Some schools may require applicants to submit GRE scores, personal statements, and/or transcripts from their bachelor's degree program.
Curriculum
The master's curriculum emphasizes theory, research, and the practice of forensic psychology. Core coursework covers areas such as abnormal behavior, criminal behavior, ethical issues and professionalism, forensic assessment techniques, forensic psychology research, maladaptive behavior and psychopathology, professional and ethical issues, psychology and the legal system, and psychology of criminal behavior. Specialization areas may include forensic applications in community settings; juvenile justice, delinquency, and development; mental health applications; and program planning and evaluation in forensic settings. Master's programs usually incorporate a capstone course or field experience. In some cases, students are required to take a comprehensive exam to ensure students have mastered course content.
Graduates of the master's program may earn a professional counselor license or work as a forensic consultant in the legal system, but students who wish to become a licensed psychologist will need to continue their education at the doctoral level. Other career options for graduates include case manager, clinical and program director, court liaison officer, expert witness, forensic treatment specialist, jury consultant, law enforcement advocate, researcher, and victims' advocate. Occupational settings for master's graduates include community corrections offices, correctional facilities, government agencies, law enforcement agencies, and victims' advocacy programs. Master's programs are also good preparation for doctoral programs in criminal justice, law, and forensic psychology.
View Master's Programs (13)
View Master's Programs (13)
Online Doctoral Degrees in Forensic Psychology
Students who would like to pursue forensic psychology studies at the doctoral level will typically need to enroll in a program that offers a PhD in psychology with a specialization in forensic psychology.
Program Requirements
Applicants to an online forensic psychology doctoral program must have a bachelor's or master's degree. Most schools require the submission of official transcripts, resumes, and/or personal statements. In addition to coursework that usually takes two or more years to complete, most psychology doctoral degrees require an in-depth research project and the completion of a dissertation.
Curriculum
Coursework required during a doctoral program covers advanced theories in criminal psychological assessment, psychopathology, treatment of forensic populations, brain and behavior, clinical interviewing, and police psychology. In addition to this coursework, most programs include a mandatory one- to two-year clinical internship through which doctoral students provide psychological services under the supervision of an experienced psychologist. The internship provides hands-on evaluation and treatment experiences with real patients. Possible internship settings include the forensics unit of a hospital, correctional centers, legal clinics, and psychiatric centers. Be sure to choose a program with clinical opportunities in a setting that is interesting to you; there are many specializations, even within the forensic psychology field. Possible focuses include sex offenders, corrections, and child protection, among others.
In order to provide independent psychological evaluations, graduates with a doctorate in forensic psychology must earn a state-administered psychology license. Forensic psychologists with a PhD might work in a mental health facility that deals with criminal offenders while also consulting in the criminal justice system. Others can open their own practices while acting as legal consultants.
View Doctoral Programs (1)
View Doctoral Programs (1)
Online Certificates in Forensic Psychology
Current criminal justice or law enforcement professionals can enroll in a certificate program to broaden the scope of their knowledge and build their resume. Certificates are also appropriate for students who have less professional experience and are interested in pursuing a career in the field of criminology. Depending on the school, students may be required to have a high school diploma or relevant professional experience to apply to a certificate program.
Online certificates are available in subjects closely related to forensic psychology, such as criminal behavior, advanced crime analysis, or criminology. Programs take approximately one year to complete and include 6 to 8 courses, or 24 credits. Students learn about research methodology and examine topics in sociology, crime analysis, criminal justice administration, crime control strategies, and civil rights.
View Certificate Programs (2)
View Certificate Programs (2)
The Importance of an Accredited Online Forensic Psychology Degree
The US Department of Education and the Council for Higher Education Accreditation recognize several regional and national accrediting agencies that evaluate schools offering online degree programs. Prospective students are encouraged to choose an online forensic psychology degree that is offered by an accredited school in order to ensure that the program meets national academic standards and can offer a valuable education. Accreditation also enables students to take advantage of any federal financial aid or scholarships they may be eligible for and to transfer credits they have earned to other accredited institutions.
Students should also review the terms set by the psychology credentialing board in the state where they hope to practice as a forensic psychologist, as the education and licensure requirements vary by state. In most cases, to provide any sort of direct patient care, psychologists must graduate from a state-approved program; in most cases, this means a doctoral program that has been accredited by the American Psychological Association's Commission on Accreditation. The Association of State and Provincial Psychology Boards can provide more information about the requirements in your state.
Licensing and Certification Requirements for Forensic Psychologists
Forensic psychologists may choose to become board certified in order to demonstrate their competence to the public, their employers, and their clients. Board certification is granted by the American Board of Professional Psychologists. Candidates must meet the general requirements to become a licensed psychologist: the completion of an internship and an accredited doctoral degree program in psychology, professional psychology experience, continuing education credits, and a passing score on a state licensing exam. In addition to a current state license to practice psychology, board certification candidates must have at least 1,100 hours of specialized training in forensic psychology — 1,000 of which must be postdoctoral training.
State licensure is also required before an individual can legally practice as a forensic psychologist. To become licensed, forensic psychologists must satisfy the requirements of the state in which they plan to practice (there is no universal standard, and many states will not accept licenses from other states). In addition, state licenses must be renewed periodically through continuing education. The Association of State and Provincial Psychology Boards has more information about state licensing requirements for psychologists.
What Kinds of Classes Do Forensic Psychology Students Take?
Forensic psychology students will take courses in both criminal justice and psychology.
Criminal justice courses may include legal terminology, overview of the legal system, criminology, forensic evidence, and criminal evaluation. Psychology courses may include sexual psychology, social psychology, the psychology of violence, drug and addiction psychology, victomology, and grief counseling. Students will also take classes in child and developmental psychology, as they may need to work with young victims, and even young offenders. Mental health is an important topic for forensic psychologists, because part of their role is to determine whether or not a patient is mentally competent and can be held responsible for his or her actions. General counseling and therapeutic techniques like art therapy will help prepare students serving criminals or victims.
Here are some examples of other courses that may be part of a forensic psychology degree program:
Conflict Management: A fundamental conflict management course gives students insight into the nature of conflict, how it affects the parties involved in conflict, and useful skills for managing social conflicts.
Criminal Behavior: Forensic psychologists regularly come into contact with people involved in the criminal justice system. A course in criminal behavior and psychology provides forensic psychologists with the understanding and techniques for interacting with their potential clients and subjects.
Diversity and Communities: Forensic psychologists are likely to come into contact with diverse client populations and must be comfortable working with people from different backgrounds.
Psychology and the Law: Because forensic psychologists so often work with individuals and families involved in the legal and criminal justice system, they must be very familiar with all of the laws and regulations that govern their professional role.
Social Psychology: Students learn how communities and groups affect the psychology of individuals and how to manage the potential issues that arise among groups.
Career Opportunities for Forensic Psychology Graduates
Forensic psychologists use their knowledge of psychology and human behavior to assist the American judicial system in arriving at more fair and accurate rulings. Usually, forensic psychologists specialize in either criminal, civil, or family justice but, regardless of specialty, they must all be able to provide psychological assessments and expert witness testimony.
The work of forensic psychologists can be extremely varied. Some forensic psychologists determine competency with regard to such things as ability to stand trial, understand right from wrong, waive Miranda rights, retain custody of children, and so on. Other forensic psychologists conduct research on such things as the effects of different psychological phenomena on the judicial process. Still others offer advice to attorneys on their cases or to judges on the likely propensity for violent behavior. Forensic psychologists sometimes provide advice to employees in the justice system (e.g., police officers and detectives) or to lawmakers on policies involving psychological issues, while some forensic psychologists focus on careers in academia, like educating students of psychology, psychiatry, and law, or conducting research.
While it is crucial to have a broad understanding of psychology, it is especially useful for forensic psychologists to be familiar with psychological deviancy and mental disorders that affect court proceedings. Unlike most careers in psychology, forensic psychologists spend much of their time working with others in the American legal system (e.g., attorneys, judges, etc.). Therefore, forensic psychologists need to be familiar with US laws - especially the laws in their state - in order to provide helpful testimony, suggestions for judicial policies, and insight into various cases. Forensic psychologists working in criminal justice should also feel comfortable reviewing cases of criminal behavior, including violent crimes. If their work places them in close proximity with individuals with violent histories, forensic psychologists also need to be capable of assessing potential risks to themselves.
Criminal court, family court, and civil court are the three most common areas that forensic psychologists work within. Out of these three categories, criminal courts require the use of psychoanalysis more than either family or civil courts. Examining an individual's mental competency is essential in many criminal situations, as it is necessary to understand a person's mental state when assessing their guilt and determining an appropriate sentence. Family court usually involves child custody or abuse issues. Forensic psychologists in this setting are absolutely essential because children can require extensive counseling from trained professionals.
Forensic psychologists are not utilized in civil court as often as they are in family or criminal court, because the nature of civil court does not require psychological expert witnesses as often. However, they are occasionally called upon to provide therapy to victims of crime, so a background in counseling is especially useful in this court division.
References
79%

of users found this page helpful
Was this page helpful?
Still have questions or feedback?
This website offers school details to prospective students as an informational resource. The appearance of a school listing on this website should not be interpreted as an endorsement by the school of this site.