2019 Best Online Finance Degrees
2019 Best Online Colleges for a Master's in Finance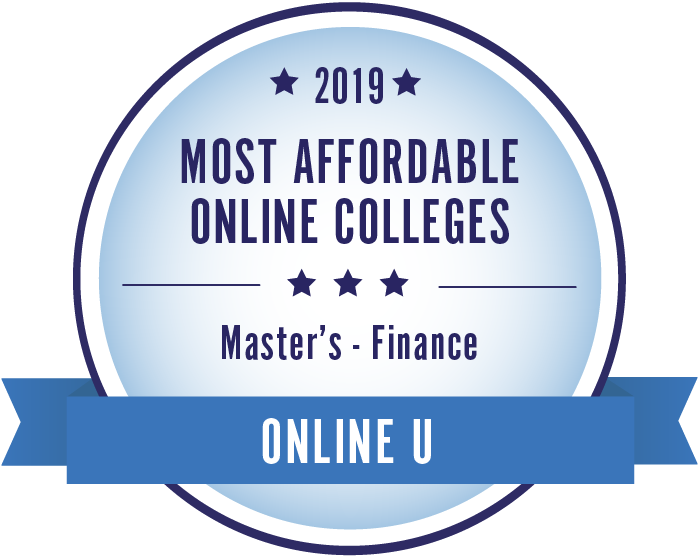 Online learners seeking a master's degree in finance should consider the following 10 schools that have been ranked according to their low tuitions and high earning potential. This year, the top-ranked school is Johns Hopkins University, offering a Master of Science in Finance for $24,660 per year. Graduates of the program reported an average mid-career salary of $148,400. University of Maryland University College, ranked at #8, has the lowest tuition on the list: only $11,862 for their online Master of Science in Accounting and Financial Management program.
Alumni salaries were provided by PayScale. View our methodology for more details or learn more about SR Education Group.
Rank
School
Annual Tuition
Median Salary

#1

$24,660

$148,400

#2

$14,730

$139,000

#3

$23,100

$137,200

#4

$56,364

$131,100

#5

$23,760

$118,400

#6

$19,950

$108,400

#7

$23,345

$108,300

#8

$11,862

$99,400

#9

$14,040

$78,300

#10

$13,794

$76,600
Salary data provided by

. Updated 2018.
Comprehensive List of Accredited Online Schools - Finance Degrees (
242

)
Online Finance Degree Overview & Career Information
Undergraduate finance degree programs cover the fundamentals of accounting, business management, economics, and finance. The associate degree curriculum introduces students to key areas in the field such as financial institutions, financial statement analysis, global economic trends, and investments. Bachelor's programs offer students the opportunity to specialize in a specific area that represents their career interests. This may include analysis for financial management, ethics and enterprise, financial markets and institutions, and investments and portfolio management. Bachelor's programs usually include a capstone course, which requires students to complete a business project.
Master's programs allow students to expand their undergraduate knowledge base. The core of the finance master's program includes courses in advanced business and finance areas such as financial accounting, econometrics, and financial modeling. Other common courses include international finance, corporate finance, and risk management. The curriculum of doctoral programs integrates theory, research and students' personal reflection with practice. Doctoral students are also required to take a comprehensive exam, conduct an original research project, and write a dissertation. Those who study at the graduate level can apply their advanced knowledge in finance to professional roles in consultancy, corporate finance, investments, personal finance, research, and teaching.
View Finance Schools
View Finance Schools
Online Associate Degrees in Finance
Professionals in finance help people analyze and improve their economic situation. Many individuals take the first step in continuing their education in this field by pursuing an associate degree at a distance learning school or traditional community or junior college. These programs typically consists of 60 to 64 credits and will only accept candidates with high school diplomas or GED certificates. There are two types of associate degree programs in finance: Associate of Science and Associate of Applied Science. The former is designed to be a stepping stone to getting a bachelor's degree, while the latter focuses on preparing individuals to go straight into the workforce after graduation.
Regardless of the result, all associate degree programs in finance are designed to equip students with decision-making skills, management capabilities, and interpersonal skills. Individuals learn how to devise budget plans, utilize business communication practices, and carry out other varied job responsibilities under the direction of management. Major topics that are discussed include corporate finance, investment principles, credit analysis, microeconomics, business law and ethics, and financial accounting.
Associate-level finance graduates may work in private or corporate settings, manufacturing, retail, government, or technical services. Associate degree holders may find jobs as credit or insurance analysts, loan processors, or financial planners. It's important to know that your chances of getting promoted to supervisory or management positions in these areas are contingent upon your willingness to continue your education and obtain a bachelor's degree.
View Associate Programs
View Associate Programs
Online Bachelor's Degrees in Finance
The bachelor's degree in finance combines a core of business classes with the financial skills to develop financial reports, analyze financial data, and wisely invest a business or organization's capital. These four-year programs are often offered through the business school of a traditional college or university and require about 120 credit hours of coursework. As with most bachelor's programs, applicants will need a high school diploma or the equivalent to apply.
The finance bachelor's includes a set of general education courses, the business foundation, and the finance specialization. General education courses in topics like humanities, math, and English support critical thinking abilities and general college-level reasoning skills. The business core is an interdisciplinary set of classes that helps students understand a functioning business from many angles. Common courses include marketing, accounting, economics, leadership, and organizational behavior. Finance specialization classes include managerial finance, investing, financial institutions, and risk and insurance.
The broad yet practical skill set of the finance bachelor's degree is useful for entering a number of professions. Graduates could go on to become financial analysts, budget analysts, or financial managers within a business, helping the organization interpret its financial situation and prepare for the future. Other graduates go on to become stock brokers, insurance underwriters, or personal financial advisors. The quantitative analysis and business skills of the finance program can be applied to a wide variety of careers.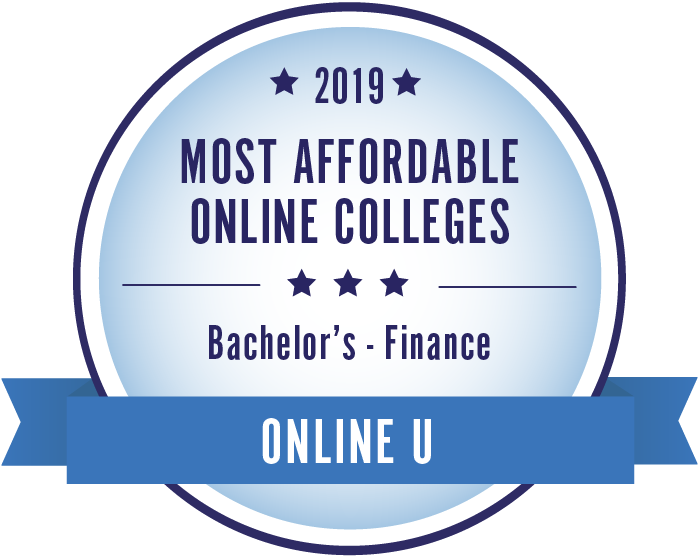 2019 Best Online Colleges for a Bachelor's Degree in Finance
The 25 best online bachelor's degrees in finance programs can be found at these colleges and universities. Golden Gate University is the #1 school, with an average alumni salary of $126,600 and charging only $21,780 for their Bachelor of Science in Business (Finance Concentration). In the #2 spot, the University of Massachusetts - Amherst offers a Bachelor of Business Administration in Finance for only $15,750 per year, making it an affordable choice for distance learners who are looking for a high quality and affordable education.
Alumni salaries were provided by PayScale. View our methodology for more details or learn more about SR Education Group.
Rank
School
Annual Tuition
Median Salary

#1

$21,780

$126,600

#2

$15,750

$111,400

#3

$11,100

$108,700

#4

$18,864

$109,100

#5

$21,330

$104,200

#6

$11,864

$102,050

#7

$11,970

$100,000

#8

$11,670

$92,400

#9

$14,970

$88,200

#10

$8,993

$84,300

#11

$23,130

$85,000

#12

$10,201

$82,300

#13

$27,870

$84,000

#14

$16,650

$81,400

#15

$10,633

$78,200

#16

$14,742

$78,300

#17

$11,250

$77,300

#18

$12,600

$76,900

#19

$10,201

$76,200

#20

$25,710

$78,100

#21

$15,780

$76,100

#22

$19,140

$75,300

#23

$13,230

$74,500

#24

$8,850

$72,900

#25

$13,080

$72,100
Salary data provided by

. Updated 2018.
View Bachelor's Programs
View Bachelor's Programs
Online Master's Degrees in Finance
Online Master of Arts degree programs in finance introduce students to advanced theories in financial instruments, investing, and financial markets. Master of Business Administration (MBA) degrees in finance provide a core of practical business classes, along with a focus in the skills for interpreting financial systems. To earn a master's degree in finance, students spend two to three years completing the required coursework; most programs require 10-20 courses. Applicants typically need a bachelor's degree, previous coursework in economics and statistics, and GRE or GMAT scores. Students may also be required to have a year or more of professional business experience before applying to MBA programs.
Different finance master's degrees may have different curriculum focuses. For example, some emphasize quantitative understanding of financial instruments, while others emphasize finance integrated with strategic business principles. Some programs include a set course schedule, while others allow students to choose electives in their professional area. Possible electives include bond markets, negotiation, corporate financial policy, and game theory. Most master's programs require that students complete a thesis, which involves a significant amount of research in a particular area of finance theory or practice.
The core of the online MBA degree covers an array of business topics, which discuss nearly every aspect of running a successful enterprise. Courses in leadership and communication areas, such as decision making, leading people, and organizational behavior, discuss the skills for managing employees and organizations. Quantitative courses like data analysis, economics, and financial decision making discuss the critical thinking and math skills necessary to maintain an organization's financial integrity. Courses in areas like marketing and international business discuss more specialized aspects of promoting a business and integrating it into a global landscape.
Many online master's programs require that students complete an internship in a finance setting; online schools place students in businesses in their local community. Some online business programs require on-site attendance once or several times during the degree program where students visit campus to listen to seminars and meet their cohort.
With a master's degree in finance, graduates may qualify for positions as financial analysts, stock brokers, budget analysts, personal financial advisors, risk managers, or financial managers. Financial professionals work for investment companies, banks, accounting agencies, the government, and for individual businesses and corporations. Other possible places of employment include hedge funds, investment banks, corporate finance departments, consulting firms, and economic development settings. Those with many years of professional experience can become independent consultants.
View Master's Programs
View Master's Programs
Online Doctoral Degrees in Finance
Students in the finance doctoral program take advanced courses in a variety of finance areas while also honing their independent research skills. Finance PhDs require anywhere from three to eight years of coursework. Students complete 10-20 classes (usually one to two per semester), write a dissertation, and teach undergraduate courses, depending on their commitment level and the program they choose. All doctoral applicants must have bachelor's degrees, and most programs require undergraduate classes in statistics, math, and economics. Some programs require that applicants have a relevant master's degree and professional experience, as well.
Most doctoral programs in finance include a strong base of coursework in quantitative methods, statistics, financial modeling, financial institutions, and economics. Other common courses discuss international, government, corporate, personal, and non-profit finance. Graduates understand the banking system and the stock market, along with the techniques for managing budgets and investments. The dissertation project is a main component of the finance PhD and requires students to develop a research project in a particular finance area. Many programs expect students to write and publish papers during the first two years of the degree in order to prepare for the lengthier dissertation project.
Doctorate programs in finance are often designed to prepare graduates for the research and teaching involved in college faculty positions. Graduates can apply for assistant professor and other tenure-track positions at colleges and universities. Others can use the credential to aim for executive roles in financial institutions, such as banks and hedge funds. Others may become corporate administrators and government consultants.
View Doctoral Programs
View Doctoral Programs
Online Certificate Degrees in Finance
While there are many online bachelor's degrees and master's degrees available, there are also opportunities to earn finance certificate degrees online at both the undergraduate and graduate level. Some certificates do not have a designated degree level, and are appropriate for professionals seeking progress in their careers or who would like to acquire specific financial skills or understanding.
Undergraduate certificates in finance are available online through both universities and technical colleges, although on occasion they are specialized certificates under the general umbrella of the finance field. For example, University of Phoenix offers a Bookkeeping Fundamentals certificate for undergraduate students. This certificate requires a minimum of 18 credits and includes classes such as management theory and practice, business communication for accountants, and statistics for decision making. As far as admission into these certificate programs, both of these examples require that applicants present a high school or GED transcript. Either of these certificates would adequately prepare recipients to enter the workforce in entry-level accounting or bookkeeping positions with a broad scope of understanding and applicable skills.
Post University Online offers an online graduate certificate program in finance which is intended for those who have completed a bachelor or graduate degree program and are looking to build upon their knowledge base. It is also for those who would like to earn credits toward pursuing their MBA. Prerequisites for the certificate include two specific business classes: Economic Foundations of Applied Accounting and Finance, and Financial Modeling. The entire certificate is 15 credits and designed to take one year, with students taking classes in managing financial institutions, financial statement analysis, investment management and analysis, and organizational risk management.
As stated above, some finance certificate degrees are freestanding and are ideal for professionals. Cornell University 's online education program, eCornell, includes a certificate in financial management. According to the institution's website, this certificate is suited for current managers and directors who are in decision-making positions. It is a three month course with the outcome of equipping professionals with the knowledge and tools to make sound operational decisions through analysis, interpretation, and communication of high-level financial information. A further example is the certificate available online through Notre Dame University in what is called Effective Nonprofit Fundraising Strategies. This certificate provides an in-depth understanding of the best fundraising methods and theories, and outlines certain learning objectives such as how to capitalize on philanthropic motivations and behaviors, reliable methods to promote recurring giving, and how to efficiently manage donor data. This course is broken up into educational units and takes eight weeks for completion.
View Certificate Programs
View Certificate Programs
Accreditation for Online Finance Degrees
When researching potential online finance degrees, it's important to choose a program that has been accredited. Accreditation is a designation granted to degree programs and institutions that meet high academic standards with regard to their curricula, faculty members, student resources, and research capabilities. Institutional accreditation means that the entire school has been accredited by a regional or national accrediting agency, and programmatic accreditation means that one particular degree program has been accredited.
Accreditation of either the school or the degree program you choose can help you feel confident that you're going to receive a high-quality education and that your degree will be valued by future employers. Attending an accredited school is also necessary if you plan to apply for federal financial aid or graduate school.
Finance degree programs are often accredited by agencies that specialize in business programs, such as the Association to Advance Collegiate Schools of Business (AACSB) and the Accreditation Council for Business Schools & Programs (ACBSP). Both of these agencies are recognized by the US Department of Education (USDE) as being trustworthy accrediting bodies. It's wise to visit the USDE's accreditation database before submitting an admissions application for any degree program you may be considering. Please visit Guide to Online Schools' accreditation section for more information about the benefits of accreditation.
Certifications for Online Finance Graduates
While completing an undergraduate or graduate a degree in finance will entail intensive business training, many employers also require specific certifications, depending on the field of work. Certifications are designed to help professionals maintain a high level of integrity in specific financial areas. Since the large number of finance certifications can be overwhelming, we've highlighted a few of the most popular ones here.
Actuary Certifications: Actuarial science, the study of risk management, is a major aspect of financial management for businesses. While many finance majors are well trained in calculating risk and expected returns, obtaining an actuarial certification signals to employers one's proficiency in the field. In the United States, different certifications are required for different careers. For example, a certification from the American Academy of Actuaries is required for anyone to sign official actuarial opinions. Another form of actuarial certification comes from the Casualty Actuarial Society, which certifies its holders to assess property and casualty risk.
Certified Managerial Accountant: The certified managerial accountant (CMA) certification is another certification that financiers may choose. As finance majors, most people are well exposed to accounting methods, such as time value of money or double-entry bookkeeping. The CMA certification stresses a higher level of business administration, which emphasizes accountancy methods with different aspects of business such as financial planning, operations management, and professional ethics in addition to proficiency in accounting methods.
Chartered Financial Analyst: The CFA is a certification for finance and investment professionals. The certification assures that its holders are adept in concepts of portfolio management and financial analysis, along with general training in economics and business ethics. With high standards for passing, this certification is coveted by many employers for upper-level positions in the field of finance.
Careers in Finance
Finance careers attract many people, due to the challenging, lucrative nature of the work. There are many different roles in business and finance that might interest finance graduates, depending on their skill set and preferred work environment. Administration, money management, employee management, and investment management are just a few of the major career areas within this field.
Most entry-level business and finance positions, such as HR generalist, administrative manager, and financial manager, require a bachelor's degree. Depending on the particular business and finance career you hope to pursue, a major in business administration, finance, economics, mathematics, or information technology could be good preparation. Getting practical training through an internship, co-op work experience, or externship is highly recommended during a business bachelor's program.
Some higher-level positions, such as investment broker, financial analyst, and management executive roles, require a master's degree. The Master of Business Administration, which includes two to three years of practical business training, is great preparation and highly valued in the business world.
Administrative Roles
Administrative Services Manager: These managers coordinate the different services and actions necessary to keep a business running on a day-to-day basis. In a small business, these managers may perform many different tasks, from hiring employees, to buying supplies, to keeping financial records. In larger businesses, administrators specialize in a particular management area.
Facility Manager: Facility managers take care of the buildings and grounds associated with a business. They make sure that utilities are working properly, that the building is secure, and that building standards are up to code.
Human Resources Manager: HR managers act as liaisons between a business's management and its employees. They recruit, hire, and train new employees, and they administer employees' compensation and benefits packages. In larger organizations, HR managers typically specialize in a particular HR sub-area.
Information Technology Manager: IT managers oversee information systems and IT workers in an organization. They install and maintain computers and networks, manage IT projects, and train employees in the organization's information systems.
Medical and Health Services Manager: Healthcare managers work in hospitals, skilled nursing facilities, clinics, and other medical settings. They hire and coordinate clinical care workers, manage records, and oversee the maintenance of the facility.
Purchasing Manager: These managers buy products for a variety of businesses for a variety of purposes. They may purchase goods for wholesale or retail sale, or for repurposing. Purchasing managers compare products and negotiate with vendors in order to obtain the best price possible for their organization.
Finance Roles
Budget Analyst: Budget analysts act as consultants to help businesses, non-profits, and government agencies appropriately use their funds. They help organizations decide which projects deserve funding, and how funding should match up with an organization's goals.
Financial Analyst: Financial analysts help businesses and individuals decide which investments to make. They work with an organization to determine its time frame, investment goals, and risk tolerance to pick stocks and bonds that will generate appropriate returns.
Financial Manager: Financial managers make sure that the funds in an organization are managed appropriately. They create financial reports, direct funds to different projects, oversee the flow of cash, and purchase appropriate insurance.
Personal Financial Advisors: Personal financial advisors work with individuals and families to help them plan for their financial goals. They help their clients budget enough money for retirement and college expenses and help them choose investments or other financial instruments.
References
100%

of users found this page helpful
Was this page helpful?
Still have questions or feedback?
This website offers school details to prospective students as an informational resource. The appearance of a school listing on this website should not be interpreted as an endorsement by the school of this site.