2019 Best Online Engineering Degrees
Online engineering degrees are available at the associate, bachelor's, master's, doctoral, and certificate levels across a variety of disciplines, including biomedical, civil, computer, electrical and mechanical engineering. Non-engineers can use distance-learning engineering programs to prepare for the field in a more flexible school environment. Current engineers can use these online programs to further their training while continuing to work. In addition to our comprehensive list, our list of the best online colleges highlights top schools, based on tuition costs and alumni salaries provided by PayScale.
The Accreditation Board for Engineering and Technology (ABET) is the most important programmatic accrediting board for engineering programs; most states require students to obtain an ABET-accredited degree before practicing engineering and earning an engineering license. In general, attending an accredited college can help to ensure that you received a quality education, that your credits will transfer to other schools, and that employers will recognize your degree.
Comprehensive List of Accredited Online Schools - Engineering Degrees (
287

)
2019 Best Online Colleges Offering Bachelor's in Engineering Degrees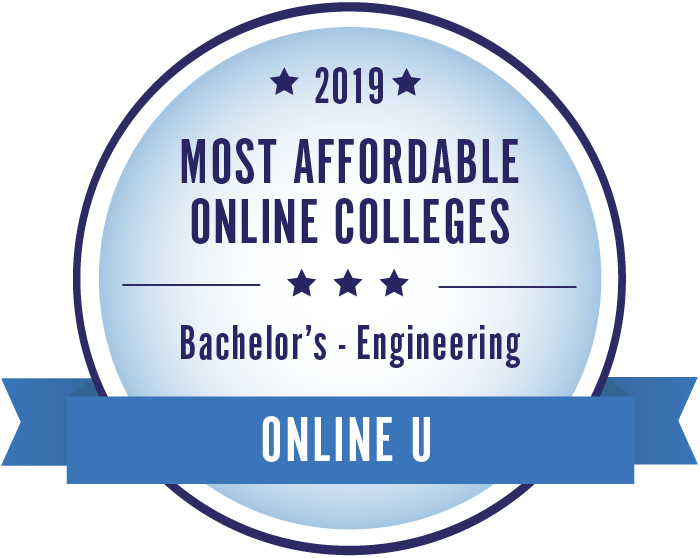 Reportedly high alumni salaries coupled with affordable tuition make these eight colleges the best choices for obtaining an online bachelor's degree in engineering. All except one of these schools have tuition rates of less than $16,000 per year. Ranked #1 is Lamar University, with a very low tuition of $7,440 and a very high median salary of $111,100. While most of these schools offer enrollees more than one engineering program to choose from, #3-ranked University of North Dakota offers six, including specializations ranging from mechanical engineering to petroleum engineering.
Alumni salaries were provided by PayScale. View our methodology for more details or learn more about SR Education Group.
Rank
School
Annual Tuition
Median Salary

#1

$7,440

$111,100

#2

$12,704

$106,283

#3

$18,910

$106,100

#4

$7,424

$98,900

#5

$8,993

$95,200

#6

$12,448

$94,700

#7

$11,815

$84,200

#8

$15,636

$78,800
Salary data provided by

. Updated 2018.
52%

of users found this page helpful
Was this page helpful?
Still have questions or feedback?
This website offers school details to prospective students as an informational resource. The appearance of a school listing on this website should not be interpreted as an endorsement by the school of this site.