2020 Best Online Emergency Management Degrees
Online emergency management degrees are available at all levels from associate to doctoral degrees. Students pursuing degrees in emergency management should be prepared for a high-stress career that involves frequently working under pressure while making quick decisions. Those who work in emergency management may work with a relief organization coordinating aid to people affected by a natural disaster, with a government agency creating protocols for responding to a terrorist attack, or in any number of first-responder jobs such as firefighters, EMTs, and police officers. Our list of the best online bachelor's in emergency management programs may be a helpful resource for those interested in pursuing the degree. This ranking features the 25 best value schools based on alumni salaries and low tuition rates. We also offer a list of the best online master's programs in emergency management.
2020 Best Online Colleges Offering Bachelor's in Emergency Management Degrees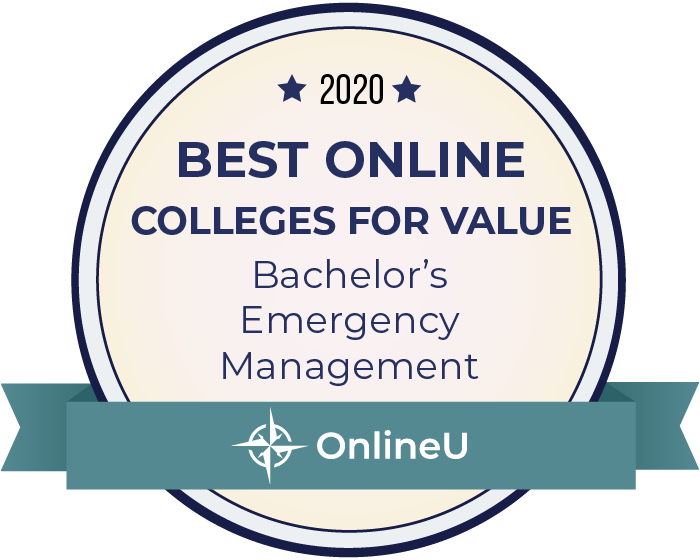 The 25 schools on this list are the best value options for obtaining an online bachelor's degree in emergency management based on alumni salaries and low tuition rates. Graduates of the #1 school, New England College, report earning a median salary of $100,088. University of Alaska Fairbanks offers distance learners a Bachelor of Homeland Security and Emergency Management for $10,140 per year. Alumni reported a mid-career salary of $91,899.
Alumni salaries were provided by PayScale. View our methodology for more details or learn more about Guide to Online Schools.
2020 Online Colleges Offering Emergency Management Degrees - Ranking Details
Online Degree Overview & Career Information
Online emergency management degrees are offered at the associate, bachelor's, master's, and doctoral levels. There are also undergraduate and graduate certificate programs. Each degree prepares students for different careers. Those who earn an associate degree can find entry-level work. It is also a valuable degree option for those working as EMTs, firefighters, or police officers, as it can give them an advantage in these careers. At the bachelor's level, graduates will have the opportunity to take on more responsibilities and leadership roles. With a bachelor's degree and several years of experience a professional could eventually be promoted to emergency management director. Those who pursue a master's or doctorate may pursue upper-level management jobs with various organizations and government agencies or teaching at the university level.
Online Associate Degrees in
Individuals who complete online associate degrees in emergency management may be able to put their knowledge to work in entry-level positions in the field. The associate degree is a valuable degree option for those who work in the fields of homeland security, EMT administration, or fire science to add to their skill set. Students may also be able to transfer to bachelor's programs if they wish to further their educations. An associate degree usually takes two years and 60 semester credit hours to complete. In addition to general education courses, during their course of study students will take classes that deal with topics such as terrorism in emergency management, disaster response, disaster medical coordination, problem solving, and other specialty courses that cover a wide range of emergency procedures. In order to enroll in one of these programs a high school diploma or equivalent is necessary. Students can find emergency management associate degree programs at many online community colleges and universities.
Online Bachelor's Degrees in
As higher levels of education become the preferred standard for emergency management professionals, those who complete an online bachelor's degree will be more competitive in the workplace than those who stop at the associate level. An online bachelor's degree allows an individual to strengthen their management and administration skills so that they can competently lead teams of first responders in situations like terrorist attacks, natural disasters, and other emergencies. Those who want to work in higher management positions will be required to hold a bachelor's degree, at the minimum. Completing this degree typically takes four years and 120 semester credit hours. A high school diploma or GED will be required for admission. Coursework for this program includes classes in crisis management during terrorist attacks, legal aspects and ethics in emergency management, recovery practices, policy, leadership development, hazard mitigation, and others. Those interested in pursuing an online bachelor's degree in emergency management can do so at colleges and universities across the country.
Online Master's Degrees in
Online master's degrees in emergency management may give students the opportunities to excel in advanced management positions upon graduation. Individuals with this degree may find work in the public and private sectors, helping communities deal with emergencies and lowering the risk of disastrous situations occurring. There are also emergency management master's programs that have a homeland security emphasis, so individuals interested in a career in homeland security should look into those. Some job titles open to master's degree holders include Emergency Planner, Director of Emergency Management, and Disaster Recovery Specialist. A master's degree will typically take one to two years to complete and requires 30-36 semester credit hours. Typical coursework includes hazard risk and vulnerability assessment, information technology in emergency management, criminal justice, and public policy. A culminating project or capstone course will also likely be required. In order to be admitted to one of these programs, a student must have earned a bachelor's degree in a related field and have a GPA of 3.0 or higher. Letters of recommendation and test scores from exams like the GRE or GMAT may also be required, depending on the school. Online emergency management master's programs are available at multiple colleges and universities around the country.
Online Doctoral Degrees in
Emergency management professionals who wish to study advanced topics in the field and conduct their own research may find an online PhD beneficial. An online doctorate in emergency management may give students the tools that they need to attain teaching and research positions in colleges and universities, or to work in upper-level management jobs in government agencies, public policy groups, or consulting organizations. Coursework for a PhD includes advanced data analysis, health care systems in disaster, qualitative design and analysis, contemporary issues in emergency management, and other advanced topics. Students will also be required to complete a research project and dissertation. Admission to a PhD program typically requires a master's degree in a related subject, an admissions essay, letters of recommendation, GRE or GMAT test scores, and a resume. The length of time it takes to complete a doctorate can vary depending on how long one spends on their dissertation, though students can expect to spend at least four years on their degree. PhD programs in emergency management are offered at colleges and universities.
Online Certificates in
There are also online certificate options available in the field of emergency management. Certificates are available at the undergraduate and graduate level. Undergraduate certificates may only require a high school diploma or equivalent to enroll. There are also undergraduate certificates aimed at people who work as first responders, EMTs, firefighters, and similar occupations who want to gain more knowledge and skills in the field of emergency management. Students wishing to be admitted to a graduate certificate program will need a bachelor's degree and possibly some work experience in the emergency management field. Graduate certificates are aimed at working professionals who want to stay up to date on the latest developments in emergency management techniques, and those who are looking for advancement opportunities.
The length of time is takes to complete a certificate and the number of credits required will vary depending on the program, but a typical certificate requires 15 to 18 credits and can be earned in a year of less. Coursework will vary depending on the particular specialization the program covers, but typical classes include the topics of emergency management fundamentals, disaster recovery and response, homeland security, and emergency planning. Individuals who complete a graduate emergency management certificate will be prepared to advance into leadership positions in their careers, while those who earn an undergraduate certificate may be able to secure entry-level work or advance in their position if they already work in the emergency management field. Online emergency management certificates can be found at colleges and universities around the country.
The Importance of Accreditation
When choosing an online program to attend, an important factor to consider is whether or not the school is regionally accredited. If a school is accredited, it means that an outside, independent organization has evaluated the school and its programs and determined that the institution meets a certain level of academic excellence. There are several reasons why this accreditation is important to keep in mind. First of all, students enrolled in an accredited program will know that they are getting an education which will prepare them for their future career and make them competitive in the job market. Additionally, students are only eligible for federal financial if they attend an accredited school. Credits from accredited schools also transfer more easily, and those who are hoping to secure advanced degrees like a master's or doctorate will likely need to have an undergraduate degree from an accredited university in order to be accepted.
Careers in Emergency Management
There are many career options available in the field of emergency management from EMTs and firefighters to emergency management directors and crisis management consultants. There are emergency management positions available no matter what level of education a person has, from associate to doctoral degrees. For example, those with associate degrees may find entry-level jobs in areas such as law enforcement, firefighting, and other first responder roles. Once an individual has gained several years of work experience and additional education, he or she may be able to find work as an emergency management director. These professionals are the ones who create processes and plans for how to react when different types of emergencies occur, such as natural disasters or terrorist attacks. They also work alongside government agencies, officials, relief organizations, and others to bring aid to people during and in the aftermath of an emergency. In addition to a bachelor's degree, an emergency management director will need substantial work experience, and may also need to attain various professional certifications, depending on where he or she chooses to work. It is also important for these professionals to work well under extreme stress.
With advanced degrees such as master's or doctoral degrees come more job opportunities. These individuals may pursue work in upper-level management positions and at colleges and universities in a teaching, research, or administrative capacity, and with public policy organizations and government agencies.
This website offers school details to prospective students as an informational resource. The appearance of a school listing on this website should not be interpreted as an endorsement by the school of this site.