2019 Best Online Colleges for Elementary Education Degrees
Online elementary education degrees are available at 185 accredited colleges and universities. Prospective students will find a comprehensive guide on this page with degree options at the associate, bachelor's, master's, doctoral, and certificate levels as well as our list of the best online schools offering elementary education degrees and the best master's programs. These schools were identified and ranked based on tuition costs and alumni salaries provided by PayScale. Elementary education degree programs focus on the skills needed to teach kindergarten through eighth grade, including lesson planning and classroom management.
In addition to regional accreditation, aspiring elementary school teachers should check their degree programs have been accredited by the CAEP to ensure they will be getting the quality education necessary to become a licensed teacher. Requirements to be a certified teacher vary by state, so aspiring teachers should also consider where they decide to receive their training depending on the state they wish to work in.
Comprehensive List of Accredited Online Schools - Elementary Education Degrees (
185

)
2019 Best Online Colleges Offering Bachelor's in Elementary Education Degrees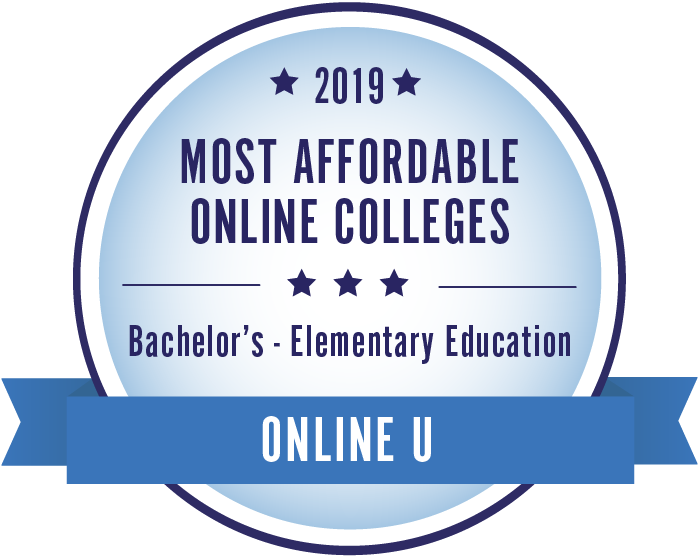 The following is a list of the top 18 online schools offering bachelor's degrees in elementary education. Rankings are based on the reported mid-career salaries of the schools' alumni and the cost of annual tuition, with the average tuition of the list at an impressive $13,688 per year. Additionally, four schools boast an annual tuition of under $10,000. The #1 ranked school is Kansas State University, with an annual tuition of $13,964 and a reported mid-career salary of $81,100.
Alumni salaries were provided by PayScale. View our methodology for more details or learn more about SR Education Group.
Rank
School
Annual Tuition
Median Salary

#1

$13,964

$81,100

#2

$11,670

$59,000

#3

$12,000

$54,200

#4

$11,160

$53,600

#5

$19,872

$53,600

#6

$16,650

$51,400

#7

$6,997

$49,400

#8

$8,218

$49,300

#9

$7,500

$48,600

#10

$22,409

$48,300

#11

$14,976

$47,100

#12

$11,036

$44,900

#13

$19,383

$41,400

#14

$20,592

$41,500

#15

$10,650

$39,200

#16

$21,222

$36,300

#17

$6,380

$32,000

#18

$11,700

$31,700
Salary data provided by

. Updated 2018.
50%

of users found this page helpful
Was this page helpful?
Still have questions or feedback?
This website offers school details to prospective students as an informational resource. The appearance of a school listing on this website should not be interpreted as an endorsement by the school of this site.