2020 Best Online Dental Hygienist Schools & Programs
Online dental hygiene degrees are available at both the bachelor's and the master's levels. Our list of best online dental hygiene programs ranks schools based on tuition rates and alumni salaries provided by PayScale. After earning an online degree, dental hygienists can work in a variety of locations where dental care is provided, such as dental clinics, hospitals, and nursing homes.
Prospective dental hygienists should make sure to attend an accredited school. This will help to ensure that their programs meet national education standards. Additionally, dental hygienists need to be licensed in order to work.
2020 Best Online Colleges Offering Bachelor's in Dental Hygiene Degrees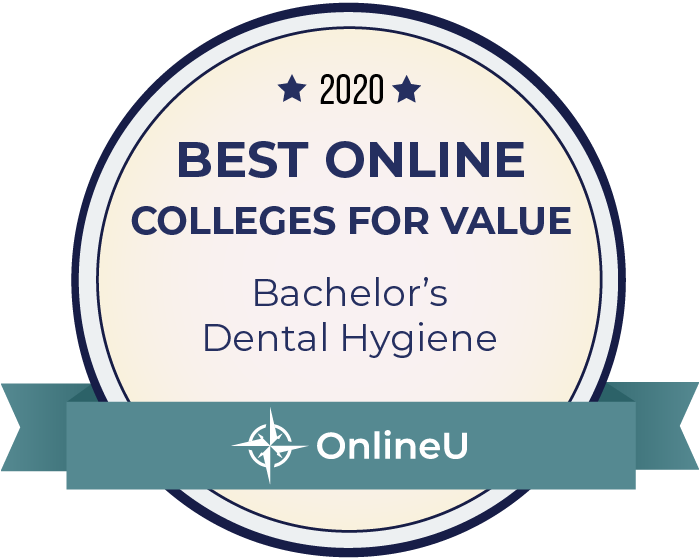 The 23 online colleges on this list are the best value options for online bachelor's degrees in dental hygiene, based on their tuition and alumni-reported salaries. Oregon Institute of Technology is ranked #1, offering a Bachelor of Science in Dental Hygiene (Degree Completion) for $12,593 per year. Graduates of the school reported a median salary of $98,562. In the #2 spot, Ohio State University-Main Campus offers a Bachelor of Science in Dental Hygiene for only $9,168 per year, making it an affordable choice for distance learners who are looking for a high quality and affordable education.
Alumni salaries were provided by PayScale. View our methodology for more details or learn more about Guide to Online Schools.
2020 Online Colleges Offering Dental Hygiene Degrees - Ranking Details
Online Degree Overview & Career Information
Online dental hygienist programs are available in the form of bachelor's degrees and master's degrees. Bachelor's degrees are typically aimed at those who have earned an associate degree in dental hygiene and who want to gain more skills to advance their career. Master's degrees are available for those who already work in the field and who want to go into education or other leadership roles. There are also master's programs in dental hygiene for those who have a bachelor's in another healthcare or related field but who have no dental hygiene training and who want to start their dental hygiene career.
Online Associate Degrees in
Working under a dentist's supervision, a dental hygienist is a preventive oral health professional who conducts patient assessments, teaches patients about oral hygiene, and provides some patient care, including x-rays and teeth cleaning. After completing an online associate degree program in dental hygiene, graduates become eligible for licensure as a registered dental hygienist (RDH), which is required for practicing hygienists in all 50 states. Graduates can also pursue other careers related to oral health and dentistry; for example, they might work in a specialized sales role focused on dental products or services.
Program Requirements
Admission to an online associate degree program typically requires documentation of high school graduation with transcripts or proof of having passed a General Education Development (GED) test. It usually takes a minimum of two years to earn the degree, but some vocational programs offer accelerated programs that take as few as 17 months.
Curriculum
Typically, it takes between 75 and 84 credit hours to earn an online associate degree in dental hygiene, which is possible at both two-year and four-year institutions, including many community colleges. Some schools offer this degree program 100% online, while others require some on-campus instruction and evaluation in addition to online study. Both self-paced and semester-based programs are available. All online associate dental hygiene programs focus on natural science courses, such as dental anatomy and physiology, organic chemistry, microbiology, and oral pathology.
Online Bachelor's Degrees in
Online bachelor's degrees in dental hygiene are typically available to those who have already completed an associate degree in dental hygiene and who want to gain more experience and possibly move up into more advanced positions within the field, such as management roles.
Program Requirements
A dental hygiene bachelor's program can be found at colleges and universities and typically takes two years to complete, as students begin the program with an associate degree already completed. Admission to a dental hygiene bachelor's program will require an associate degree in dental hygiene and a dental hygienist's license. Tuition will run anywhere from under $11,000 a year to over $22,000 a year.
Curriculum
Classes that students enrolled in one of these programs will take include Contemporary Issues in Dental Hygiene, Community Health and Epidemiology, Dental Hygiene Educational Concepts, Pain Management, Community and Rural Dental Health, and Geriatric Dental Hygiene. Upon completing one of these programs, graduates will be able to work in a variety of locations like hospitals, nursing homes, and dental clinics, as well as in dental hygiene education, and they will be prepared to take on additional responsibilities in their jobs.
Online Master's Degrees in
Online master's degree programs in dental hygiene are offered by accredited universities.
Program Requirements
Prospective online students seeking a master's of science in dental hygiene should be prepared to devote two years to their studies. Admission to one of these programs will typically require that the applicant have a bachelor's degree in dental hygiene or a related field. Some programs allow students who have a bachelor's degree in another field but who have also received accredited dental hygiene training to apply.
Curriculum
Courses that students will take may include Global Healthcare, Clinical and Didactic Educational Concepts, Oral Health Sciences, Health Promotion and Disease Prevention, and Foundation and Oral Health Services. Student teaching, a practicum, and/or thesis will also likely be required. Upon completing one of these programs, graduates will be prepared to go into education as well as leadership positions. Tuition will vary based on program and may run anywhere from around $13,000 a year to close to $30,000 a year.
Licensing for Dental Hygienists
While requirements vary, all dental hygienists need to be licensed in order to work. The first requirement that all states share is that aspiring dental hygienists must earn their training through an accredited dental hygiene program. They will also need to pass the National Board Dental Hygiene Examination and their state's specific board examination. Other potential requirements may include CPR certification, letters of recommendation, and a background check.
The Importance of an Accreditated Online Dental Hygiene Degree
One thing that students should keep in mind when choosing a program is whether or not the school is accredited. There are regional, national, and programmatic accreditation. Regional accreditation is given to non-profit, degree-granting schools by an independent, regionally-based agency that has evaluated the school to make sure it meets certain educational standards. Regional accreditation is important for a variety of reasons, including the ease of transferring credits between institutions, the ability to use federal financial aid, and the assurance that future employers will recognize the diploma as valid. National accreditation is typically granted to non-degree granting institutions such as technical schools. Programmatic accreditation is when an organization that specializes in a certain field accredits programs within that field, such as the Commission on Dental Accreditation, which accredits dental training programs.
This website offers school details to prospective students as an informational resource. The appearance of a school listing on this website should not be interpreted as an endorsement by the school of this site.