2019 Best Online Colleges for Criminology Degrees
Online criminology degrees are available at 64 accredited online colleges and universities at a variety of degree levels. Students can pursue online associate, bachelor's, master's, doctoral, or certificate degrees in criminology. In addition to a comprehensive list of all available accredited online criminology degrees, we provide a list of the best online colleges for criminology degrees based on affordability and alumni salaries provided by PayScale.
Accreditation is an important factor to take into account when selecting an online criminology degree. There is no predominant accrediting agency for criminology programs. Therefore, students should prioritize regional accreditation when pursuing online degrees. This will help to ensure the quality of the education as well as the students' eligibility for federal financial aid.
Comprehensive List of Accredited Online Schools - Criminology Degrees (
64

)
2019 Best Online Colleges Offering Bachelor's in Criminology Degrees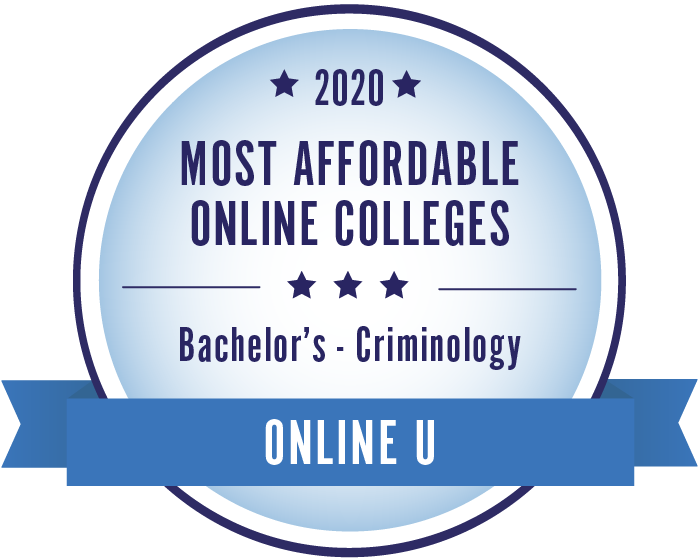 This list has the best colleges offering online bachelor's degrees in criminology, with Chaminade University of Honolulu topping the list with a tuition of $25,374 and an average alumni mid-career salary of $96,000. University of Missouri at Saint Louis ranks #2, costing $29,769 per year and with an average salary of $71,900. Southern Illinois University - Carbondale ranks 11th on the list, with an annual tuition of $11,815 and an average alumni salary of $52,100.
Alumni salaries were provided by PayScale. View our methodology for more details or learn more about SR Education Group.
Rank
School
Annual Tuition
Median Salary

#1

Annual Tuition

$25,374

Median Salary

$96,000

#2

Annual Tuition

$29,769

Median Salary

$71,900

#3

Annual Tuition

$19,383

Median Salary

$66,700

#4

Annual Tuition

$23,580

Median Salary

$63,300

#5

Annual Tuition

$14,070

Median Salary

$60,600

#6

Annual Tuition

$29,348

Median Salary

$61,600

#7

Annual Tuition

$17,324

Median Salary

$56,500

#8

Annual Tuition

$12,900

Median Salary

$55,200

#9

Annual Tuition

$14,080

Median Salary

$54,200

#10

Annual Tuition

$12,600

Median Salary

$53,100

#11

Annual Tuition

$11,815

Median Salary

$52,100
Salary data provided by

. Updated 2018.
0%

of users found this page helpful
Was this page helpful?
Still have questions or feedback?
This website offers school details to prospective students as an informational resource. The appearance of a school listing on this website should not be interpreted as an endorsement by the school of this site.