2019 Best Online Colleges for Criminal Justice Degrees
Online criminal justice degrees are available at the associate, bachelor's, master's, doctoral, and certificate levels. Among the 276 accredited online criminal justice programs on our comprehensive list, you will find a variety of subject focuses, including forensic science, criminology, and corrections. We also offer a list of the best online colleges offering bachelor's degrees and a list of the best online master's programs in criminal justice, where programs are ranked by tuition rates and average alumni salaries provided by PayScale. Browse these lists to find the best degree for you, or read more below about accreditation and popular degree specializations.
Prospective criminal justice students are encouraged to choose an online degree program that is offered by a regionally or nationally accredited institution. Accreditation helps ensure that schools meet acceptable standards with regard to their educational programs and student outcomes. Legitimate regional and national accrediting agencies should be recognized by the US Department of Education or the Council for Higher Education Accreditation.
Comprehensive List of Accredited Online Schools - Criminal Justice Degrees (
276

)
Partner School
Partner School

Annual Tuition:

$10,632 - $13,400

Full List
Accreditation
Annual Tuition
Recommend Rate
Full List (276)
Youngstown State University

HLC

$8,811
Add Review

20 Programs, 4 in Criminal Justice

Bachelor of Science in Applied Science in Criminal Justice (Completion Program)
Master of Science in Criminal Justice - Management and Program Planning

Master of Science in Criminal Justice (Non-Thesis Option)
Master of Science in Criminal Justice (Thesis Option)
2019 Best Online Colleges Offering Bachelor's in Criminal Justice Degrees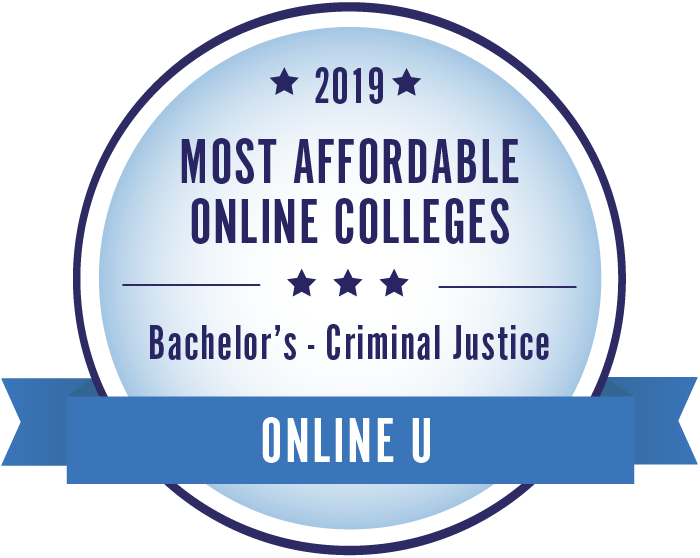 Listed below are the 25 colleges offering the combined lowest tuition rates and highest alumni salaries for their online bachelor's degrees in criminal justice. The #1 spot goes to Missouri State University, with a very low tuition of $8,850 and an average alumni salary of $126,200. The lowest tuition on the list, $5,742 per year, goes to California State University-Sacramento, ranked #12. Criminal justice graduates of California State University-Sacramento reported an average mid-career salary of $78,100.
Alumni salaries were provided by PayScale. View our methodology for more details or learn more about SR Education Group.
Rank
School
Annual Tuition
Median Salary

#1

$8,850

$126,200

#2

$14,640

$100,800

#3

$11,329

$95,000

#4

$29,200

$97,100

#5

$25,374

$96,000

#6

$16,350

$90,900

#7

$18,400

$90,400

#8

$11,815

$84,000

#9

$15,300

$84,300

#10

$11,250

$80,700

#11

$9,200

$79,100

#12

$5,742

$78,100

#13

$10,800

$78,500

#14

$10,104

$77,600

#15

$13,500

$77,800

#16

$14,970

$77,200

#17

$10,633

$76,500

#18

$11,100

$76,500

#19

$29,348

$78,800

#20

$8,520

$76,000

#21

$13,200

$75,300

#22

$20,100

$76,100

#23

$14,940

$75,000

#24

$23,190

$75,800

#25

$12,600

$71,400
Salary data provided by

.
2019 Online Colleges in Criminal Justice Ranking Details
60%

of users found this page helpful
Was this page helpful?
Still have questions or feedback?
This website offers school details to prospective students as an informational resource. The appearance of a school listing on this website should not be interpreted as an endorsement by the school of this site.