2020 Best Online Art Schools & Degrees
Online art schools offer certificate, associate, bachelor's, and master's degree programs for both fine art and applied art disciplines. Fine art degree programs include painting, illustration, or sculpture, whereas applied art programs apply art principles to more traditionally commercial pursuits such as architecture, graphic design, and film production. Prospective online art students can browse our list of the best online art schools and list of the best online MFA programs, ranked based on tuition rates and alumni salary data from PayScale. We also provide information about online art degrees and accreditation.
2020 Best Online Colleges Offering Bachelor's in Art & Design Degrees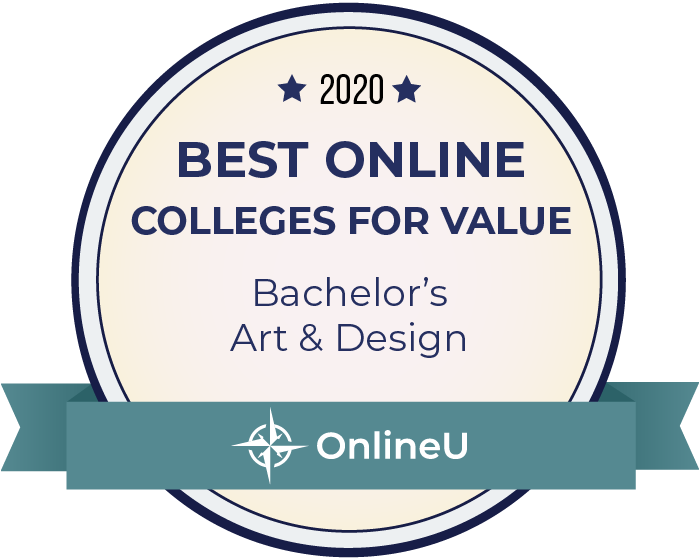 The following 9 schools offer the best online bachelor's degrees in art and design, based on their low tuition rates and high mid-career salary potentials. A degree from The University of Montana has an impressive return on investment, with an annual tuition of $21,600 and alumni reporting a mid-career salary of $80,300. Second-ranked University of Iowa offers a Bachelor of Liberal Studies in Expression in Writing and Arts for $8,073 per year. Graduates of the school's program earn a median salary of $61,914.
Alumni salaries were provided by PayScale. View our methodology for more details or learn more about Guide to Online Schools.
2020 Online Colleges Offering Art & Design Degrees - Ranking Details
Online Degree Overview & Career Information
Online certificates in art usually focus on one aspect of applied art, while associate and bachelor's degrees are available in fine arts and additional applied fields. Those with a technical bent can study basic graphic design, photography, or web design in an online certificate or associate degree program. Those seeking an online bachelor's degree will find more art and design areas to choose from, such as architecture, graphic design, or fine arts.
The Master of Fine Arts (MFA) traditionally covers the techniques of a particular art discipline at an advanced level. MFAs are available in graphic design, illustration, photography, and a variety of other disciplines. Master's programs are also available in art education or administration.
Online Associate Degrees in
An online associate degree in art and design is often used as a stepping stone toward a bachelor's degree, opening additional opportunities for careers in graphic design, industrial design, interior design, animation, or web design.
Program Requirements
An online associate degree in art and design is a two-year degree program that provides the basic postsecondary education for the disciplines of art and design. It typically covers 60 to 72 credits. Courses required for an associate degree can be found through community colleges as well as four-year universities, so students might find it beneficial to gain an associate's degree at a low cost and apply it to an entry-level position in an art and design career.
Curriculum
Foundational associate degree courses such as design theory or introduction to design provide a background for careers in art and art-related disciplines. More specific electives will cover design elements such as color, shape and layout, and perspective, each of which might be presented as its own course. Graphic design or industrial design degrees often include courses in computer animation or architectural drafting. In order to gain a more in-depth perspective on careers in the arts, students will most likely need to seek a higher degree, an internship, or an apprenticeship in their intended field of work.
Most careers in the arts require a minimum of either a high school diploma or a bachelor's degree. Graduates who have developed an impressive portfolio during their pursuit of an associate degree may be able to find a job in interior decorating or floral design, both of which are based more on experience and skill than on education.
Online Bachelor's Degrees in
If you are interested in pursuing a career in art and design, an online bachelor's degree can be a viable path. Online bachelor's degrees in art and design can be found in the college of the arts or in the department of fine arts.
Program Requirements
An online bachelor's degree in art and design can typically take four years to complete, although some students compress that time by taking additional credits each term, or extend it to five or even six years by studying only part-time or in order to complete multiple majors or accommodate work or family commitments.
Online undergraduate arts programs usually have the standard admissions requirements of a high school diploma or GED, SAT/ACT scores, letters of recommendation, and personal statements. Competitive programs may require that students submit a portfolio of artwork.
Curriculum
In addition to a general art and design program, many schools offer majors such as marketing and commercial art, architecture, computer animation, fashion design, graphic design, interior design, visual communication, and web design. Students in art and design bachelor's programs often have some flexibility in developing a course plan that may be necessary for their intended careers. These classes could include visual marketing, consumer psychology, or even a hands-on landscaping intensive. Art and design students can also expect to take the following courses: introduction to design, drawing, shape and color/visual elements, art history (either general or pertaining to a specific era), and design technology.
The academic requirement for many art and design positions is usually a bachelor's degree, but candidates must also demonstrate talent and experience. Most students who complete a bachelor's degree program will graduate with a polished portfolio, which can also be useful for finding a job. Advanced art and design professions, such as art direction or administration, will usually require applicants to have a master's degree or professional certification beyond an undergraduate degree.
Online Master's Degrees in
Online master's programs in art and design can be completed in both professionally oriented areas as well as fine arts. The degrees can provide the necessary training to seek professional licensure, along with the opportunity to develop a compelling art portfolio. Students can pursue these degrees in more than a dozen areas, such as animation, architecture, video game design, graphic design, and web design. To learn more about online master's programs in art and design, see our master's overview which includes a list of the best programs.
Online Certificates in
Online certificate programs in art and design can help boost students' professionalism, as well as their innate skills. Most certificates are obtained within 6 to 12 months and require the completion of 28 to 30 credit hours. High school graduates and those who've obtained a GED are eligible for enrollment.
Certificate programs in art and design typically vary by area of specialty. All students can expect to learn the basic principles of art-related industries, specifically graphic design, and are required to combine this information with fine arts elective courses. Many schools also allow individuals to complete classes that help them gain an understanding of jewelry design, computer graphics, photography, and interior design. Core topics that are usually discussed include digital animation, drawing and painting, technical graphics, color theory, 3-D presentations, and computer-aided drafting. Some individuals are also awarded internship opportunities that allow them to gain real-world experience in their prospective field.
Accreditation
Prospective students seeking an art and design degree should consider choosing an online school that has received accreditation from the National Association of Schools of Art and Design (NASAD) or another legitimate accrediting agency. When colleges and universities go through the accreditation process, they are carefully evaluated by independent agencies to ensure that they meet high standards in terms of their curricula, faculty, and student resources.
Although it's still possible to receive a quality education from a school that has not been accredited, accreditation will allow you to transfer credits among other accredited institutions and to utilize any federal student loan or grant assistance you might be eligible for.
Accrediting agencies should be recognized by either the US Department of Education or the Council for Higher Education Accreditation. Please visit Guide to Online Schools' comprehensive accreditation hub for more information.
Online Computer Animation Degree
Computer animation is the process of making motion images using logarithms and templates. Computer animators use technology to create animated images for a variety of purposes. Both 2-D animation and 3-D animation are used within this industry. Computer-generated imagery, or CGI, is also a term widely used to refer to this type of animation.
Computer animation can be used in artistic design, story development, video game development, web design, film, and project management. Computer animators are in especially high demand within media professions. Creative people who love art, storytelling, and the technology can find a successful career in this field. Computer animation is also highly competitive, so finding the appropriate degree from a good school is necessary.
Students of any computer animation degree program should have a portfolio and demo reel by the time they complete their degree. A portfolio is a collection of work samples that demonstrates the skills of an individual. Potential employers will want to look at a portfolio to assess an applicant's knowledge of computer animation.
Certificate programs in animation only require a short time investment. They are intended for people who have already earned a degree in a related field. Students are taught up-to-date animation techniques with hands-on education and use of common video software programs such as 3-D Studio Max, Mudbox, Blender, Flash, and Premier Pro.
Associate degree programs in computer animation give a more in-depth education then a certificate program. Such programs teach the fundamentals of animation. Students learn techniques in 3-D modeling and animation used in film. Students generally learn other related subjects, such as entertainment law, story development, and communications. Both associate and certificate programs in computer animation are great for people who want to work in web animation.
Bachelor's degree programs in computer animation give a broader, more specialized education in this field. Bachelor's students take classes in animation theory, drawing and design, and 3-D production, and they learn the technical aspects behind direction. Students who want a career in film animation or other types of complex careers in computer animation should consider taking a program at this level.
Advanced degrees in computer animation include master's- and doctorate-level degrees. These programs are intended for students who wish to become high-quality animators and need to learn about computer languages, graphics, storyboarding, and technology developments. Students often complete coursework, like original animations and group projects.
While the admission requirements for computer animation will vary depending on the school, students can expect to submit grade transcripts, standardized test scores, and letters of recommendation in their application. Many art schools will also require students to submit a portfolio or demo reel of previous work, especially if they have prior education or experience.
There are no agencies that accredit computer animation degree programs specifically, but students should still look for schools and programs that are regionally or nationally accredited by proper authorities. Many agencies that accredit technology schools will accredit computer animation degree programs. Students looking to transfer credits should especially make sure they attend an accredited school.
When selecting a certificate or degree program, students should consider what their career goals are and the requirements they need to meet in order to achieve them. Most people who earn a certificate or associate degree in computer animation will find work as a web developer and other similar careers. Those who wish to work in film or careers that are more complicated should consider earning a bachelor's, master's, or doctoral degree.
Online Film & TV Production Degree
Film and TV producers help write, cast, design, create, and edit films and TV shows. To help prepare for these careers, students can choose to earn associate, bachelor's, and master's degrees. Producers work all over the world, but are often concentrated in high productivity centers like Hollywood, London, New York, India, and Paris.
An associate degree in film and TV production can be completed at a community college or through an online program. Associate degrees take only two years to earn. Most graduates find that further education is required to get even entry-level jobs in this highly competitive arena. However, students will get an introduction to digital technology and art, basic filming techniques, directing, screenwriting, and casting. The real value of an associate degree is that it can be transferred to a four-year university, where students can earn bachelor's degrees.
A bachelor's degree in film and TV production is the best way to begin a career in the industry. Students will have a chance to build a foundation in all of the basics, truly understanding how the art of filmmaking meets the business of filmmaking. Producers need to have mastery of all sides of filmmaking, and the depth of a bachelor's degree program is a good way to begin developing this mastery. Undergraduates also have access to many top internships and other learning opportunities.
Master's degrees in film and TV production, often Master of Fine Arts degrees, are very popular. Master's students must complete a capstone project, giving them the chance to get hands-on filmmaking experience with teacher feedback. This experience proves invaluable for people just breaking into the industry.
Undergraduate programs in film and TV often request that students submit essays to detail why they are interested in the film industry. Other than that, the only requirements are high school diplomas, transcripts, letters of recommendation, and a general application. Master's programs are more competitive, often asking for resumes detailing any filmmaking experience students may have. Some of the most difficult programs require a sample of a student's work.
There are no official education requirements to work in film and TV, but accredited programs are still recommended. They are usually of the highest quality, and are the most respected in the industry. Anyone who plans to attend graduate school after earning a bachelor's degree must earn a degree from an accredited university. All accredited institutions are catalogued by the US Department of Education.
Online Fine Arts Degree
If you have a passion for aesthetic appeal and enjoy expressing yourself creatively, it's worthwhile to pursue a fine arts degree. This genre encompasses a broad range of areas, including music, dance, visual art, literature, film, and graphics. Graduates of fine arts programs are best suited for careers in architecture, printmaking, theatre, photography, creative writing, filmmaking, and other relevant fields.
Professionals in the fine arts industry can be employed in a variety of settings, such as private studios, academic institutions, galleries, museums, printmaking shops, recording studios, performing arts centers, and design firms. Individuals who want to pursue leadership positions are encouraged to enroll in advanced degree programs to enhance their expertise in a specific craft.
A certificate in fine arts may include basic courses in drawing, photography, painting, and other art forms to develop students' appreciation for fine art. Those in associate degree programs cultivate skills in music, drama, visual art, and digital design. Many people transfer to a bachelor's degree program, which helps them delve deeper into their area of interest by providing courses on the history and subfields of their craft. Students also become familiar with ways to build portfolios that they can present to potential employers.
Master's degrees in fine arts are comprehensive programs designed to teach individuals the business aspects of their art form and deepen their understanding of how to put theories into practice. Most schools allow students to combine various art forms. For example, those pursuing a Master of Fine Arts (MFA) in sculpture can mix painting and drawing disciplines in their curricula. The culmination of a master's program usually involves students presenting their work to the public.
A PhD in fine arts prepares students to enter careers in postsecondary teaching, research, and consulting. Students are expected to conduct independent research and submit an original dissertation to an advisory board before graduation. Many programs offer assistantships and internship opportunities in order for students to get hands-on training.
The minimum education requirement for most certificate, associate, and bachelor's degrees in fine arts is a high school diploma. However, some competitive programs may ask for ACT and SAT scores or an essay outlining prospective students' intentions. Those entering a master's degree program are usually required to submit undergraduate transcripts, GRE scores, a statement of purpose, letters of recommendation, and a portfolio. Most doctorate programs request reference letters, resumes, portfolios, and a personal statement.
Most degree programs in the fine arts sector cover the same course materials regardless of the type of education an individual receives. Since many programs require hands-on training in studio settings, some online students may periodically meet with instructors and peers to complete some assignments. Most programs also encourage individuals to meet with their teachers regularly to discuss their progress and ways to improve.
Determining which fine arts degree is right for you depends on a number of factors, including your area of interest and how you plan to apply your education to a particular career path. Since the concentrations in the fine arts genre vary largely by location and industry, it's best to check with representatives at your prospective school to ensure the program you enroll in will be relevant to your career path. It's also a good idea to consult with knowledgeable sources if you are considering online training, as you'll need to know how often hands-on training in classroom settings may occur.
Online Multimedia Design Degree
If you enjoy creative projects, you should consider a career in multimedia design. From short films and websites to video games and virtual reality products, this field encompasses a wide range of content forms that are extremely useful to various audiences. It combines traditional art forms with technology to produce animation, text, audio, film, and still images.
Multimedia design can be applied to education, commercial services, fine arts, and several other industries. This broad profession enables individuals from various backgrounds and art forms to gain work experience, cultivate talent, and enjoy a comfortable lifestyle while pursuing their dreams.
Certificate and associate degree programs in multimedia design target individuals who are interested in learning fundamental concepts in the field. Some associate degree enrollees end up transferring to a bachelor's degree program, which helps develop skills in video and audio technology, interactive media techniques, and graphic design. Students at this level also learn time management skills and how to implement projects. Common courses include instructional design, advanced computer graphics, fundamentals of multimedia, web publishing, digital design, and multimedia production.
A master's degree in multimedia design prepares students for leadership roles in the industry. They enhance skills in digital imaging, web-based media, digital photography, action scripting, sound editing, and the use of various computer applications. Students often balance a variety of software courses with several foundational design classes. Many programs also offer hands-on training experience through internships with partnering companies in the area.
The highest level of education in this field is a doctoral degree. Those who want to commit to a career in research or teaching as it relates to multimedia design are the most likely to enroll in this program. Individuals learn new approaches to infusing multimedia design into classroom curricula, as well as the long-term effects of technology on students. They're expected to submit an original body of research at the end of the program.
The majority of undergraduate programs in multimedia design require students to submit high school standardized test scores and official transcripts to be considered for enrollment. Advanced degree programs typically request undergraduate transcripts, GRE test scores, letters of recommendation, and a statement of intent. In some cases, schools also ask for a portfolio or resume that demonstrates relevant work experience.
There's little difference in the course materials for brick-and-mortar degree programs and web-based programs in this field. Because a large amount of the curriculum deals with hands-on projects that require the use of a computer, many individuals prefer online classes that will allow them to work online at their own pace. Students can still communicate with teachers and peers through a variety of interactive tools, such as email, video conferencing, discussion boards, and chat rooms.
You should consider the kind of job you want in multimedia design before applying to an academic degree program. Investigating potential employers and job responsibilities for the roles that appeal to you will help you determine which degree is right for you. Be sure to take your schedule and circumstances into consideration as well, which will indicate if a traditional or online program is the best fit.
This website offers school details to prospective students as an informational resource. The appearance of a school listing on this website should not be interpreted as an endorsement by the school of this site.