2020 Best Online Colleges in Wisconsin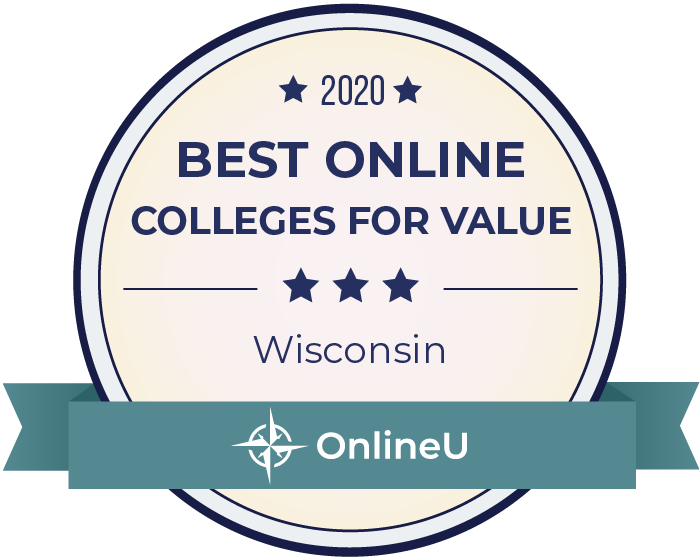 The schools on the following list are the best online colleges in Wisconsin based on reported alumni salaries and affordable tuition rates. Marquette University ranks #1, offering a Bachelors in Strategic Communication and 12 online master's programs. Undergraduate tuition at Marquette is $43,350 per year and the median annual salary is $95,200. University of Wisconsin-Green Bay offers the lowest tuition rate, at $7,873 per year.
Alumni salaries were provided by PayScale. View our methodology for more details or learn more about Guide to Online Schools. To see all online schools in Wisconsin, view our comprehensive list.
Rank
School
Annual Tuition
Median Salary

#1

$43,350

$95,200

#2

$14,012

$91,100

#3

$7,365

$80,900

#4

$11,670

$77,600

#5

$13,800

$72,700

#6

$30,850

$74,800

#7

$9,150

$71,100

#8

$10,800

$71,300

#9

$9,874

$71,100

#10

$11,250

$68,900

#11

$30,550

$68,200

#12

$7,873

$64,100

#13

$14,970

$65,000

#14

$15,360

$64,900

#15

$15,600

$62,600

#16

$33,456

$62,300

#17

$13,760

$45,000
Salary data provided by

.
2020 Online Colleges in Wisconsin Ranking Details
For each school, we conducted manual research to provide prospective students with more details about the schools' online programs. Explore online degrees offered and accreditation information below.
Comprehensive List of Accredited Online Schools in Wisconsin (46)
Wisconsin is home to many accredited schools offering online degrees. Whether obtaining a bachelor's of business administration from University of Wisconsin - Whitewater or Parkside, or an MBA in accounting from Lakeland University, prospective students have many campus and program options to choose from. Other popular degree programs for online students include sociology, library and information science, and criminal justice. Northcentral Technical College offers the best tuition, at $5,083 per year, while the 12 other technical colleges on the list all have tuition rates in the $6,000 - $7,000 range.
At a Glance:
Twenty-one of online universities in Wisconsin have tuition rates under $15,000.
Wisconsin's technical colleges offer technical degrees for under $8,000 per year
Wisconsin 529 allows Wisconsin adults to contribute up to $3,200 in annual, tax-deductible savings towards future higher education expenses for each of their named beneficiaries.
0%

of users found this page helpful
Was this page helpful?
Still have questions or feedback?
This website offers school details to prospective students as an informational resource. The appearance of a school listing on this website should not be interpreted as an endorsement by the school of this site.