2018 Best Online Colleges in Virginia
0%

of users found this page helpful
Was this page helpful?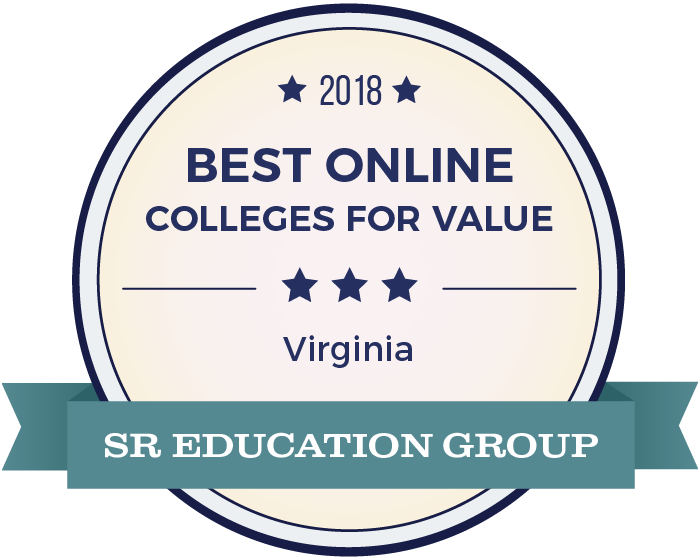 The following schools are the best value online colleges in Virginia. Regent University Online and Shenandoah University offer the lowest tuition rates on the list, averaging around $8,800 per year. The two schools also share a similar academic ranking - Regent University Online ranks at 65% and Shenandoah University ranks at 61%. University of Virginia - Main Campus tops the list with an academic strength rating of 84% and tuition of $12,900 per year. George Mason University is the most expensive school on the list with annual tuition of $35,220 per year and has an academic rating of 72%.
View our methodology for more details or learn more about SR Education Group. To see all online schools in Virginia, view our comprehensive list.
Rank
School
Annual Tuition
Academic Strength

#1

University of Virginia - Main Campus

Annual Tuition

$12,900

Academic Strength

84%

#2

Regent University Online

Annual Tuition

$8,850

Academic Strength

65%

#3

Shenandoah University

Annual Tuition

$8,800

Academic Strength

61%

#4

Hampton University

Annual Tuition

$9,000

Academic Strength

57%

#5

Liberty University

Annual Tuition

$11,700

Academic Strength

66%

#6

Old Dominion University

Annual Tuition

$11,670

Academic Strength

64%

#7

Eastern Mennonite University

Annual Tuition

$12,555

Academic Strength

63%

#8

Bluefield College

Annual Tuition

$11,680

Academic Strength

57%

#9

Averett University

Annual Tuition

$14,400

Academic Strength

57%

#10

Virginia Commonwealth University

Annual Tuition

$18,310

Academic Strength

68%

#11

James Madison University

Annual Tuition

$20,927

Academic Strength

71%

#12

George Mason University

Annual Tuition

$35,220

Academic Strength

72%
2018 Online Colleges in Virginia Ranking Details
For each school, we conducted manual research to provide prospective students with more details about the schools' online programs. Explore online degrees offered and accreditation information below.
Comprehensive List of Accredited Online Schools in Virginia (45)
Virginia's Regent University Online offers over 300 undergraduate and graduate degrees to distance students, including degrees in business, divinity, public administration and human services. Liberty University offers over 400 degree programs, including prominent programs in criminal justice, information systems and information technology. Popular online degree programs found at other in-state universities cover subjects including nursing, education, engineering and science. Old Dominion University, for instance, offers one bachelor's, six master's, and two doctoral degrees in nursing. It also receives a 100% recommendation rate from current and former students, while Virginia Baptist College offers the most competitive tuition of the colleges on this list, at $5,540 per year.
At a Glance:
43% of accredited online universities in Virginia offer degrees for under $11,000 per year.
Virginia's CyberSecurity Public Service Scholarship Program offers up $20,000 per year to eligible students who are within two years of completing an undergraduate or graduate degree in cybersecurity defense and sign an agreement to work in state government post-graduation.
The Virginia Tuition Assistance Grant (VTAG) Program is neither need-based nor merit-based, rather it is intended for any students attending private Virginia colleges and universities. All eligible and timely applicants receive a grant award from the available funds, which can total as much as $11,000 over a 4-year course of undergraduate study.
References
0%

of users found this page helpful
Was this page helpful?
Still have questions or feedback?
This website offers school details to prospective students as an informational resource. The appearance of a school listing on this website should not be interpreted as an endorsement by the school of this site.