2019 Best Online Colleges in Texas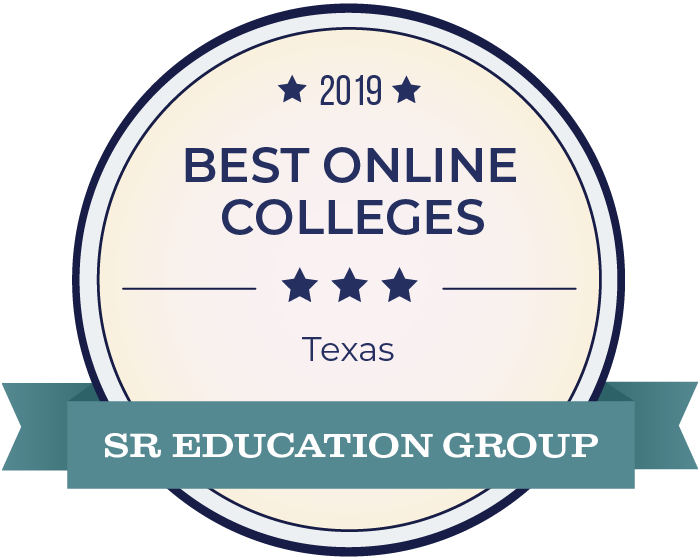 This list highlights the best online colleges in Texas, based on affordability and alumni salaries. Texas A&M University-College Station ranks #1 on the list with an affordable annual tuition of $9,118 and the highest median salary of $104,000. Students can choose from a wide variety of online programs, such as a Bachelor of Science in Nursing, a Master of Science in Analytics, and more. South Texas College, ranked #8 , has the most affordable tuition for in-state students at $2,100 each year.
Alumni salaries were provided by PayScale. View our methodology for more details or learn more about SR Education Group. To see all online schools in Texas, view our comprehensive list.
Rank
School
Annual Tuition
Median Salary

#1

Texas A&M University-College Station

$9,118

$104,000

#2

Texas Tech University

$8,880

$92,000

#3

University of Houston

$10,491

$88,900

#4

LeTourneau University

$13,500

$85,100

#5

Texas Tech University Health Sciences Center

$7,911

$84,200

#6

University of North Texas

$8,403

$79,000

#7

Amberton University

$7,950

$78,400

#8

South Texas College

$2,100

$76,900

#9

Stephen F. Austin State University

$7,260

$77,300

#10

University of Houston-Downtown

$6,630

$75,900

#11

Sam Houston State University

$13,011

$76,500

#12

The University of Texas at San Antonio

$6,678

$75,500

#13

Texas A & M University-Corpus Christi

$5,362

$75,300

#14

Midwestern State University

$9,233

$75,800

#15

Angelo State University

$6,756

$75,300

#16

Texas Woman's University

$7,035

$75,300

#17

University of Houston-Victoria

$6,012

$74,900

#18

West Texas A & M University

$8,906

$74,500

#19

Texas A & M University-Commerce

$10,247

$74,600

#20

Tarleton State University

$5,840

$72,800

#21

Texas A & M University-Texarkana

$11,174

$73,500

#22

Dallas Baptist University

$27,870

$72,200

#23

Southwestern Adventist University

$20,910

$68,100

#24

University of the Incarnate Word

$15,900

$65,000
2019 Online Colleges in Texas Ranking Details
For each school, we conducted manual research to provide prospective students with more details about the schools' online programs. Explore online degrees offered and accreditation information below.
Comprehensive List of Accredited Online Schools in Texas (108)
Texas is home to over 100 accredited schools offering online degree programs. Many of the public universities in Texas offer online degrees, including several from the Texas A & M University System and the University of Texas System. Common degree programs at these schools include those in business, management, nursing, and education. West Texas A & M University, one of many affordable options in the state, offers 14 bachelor's degrees and 12 master's degrees across a variety of subjects. There are also many religiously-affiliated schools on the list including Abilene Christian University and Dallas Baptist University.
At a Glance:
Forty of the schools on this list offer low annual tuitions under $15,000.
A large portion of Texas public university students take online courses; in 2017, around 20% of semester credit hours taken at public universities in the state were through distance education.
Texas A & M University, located in College Station, is the second biggest university in the country with an enrollment of 60,435 students in the fall of 2016.
References
0%

of users found this page helpful
Was this page helpful?
Still have questions or feedback?
This website offers school details to prospective students as an informational resource. The appearance of a school listing on this website should not be interpreted as an endorsement by the school of this site.