2020 Best Online Colleges in Tennessee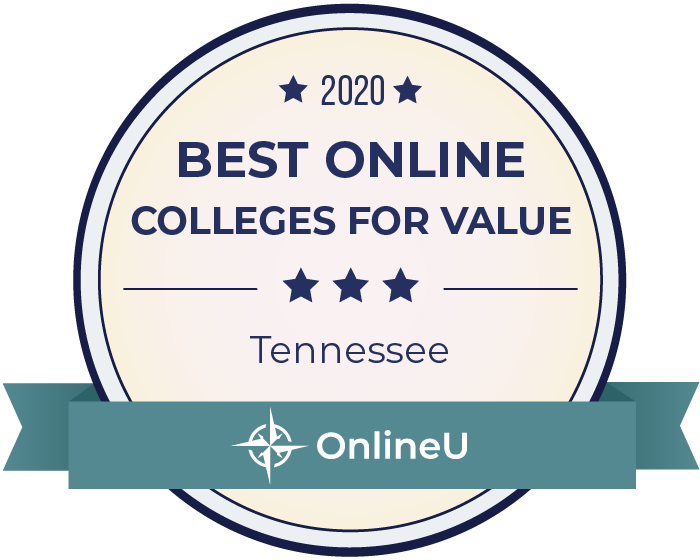 Ranked based on tuition rates and reported alumni salaries, this list highlights the best online schools in Tennessee. Christian Brothers University is ranked #1, charges a tuition rate of $12,555 and has a median alumni salary of $89,600. Ranked #11, Tennessee State University offers the lowest tuition at $4,200 per year for its undergraduate degrees. TSU offers 18 online bachelor's degrees in fields such as information technology, psychology, and public relations.
Alumni salaries were provided by PayScale. View our methodology for more details or learn more about Guide to Online Schools. To see all online schools in Tennessee, view our comprehensive list.
Rank
School
Annual Tuition
Median Salary

#1

$12,555

$89,600

#2

$13,020

$84,300

#3

$13,410

$84,200

#4

$6,450

$78,000

#5

$15,390

$74,300

#6

$11,850

$70,200

#7

$8,000

$69,500

#8

$8,404

$69,000

#9

$7,554

$68,400

#10

$9,425

$67,700

#11

$4,200

$66,900

#12

$13,050

$67,300

#13

$13,590

$67,000

#14

$12,570

$63,600

#15

$22,950

$64,800

#16

$25,150

$64,800

#17

$10,980

$62,700

#18

$10,500

$61,000

#19

$11,340

$60,800

#20

$11,780

$56,400

#21

$11,408

$55,900

#22

$15,660

$40,500
Salary data provided by

.
2020 Online Colleges in Tennessee Ranking Details
For each school, we conducted manual research to provide prospective students with more details about the schools' online programs. Explore online degrees offered and accreditation information below.
Comprehensive List of Accredited Online Schools in Tennessee (59)
Tennessee colleges and universities offer online degrees at all levels and in a variety of subjects. The schools offering online programs range from community colleges and public research universities to private liberal arts colleges. There are 15 online schools offering affordable annual tuitions under $15,000, including Johnson University, Strayer University, and Western Governors University. King University, based in Bristol, offers 15 online bachelor's and 11 online master's degrees with a 100% recommend rate from former students.
At a Glance:
The State of Tennessee offers funding and mentorship to recent high school graduates from the state. Through the Tennessee Promise program, these students can attend an eligible community or technical school in the state for two years free of tuition.
Tennessee ranks 14th among all U.S. state for the lowest student loan debt and has a significantly lower average student loan debt than the national average.
100%

of users found this page helpful
Was this page helpful?
Still have questions or feedback?
This website offers school details to prospective students as an informational resource. The appearance of a school listing on this website should not be interpreted as an endorsement by the school of this site.