2018 Best Online Colleges in South Dakota
0%

of users found this page helpful
Was this page helpful?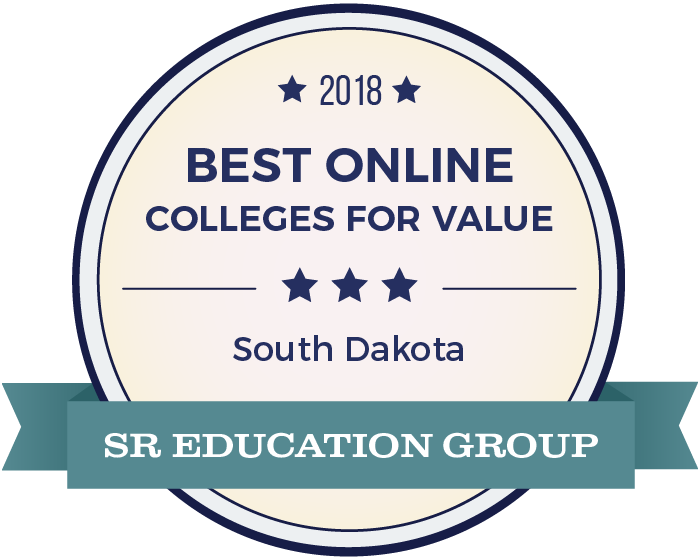 This list is a compilation of the eight best online colleges in South Dakota of 2018 based on their affordability and academic strength. South Dakota State University ranks first on the list with an affordable annual tuition of $10,050 and an academic strength of 64%. Black Hills State University comes in second with the most affordable tuition on this list at $8,730. Presentation College, ranked number 8, offers five bachelor's degrees in the healthcare field and two concentrations under a Master's of Science in Nursing. Six schools on this list cost under $11,000 to attend.
View our methodology for more details or learn more about SR Education Group. To see all online schools in South Dakota, view our comprehensive list.
2018 Online Colleges in South Dakota Ranking Details
For each school, we conducted manual research to provide prospective students with more details about the schools' online programs. Explore online degrees offered and accreditation information below.
Comprehensive List of Accredited Online Schools in South Dakota (15)
South Dakota online colleges offer many degrees in the field of education. Black Hills State University, for instance, offers a Master of Science in Secondary Education - Project SECOND, while University of South Dakota offers a Master of Arts in Educational Administration with three optional concentrations. Dakota State University offers a Master of Science in Educational Technology, and Dakota Wesleyan University offers a Master of Arts in Education with a specialization in educational policy and administration. Other popular degree programs include nursing, information systems and administration. Tuition is low overall, with Southeast Technical Institute offering the most affordable education at $5,280 per year.
At a Glance:
67% of accredited South Dakota online schools offer degrees for less than $15,000 a year.
The South Dakota Opportunity Scholarship is a $6,500 scholarship awarded over a period of four years to resident high school graduates who complete a rigorous high school curriculum and maintain high academic standards.
The NIADA Foundation sponsors four outstanding resident high school seniors yearly, awarding them each a $3,500 scholarship to the college or university of their choice.
References
0%

of users found this page helpful
Was this page helpful?
Still have questions or feedback?
This website offers school details to prospective students as an informational resource. The appearance of a school listing on this website should not be interpreted as an endorsement by the school of this site.