2020 Best Online Colleges in Pennsylvania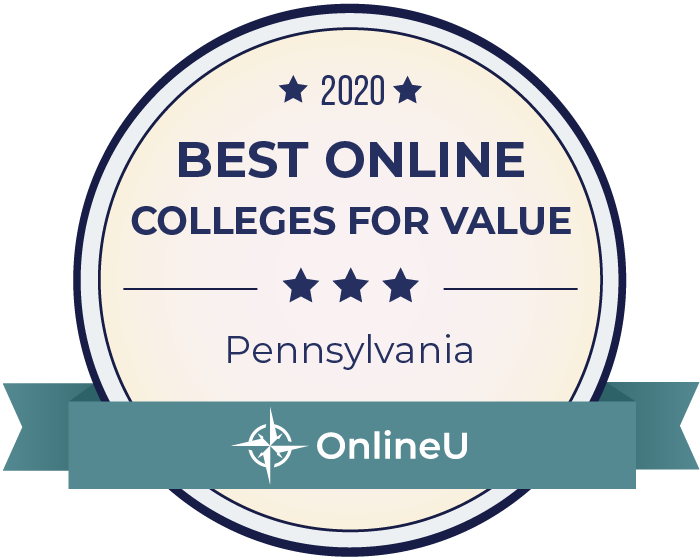 Ranked for their alumni salaries and affordable tuition, the following schools represent the best online colleges in Pennsylvania. University of Pennsylvania is ranked #1 and has the highest median salary for alumni, at $120,600. Students can choose from eight different online bachelor's programs. With one of the lowest tuition rates, at $7,716 per year, West Chester University of Pennsylvania ranks #13 and offers an online RN to BSN, 13 online master's programs, and two online doctoral programs.
Alumni salaries were provided by PayScale. View our methodology for more details or learn more about Guide to Online Schools. To see all online schools in Pennsylvania, view our comprehensive list.
Rank
School
Annual Tuition
Median Salary

#1

$19,040

$120,600

#2

$54,550

$105,000

#3

$10,000

$97,600

#4

$38,475

$98,400

#5

$17,520

$91,700

#6

$14,460

$88,600

#7

$24,200

$88,500

#8

$35,814

$87,600

#9

$36,970

$86,600

#10

$17,850

$83,000

#11

$17,760

$82,800

#12

$28,950

$81,800

#13

$7,716

$77,700

#14

$33,800

$81,000

#15

$15,240

$78,500

#16

$9,570

$76,600

#17

$16,500

$76,500

#18

$12,210

$73,900

#19

$14,400

$73,700

#20

$19,500

$73,900

#21

$17,490

$73,500

#22

$17,280

$73,400

#23

$31,875

$75,100

#24

$7,716

$71,900

#25

$7,716

$70,900
Salary data provided by

.
2020 Online Colleges in Pennsylvania Ranking Details
For each school, we conducted manual research to provide prospective students with more details about the schools' online programs. Explore online degrees offered and accreditation information below.
Comprehensive List of Accredited Online Schools in Pennsylvania (93)
There are 93 accredited colleges and universities in Pennsylvania that offer online degrees. Options range from public schools such as Edinboro University of Pennsylvania, which offers a wide variety of online master's degree to private schools such as Lehigh University, which offers, among other online degrees, master's and certificates in the field of education. One affordable school in the state is Allegany College of Maryland, which offers two associate degrees: an associate of science in computer technology and an LPN to RN program, both 100% online. For military members, Pennsylvania State University-World Campus and Clarion University both stand out as offering strong support and benefits to veterans and active servicemembers.
At a Glance:
Sixteen of the 93 online schools located in Pennsylvania have affordable tuitions under $15,000.
Pennsylvania State University-World Campus offers 153 online degrees, with options at all degree levels and across a variety of academic disciplines.
Students residing in the state can apply for funding from the Pennsylvania State Grant Program, a financial aid program that helps students pay for higher education at the undergraduate level.
0%

of users found this page helpful
Was this page helpful?
Still have questions or feedback?
This website offers school details to prospective students as an informational resource. The appearance of a school listing on this website should not be interpreted as an endorsement by the school of this site.