2020 Best Online Colleges in Ohio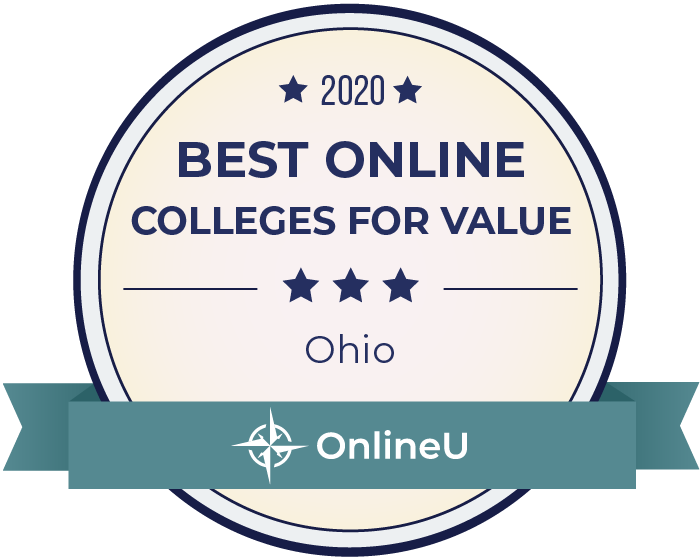 This list highlights the best online schools in Ohio, based on alumni salaries and affordability. Ranked #1, Wright State University-Lake Campus has the highest median salary at $95,300 and an annual tuition of $8,904 and offers online degrees such as an RN to BSN and a Master of Business Administration. God's Bible School and College has the most affordable tuition rate, at $6,000, and offers online programs such as a B.A. in Biblical and Theological Studies and an M.A. in Ministerial Education.
Alumni salaries were provided by PayScale. View our methodology for more details or learn more about Guide to Online Schools. To see all online schools in Ohio, view our comprehensive list.
Rank
School
Annual Tuition
Median Salary

#1

$8,904

$95,300

#2

$7,010

$87,000

#3

$8,213

$81,400

#4

$7,200

$80,600

#5

$40,220

$83,700

#6

$9,829

$79,300

#7

$14,260

$78,700

#8

$9,042

$77,700

#9

$9,578

$76,900

#10

$8,340

$72,800

#11

$14,508

$73,600

#12

$28,100

$75,400

#13

$15,500

$73,700

#14

$10,725

$72,700

#15

$30,100

$73,900

#16

$11,940

$69,800

#17

$11,850

$68,700

#18

$15,810

$66,700

#19

$11,250

$63,200

#20

$14,250

$62,400

#21

$14,260

$60,000

#22

$16,350

$55,500

#23

$12,480

$51,200

#24

$6,868

$46,300

#25

$6,000

$42,200
Salary data provided by

.
2020 Online Colleges in Ohio Ranking Details
For each school, we conducted manual research to provide prospective students with more details about the schools' online programs. Explore online degrees offered and accreditation information below.
Comprehensive List of Accredited Online Schools in Ohio (88)
Ohio houses many colleges that offer online programs for students seeking higher education. Ohio's most affordable online college is Clark State Community College, which starts at an annual tuition of $6,271. The most common online programs taken by students in Ohio include both undergraduate and graduate degrees in Early Childhood Education, Business Administration, and Nursing. However, there are other unique programs within various colleges. Ohio University - Main Campus offers a Bachelor of Science in Human and Consumer Sciences in Customer Service as well as a Master of Athletic Administration degree. Notre Dame College offers a Master of Arts in National Security and Intelligence Studies.
At a Glance:
The state of Ohio offers College Advantage, a 529 savings plan, in which families in Ohio can save money for their children's college education by using direct deposit or automatic payroll deduction, even if their child chooses not to attend college in Ohio.
The Ohio War Orphans Scholarship Program offers financial aid to students whose parents served in the armed forces and were killed or disabled during a war or conflict.
The Ohio College Opportunity Grant (OCOG) program provides tuition assistance to Ohio residents enrolled in a public or private university in Ohio who demonstrate the highest levels of financial need.
100%

of users found this page helpful
Was this page helpful?
Still have questions or feedback?
This website offers school details to prospective students as an informational resource. The appearance of a school listing on this website should not be interpreted as an endorsement by the school of this site.