2020 Best Online Colleges in New York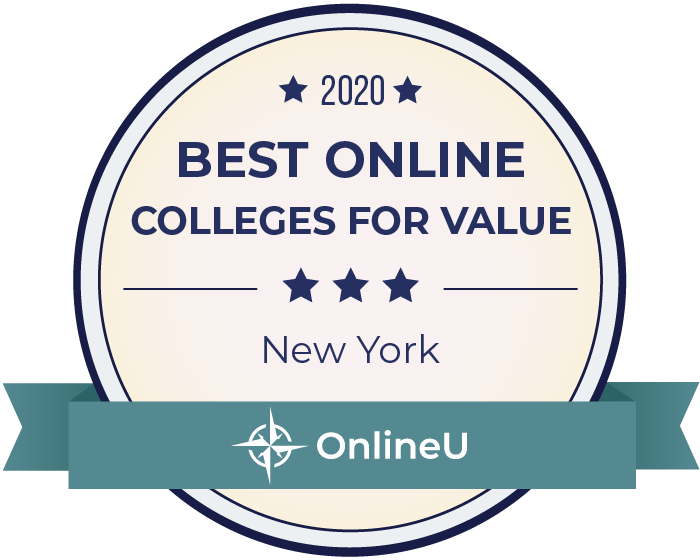 This list highlights the best 25 online colleges in New York, ranking schools using affordable tuition and reported alumni salaries. New York University tops the list, with a reported alumni salary of $105,900. Those pursuing an online RN to BSN should look at the #2-ranked school, Stony Brook University. Of schools offering a BSN program, Stony Brook University has the highest alumni salary, at $98,400. Excelsior College, ranked #8, offers 127 different bachelor's degree programs, and might appeal more to those looking for a large range of options.
Alumni salaries were provided by PayScale. View our methodology for more details or learn more about Guide to Online Schools. To see all online schools in New York, view our comprehensive list.
Rank
School
Annual Tuition
Median Salary

#1

$26,654

$105,900

#2

$8,850

$98,400

#3

$36,600

$95,900

#4

$11,542

$91,800

#5

$8,850

$91,400

#6

$31,020

$92,200

#7

$9,440

$87,400

#8

$15,300

$85,600

#9

$21,600

$86,200

#10

$7,070

$82,500

#11

$21,900

$84,300

#12

$16,800

$82,300

#13

$7,070

$80,200

#14

$25,300

$81,100

#15

$48,760

$83,300

#16

$20,700

$79,400

#17

$19,200

$78,100

#18

$7,070

$76,000

#19

$7,070

$75,000

#20

$6,930

$74,500

#21

$18,934

$74,000

#22

$9,145

$71,100

#23

$7,070

$68,900

#24

$17,700

$70,300

#25

$7,070

$66,800
Salary data provided by

.
2020 Online Colleges in New York Ranking Details
For each school, we conducted manual research to provide prospective students with more details about the schools' online programs. Explore online degrees offered and accreditation information below.
Comprehensive List of Accredited Online Schools in New York (101)
Many of New York State's 101 accredited online colleges offer affordable tuition rates, with Genesee Community College providing the most affordable option at $5,180 per year. Prospective teachers will find that there are many different options to choose from, including the Master of Science degrees offered by SUNY College at Brockport, the B.S. in Vocational Teacher Preparation degrees offered by SUNY College at Oswego, and the EDM in English Education - Professional degree offered by University at Buffalo.
At a Glance:
About one-third of the accredited online colleges in New York state have tuition rates of less than $15,000
The New York Higher Education Loan Program (NYHELPS) provides eligible New York State resident borrowers with affordable fixed interest rate student loans to attend qualified degree granting colleges throughout the state.
The Excelsior Scholarship allows resident students to attend a SUNY or CUNY college tuition-free.
0%

of users found this page helpful
Was this page helpful?
Still have questions or feedback?
This website offers school details to prospective students as an informational resource. The appearance of a school listing on this website should not be interpreted as an endorsement by the school of this site.