2018 Best Online Colleges in Mississippi
0%

of users found this page helpful
Was this page helpful?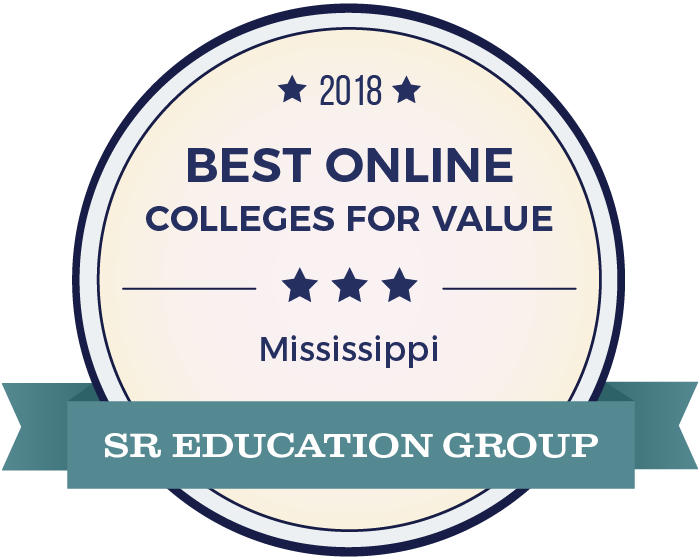 The following list highlights the best online colleges in Mississippi based on their academics and annual tuition rates. Mississippi College tops the list with the highest academic strength score and an affordable tuition of $9,450 each year. The college also offers 39 degree programs, including a Bachelor of Science in Business Administration. Ranked #2, Delta State University offers the lowest tuition at $6,739 for online programs such as an RN to BSN.
View our methodology for more details or learn more about SR Education Group. To see all online schools in Mississippi, view our comprehensive list.
2018 Online Colleges in Mississippi Ranking Details
For each school, we conducted manual research to provide prospective students with more details about the schools' online programs. Explore online degrees offered and accreditation information below.
Comprehensive List of Accredited Online Schools in Mississippi (19)
Mississippi offers students 19 different accredited online schools to choose from. Students who wish to pursue software engineering, one of the fastest growing jobs in the state, can obtain both a bachelor's degree and a master's degree in information systems with a specialization in software engineering management at Strayer University, for under $13,000 a year. Mississippi University offers budding businesspeople a Bachelor of Applied Science in Business Administration and a Bachelor of Sciences in Business Administration, each with five areas of focus. Other popular degrees include engineering, with concentrations in construction, industrial technology and aerospace, and business administration, with concentrations in legal administration, healthcare management and management information systems.
At a Glance:
42% of accredited online schools in the state of Mississippi have tuition of under $10,000.
Mississippi State's College Knowledge Project is a college access initiative that offers the public a college access website with transfer tools, guided outreach to students, and college planning and preparation publications.
The Southern Automotive Womens Forum (SAWF) Scholarship Program provides financial assistance to women enrolled or enrolling in a STEM field at an accredited two-year technical program, four-year undergraduate program, or graduate program hopefully to be used for a career in the automotive industry. Scholarships range from $500 to $5,000 each.
References
0%

of users found this page helpful
Was this page helpful?
Still have questions or feedback?
This website offers school details to prospective students as an informational resource. The appearance of a school listing on this website should not be interpreted as an endorsement by the school of this site.