2020 Best Online Colleges in Michigan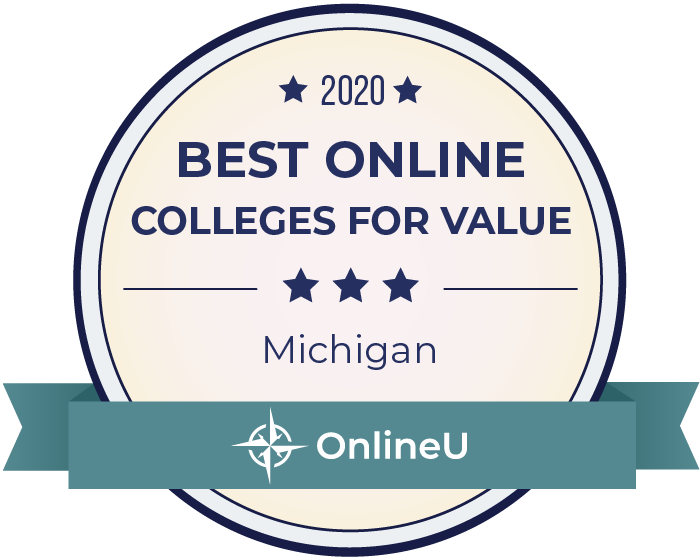 The following schools are ranked based on affordability and reported alumni salaries to represent the best online schools in Michigan. The University of Michigan - Ann Arbor comes in first place, and has an alumni salary of almost $100,000. Tuition at UM is also affordable, with online bachelor's programs costing only $12,738 per year. Ranked #6, Central Michigan University, offers 30 different online bachelor's programs in a wide range of disciplines.
Alumni salaries were provided by PayScale. View our methodology for more details or learn more about Guide to Online Schools. To see all online schools in Michigan, view our comprehensive list.
Rank
School
Annual Tuition
Median Salary

#1

$12,738

$97,700

#2

$9,995

$84,200

#3

$14,135

$80,400

#4

$12,930

$78,000

#5

$14,105

$72,900

#6

$13,454

$72,200

#7

$14,820

$70,000

#8

$13,350

$69,300

#9

$13,785

$68,100

#10

$26,558

$68,200

#11

$27,700

$63,100

#12

$12,096

$60,900

#13

$23,996

$62,300

#14

$23,310

$61,400

#15

$15,904

$58,400

#16

$12,300

$43,500

#17

$22,708

$43,600
Salary data provided by

.
2020 Online Colleges in Michigan Ranking Details
For each school, we conducted manual research to provide prospective students with more details about the schools' online programs. Explore online degrees offered and accreditation information below.
Comprehensive List of Accredited Online Schools in Michigan (49)
A wide variety of online degrees are available through accredited colleges in the state of Michigan. Degrees such as Central Michigan University's Master of Science in Information Systems could help jumpstart a career path in database administration, one of Michigan's most in-demand professions. Bay Mills Community College offers associate degrees in business administration and early childhood education for only $3,040 in annual tuition. Other popular online degree programs include master's degrees in engineering, special education and healthcare administration and bachelor's degrees in business administration and workplace leadership.
At a Glance:
Tuition for online colleges in Michigan averages less than $20,000.
Almost one third of online colleges in Michigan have tuition of less than $15,000.
The Michigan Tuition Grant Program provides awards to eligible undergraduate resident students to cover college tuition and fees.
100%

of users found this page helpful
Was this page helpful?
Still have questions or feedback?
This website offers school details to prospective students as an informational resource. The appearance of a school listing on this website should not be interpreted as an endorsement by the school of this site.