2018 Best Online Colleges in Louisiana
100%

of users found this page helpful
Was this page helpful?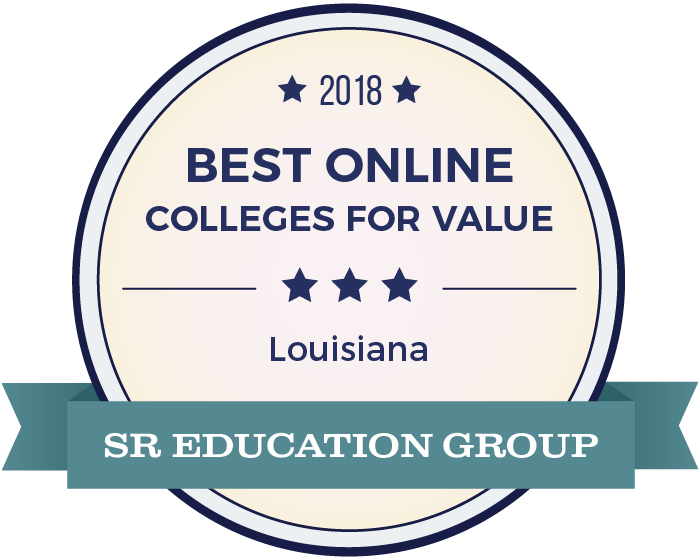 This list of schools highlights the top schools in Louisiana based on their affordable annual tuition rates and academic strength. University of Louisiana-Monroe tops the list with the lowest annual tuition of $8,750 and an academic strength score of 66%. Ranked #3, Louisiana Tech University holds the highest academic strength score at 69%. The university offers 18 online programs, including a Bachelor of Science in Health Informatics & Information Management and a Master of Arts in Business Administration.
View our methodology for more details or learn more about SR Education Group. To see all online schools in Louisiana, view our comprehensive list.
2018 Online Colleges in Louisiana Ranking Details
For each school, we conducted manual research to provide prospective students with more details about the schools' online programs. Explore online degrees offered and accreditation information below.
Comprehensive List of Accredited Online Schools in Louisiana (26)
The most popular degrees in Louisiana include bachelor's in fields such as criminal justice, business administration, nursing, health informatics, marketing, mass communications and human resources. Students can also earn graduate degrees in fields like business, education, nursing and public administration. By choosing from one or more of these degree pathways, students can prepare for some of Louisiana's top paying jobs that include nurse practitioners, postsecondary teachers, engineers, public relations managers, human resources managers, and management analysts. Individuals who aspire to a nursing career in the state may find that the University of Louisiana - Lafayette fits their educational needs. The university offers an RN to BSN degree and a BSN to Doctor of Nursing Practice program. Undergraduate tuition at the university is $9,500 per year.
At a Glance:
Each of the schools offering the state's nine best values in education have tuition rates under $13,000 per year.
Louisiana residents who attend state colleges or universities can qualify for the TOPS (Taylor Opportunity Program for Students) scholarships.
Tuition at Louisiana State University - Shreveport, the state's most affordable school, is just $8,500 per year.
References
100%

of users found this page helpful
Was this page helpful?
Still have questions or feedback?
This website offers school details to prospective students as an informational resource. The appearance of a school listing on this website should not be interpreted as an endorsement by the school of this site.