2020 Best Online Colleges in Kentucky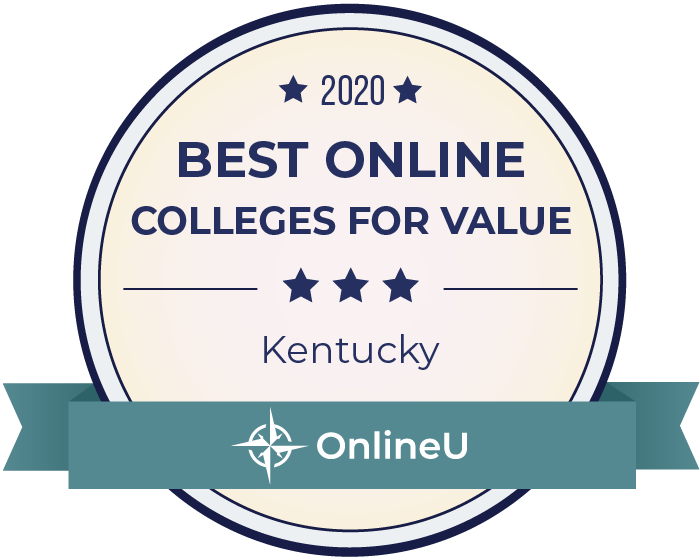 The following list highlights the best online schools in Kentucky. Ranked #1, the University of Kentucky offers six online bachelor's degrees, including two in information and communication technology. UK also has the highest median income on the list at $85,800. Ranked #6, Eastern Kentucky University offers 31 online bachelor's degrees, including degrees in emergency medical care and homeland security. The University of the Cumberlands has the lowest annual tuition, a very affordable $6,368.
Alumni salaries were provided by PayScale. View our methodology for more details or learn more about Guide to Online Schools. To see all online schools in Kentucky, view our comprehensive list.
Rank
School
Annual Tuition
Median Salary

#1

$17,100

$85,800

#2

$13,650

$77,900

#3

$16,170

$77,400

#4

$13,600

$75,600

#5

$13,440

$73,300

#6

$12,270

$72,200

#7

$13,710

$71,800

#8

$16,200

$71,500

#9

$12,900

$67,200

#10

$6,750

$64,100

#11

$8,970

$64,000

#12

$11,850

$58,100

#13

$21,400

$59,100

#14

$12,570

$57,900

#15

$19,996

$57,400

#16

$6,368

$54,100

#17

$11,970

$52,700
Salary data provided by

.
2020 Online Colleges in Kentucky Ranking Details
For each school, we conducted manual research to provide prospective students with more details about the schools' online programs. Explore online degrees offered and accreditation information below.
Comprehensive List of Accredited Online Schools in Kentucky (47)
Schools in Kentucky offer tuition rates between $9,020 to $37,160. Business administration, management, human resources, and information technology are some of the most popular online programs offered by Kentucky colleges. However, some colleges are focused entirely on a specific course of study. For example, Frontier Nursing University offers a wide array of online graduate nursing programs including master's degrees in nursing and a Doctor of Nursing Practice degree.
At a Glance:
Twenty-one Kentucky schools cost less than $15,000 in annual tuition.
Undergraduate degree offerings at Kentucky postsecondary schools increased by 7.4% over the previous year during the 2016-2017 academic year. Combined with graduate degrees, educational credentials in the state grew by 6.6%.
0%

of users found this page helpful
Was this page helpful?
Still have questions or feedback?
This website offers school details to prospective students as an informational resource. The appearance of a school listing on this website should not be interpreted as an endorsement by the school of this site.