2018 Best Online Colleges in Kansas
0%

of users found this page helpful
Was this page helpful?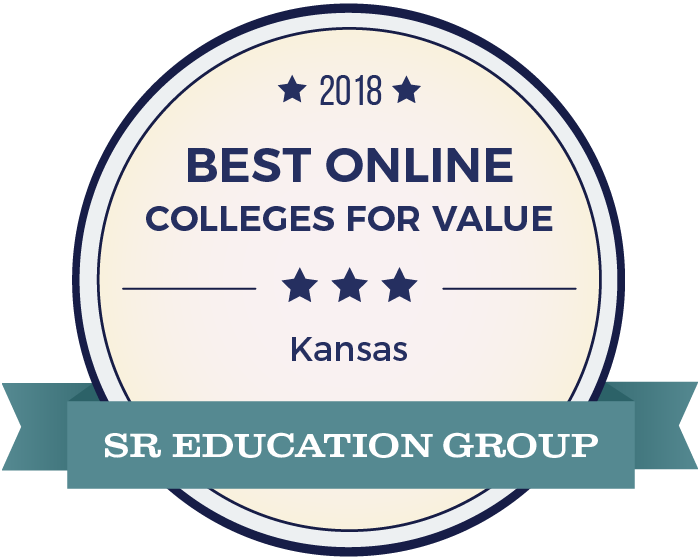 These schools represent the top schools in Kansas based on affordability and academic strength. Ranked #1, Wichita State University has the lowest tuition of $9,612 and an academic strength score of 67%. The university offers a total of 30 online degrees including a Bachelor of Business Administration. University of Kansas ranks #2 and holds the highest academic strength score at 72%, offering 55 online degrees for an annual tuition of $11,592.
View our methodology for more details or learn more about SR Education Group. To see all online schools in Kansas, view our comprehensive list.
Rank
School
Annual Tuition
Academic Strength

#1

Wichita State University

Annual Tuition

$9,612

Academic Strength

67%

#2

University of Kansas

Annual Tuition

$11,592

Academic Strength

72%

#3

Emporia State University

Annual Tuition

$10,571

Academic Strength

64%

#4

Friends University

Annual Tuition

$13,330

Academic Strength

69%

#5

Tabor College

Annual Tuition

$10,978

Academic Strength

59%

#6

Sterling College - KS

Annual Tuition

$10,850

Academic Strength

58%

#7

Newman University

Annual Tuition

$14,384

Academic Strength

64%

#8

Manhattan Christian College

Annual Tuition

$13,080

Academic Strength

58%

#9

MidAmerica Nazarene University

Annual Tuition

$13,120

Academic Strength

56%

#10

Southwestern College - KS

Annual Tuition

$14,818

Academic Strength

61%

#11

University of Saint Mary

Annual Tuition

$14,720

Academic Strength

58%
2018 Online Colleges in Kansas Ranking Details
For each school, we conducted manual research to provide prospective students with more details about the schools' online programs. Explore online degrees offered and accreditation information below.
Comprehensive List of Accredited Online Schools in Kansas (43)
Popular online degrees in Kansas include programs in education, business administration, and Christian studies. Newman University, for instance, offers a Master of Arts in Theology, while Tabor College offers associate degrees in Christian studies and urban ministry, and a master's degree in ministry entrepreneurship and innovation. Psychologists are in high demand in this state, and schools such as Wichita State University and University of Kansas satisfy the demand for new psychologists by offering bachelor's degrees in psychology, while Emporia State University offers master's programs in clinical psychology and counseling. Emporia State offers almost 60 additional online master's degrees, giving distance students tremendous variety in their pursuit of higher education. Overall, college tuition for online degrees in Kansas is very low, with Dodge City Community College offering the lowest tuition at $3,150 per year.
At a Glance:
Over 70% of accredited online Kansas universities have tuition of under $15,000 per year.
The state of Kansas awards multiple scholarships and grants to eligible college students every year. These include the Kansas Comprehensive Grant, the Kansas Ethnic Minority Scholarship, the Kansas Nursing Service Scholarship and the Kansas ROTC Service Scholarship, as well as numerous additional graduate scholarships.
The Kansas Nursing Initiative provides resources to public postsecondary institutions with nursing education programs to enable them to increase their enrollment of nursing students.
References
0%

of users found this page helpful
Was this page helpful?
Still have questions or feedback?
This website offers school details to prospective students as an informational resource. The appearance of a school listing on this website should not be interpreted as an endorsement by the school of this site.