2020 Best Online Colleges in Iowa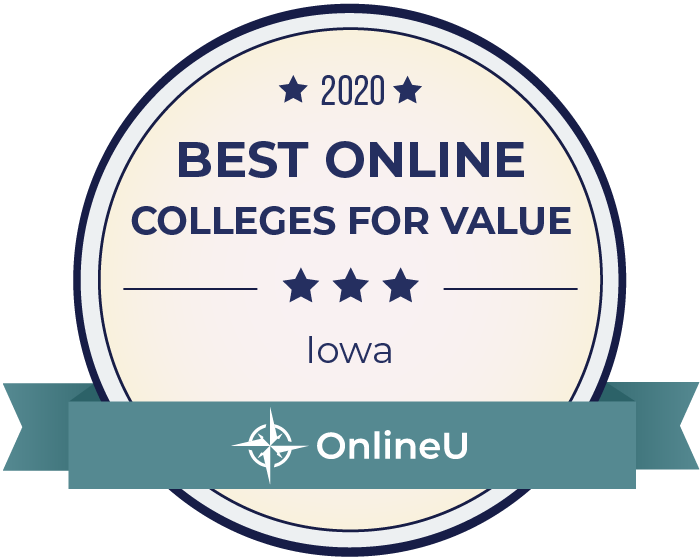 The schools on this list represent Iowa's best online programs, based on affordable tuition rates and median alumni salaries. At the top of the list is Maharishi University of Management, offering an online Bachelor's in Applied Arts & Sciences and Bachelor of Arts in Wellness and Integrative Health. Graduates from MUM boast an impressive mid-career salary of $96,900. For those seeking an online degree in business, #6-ranked Graceland University offers several degrees in business administration and leadership at the affordable annual tuition rate of $10,950.
Alumni salaries were provided by PayScale. View our methodology for more details or learn more about Guide to Online Schools. To see all online schools in Iowa, view our comprehensive list.
Rank
School
Annual Tuition
Median Salary

#1

$16,000

$96,900

#2

$10,080

$89,200

#3

$30,036

$88,100

#4

$17,550

$84,300

#5

$5,025

$76,300

#6

$10,950

$73,800

#7

$16,983

$72,500

#8

$12,352

$67,800

#9

$14,432

$66,800

#10

$18,150

$67,000

#11

$33,600

$68,100

#12

$14,130

$64,300

#13

$12,462

$62,300

#14

$13,050

$58,100

#15

$6,225

$56,400
Salary data provided by

.
2020 Online Colleges in Iowa Ranking Details
For each school, we conducted manual research to provide prospective students with more details about the schools' online programs. Explore online degrees offered and accreditation information below.
Comprehensive List of Accredited Online Schools in Iowa (41)
The state of Iowa offers distance students affordable online degree programs in a wide number of subjects, including criminal justice, public administration, sports administration, and education. Organizational leadership is one of the most popular areas of study, with Waldorf University offering several bachelor's degrees for $8,700 a year, and Buena Vista University and Graceland University both offering multiple bachelor's degrees in the field. Western Iowa Tech Community College offers students the most affordable education, at $4,224 per year.
At a Glance:
49% of accredited online universities in Iowa have tuition of under $10,000.
The ICSAC Iowa Tuition Grant Program awards $6,000 to eligible full- and part-time resident students enrolled at one of Iowa's eligible private colleges and universities, based on greatest financial need.
Iowa's Matthew Shepard Scholarship Program is divided into two separate categories. The Silver Scholarship is an award of up to $9,000 over four years and may be applied towards tuition, books and fees at any college or university in the United States. The Gold Scholarship is an award of up to $40,000 over four years and pays tuition, books, and fees at Iowa State University, the University of Iowa or the University of Northern Iowa. All scholarships are renewable annually for up to four years upon evidence of academic achievement and continued service to the LGBTQ community.
0%

of users found this page helpful
Was this page helpful?
Still have questions or feedback?
This website offers school details to prospective students as an informational resource. The appearance of a school listing on this website should not be interpreted as an endorsement by the school of this site.