2020 Best Online Colleges in Arkansas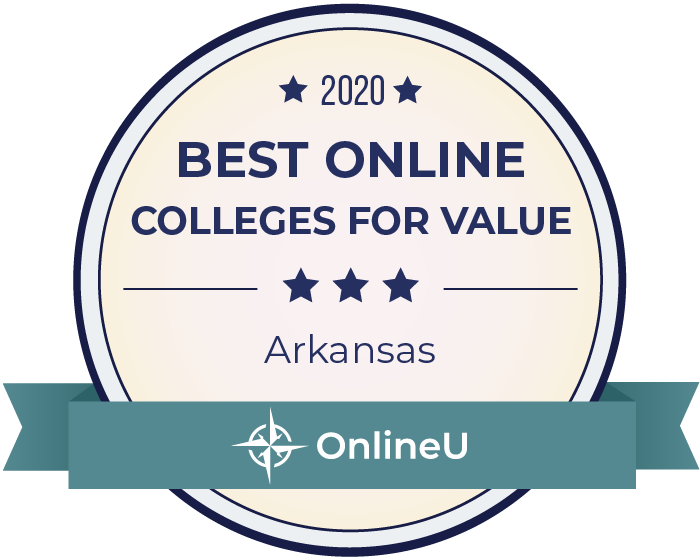 Alumni salaries were provided by PayScale. View our methodology for more details or learn more about Guide to Online Schools. To see all online schools in Arkansas, view our comprehensive list.
Rank
School
Annual Tuition
Median Salary

#1

$6,159

$87,100

#2

$21,344

$80,000

#3

$6,420

$73,300

#4

$9,750

$73,700

#5

$4,500

$71,500

#6

$13,350

$72,000

#7

$8,400

$69,100

#8

$12,750

$68,400

#9

$8,550

$67,700

#10

$6,960

$67,300

#11

$5,979

$61,200

#12

$5,130

$55,900

#13

$10,850

$38,300
Salary data provided by

.
2020 Online Colleges in Arkansas Ranking Details
For each school, we conducted manual research to provide prospective students with more details about the schools' online programs. Explore online degrees offered and accreditation information below.
Comprehensive List of Accredited Online Schools in Arkansas (35)
Students enrolled in online colleges and universities in Arkansas pay an average annual tuition of about $10,000. The University of Arkansas offers 78 online degrees in a variety of fields. Some of the majors available to online University of Arkansas students include business administration, health sciences, management, applied communication, technical writing, K-12 education, and nursing. The broad range of degree options helps prepare graduates for careers in some of Arkansas' top paying jobs, such as marketing managers, medical and health service managers, public relations professionals, education administrators, registered nurses, social workers, and post-secondary educators.
At a Glance:
Students who major in high demand fields such as healthcare and information technology may qualify for the Arkansas Workforce Challenge Scholarship.
Specialized degrees offered at Arkansas Tech University include B.S. in Emergency Management and Bachelor of Professional Studies in Workforce Technology.
Arkansas tuition rates range from $3,660 at East Arkansas Community College to $26,144 at John Brown University.
0%

of users found this page helpful
Was this page helpful?
Still have questions or feedback?
This website offers school details to prospective students as an informational resource. The appearance of a school listing on this website should not be interpreted as an endorsement by the school of this site.