2020 Best Online Colleges in Alabama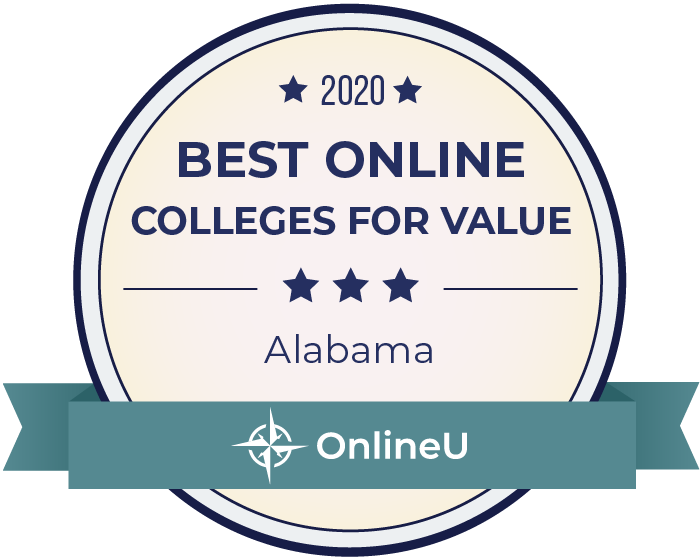 The following list highlights the best colleges offering online degrees in Alabama. The most affordable school on the list with an annual tuition of $7,626 is Athens State University, offering various degrees in subjects such as accounting, management, religious studies, technical education, and more. In first place, Auburn University offers a tuition rate of $10,526 and has a reported median salary of $93,400. Students can study business administration, nursing, computer science, engineering, and education.
Alumni salaries were provided by PayScale. View our methodology for more details or learn more about Guide to Online Schools. To see all online schools in Alabama, view our comprehensive list.
Rank
School
Annual Tuition
Median Salary

#1

$10,526

$93,400

#2

$12,060

$90,300

#3

$11,250

$85,400

#4

$32,000

$85,300

#5

$7,872

$74,900

#6

$20,010

$74,900

#7

$10,140

$73,200

#8

$13,500

$70,900

#9

$12,064

$69,600

#10

$7,626

$68,600

#11

$11,190

$68,100

#12

$10,500

$65,700

#13

$9,750

$61,000

#14

$11,068

$59,700

#15

$12,000

$56,300
Salary data provided by

.
2020 Online Colleges in Alabama Ranking Details
For each school, we conducted manual research to provide prospective students with more details about the schools' online programs. Explore online degrees offered and accreditation information below.
Comprehensive List of Accredited Online Schools in Alabama (32)
Alabama students commonly pursue careers in the STEM disciplines. Aerospace engineering and nuclear technologies are popular degrees and are pursued more often in Alabama than in other states. Online schools based in Alabama offer degrees in subjects such as business, criminal justice, computer science, education, healthcare management, and more. Auburn University offers a number of master's degree programs, including one in aerospace engineering. University of South Alabama offers an extraordinary number of online degrees in nursing, including two bachelor's degrees, 16 master's degrees and 25 doctoral degrees, for a total of 43 different nursing degrees. Columbia Southern University is the most economical college in the state, with a low tuition of only $6,600 a year.
At a Glance:
Thirteen out of the 31 schools listed cost under $15,000 annually.
Undergraduate students who are residents of Alabama can apply for the Alabama Student Grant Program for financial assistance.
Students pursuing degrees to become secondary math and science teachers can apply for the Alabama Math and Science Teacher Education Program (AMSTEP).
100%

of users found this page helpful
Was this page helpful?
Still have questions or feedback?
This website offers school details to prospective students as an informational resource. The appearance of a school listing on this website should not be interpreted as an endorsement by the school of this site.